While there's no denying the convenience that comes with being able to ride right from your doorstep, that's often only a practical reality for those who live in close proximity to the trails. Even for road cyclists, it's not always the best idea, what with the ever-growing threat of distracted drivers, unprotected bike lanes, and uneven road surfaces. Sure, it might seem counterintuitive to load up your pedal-powered transport on a rack and drive it somewhere else to ride, but it's probably the best way to go if you have even the slightest doubts about your personal safety. And besides, your car is just a means to an end — especially when there are some epic routes just out of riding distance.
Finding the best rack for your particular needs is hardly a one-size-fits-all process. On the contrary — there's a world of options out there, and what's best for one vehicle may not hold true when it comes to your own. It's about working with what you have at your disposal, whether that's a receiver tube for mounting a hitch rack, a set of rails for attaching a roof rack, or even just making do with your hatch as it is and cinching down the straps on a trunk rack. And that's not all — you also have to take things into account like carrying capacity, payload, and locking mechanisms, amongst a long list of other considerations. Before we get ahead of ourselves, just take our word for it when we say that it can be quite the can of worms. Lucky for you though, we're here to help with a guide to the best bike racks for any vehicle.
Hitch mounted racks attach to your vehicle's receiver tube and secure your bike in one of two ways. Some use a base tray and a set of arms to hold the wheels in place, and will typically come with a set of integrated locks for added security. What's more, they'll often feature a bit of built-in articulation, enabling easy access to your trunk and allowing them to fold away when not in use. On the other hand, there are also hitch racks that rely on a crossbar and a set of rubber straps — instead, supporting your bike by its top tube. While these are generally cheaper, they don't tend to be nearly as stable.
Receiver Size: Most hitch-mounted bike racks are available in both 1.25″ and 2″ receiver tube standards. Be sure to check your vehicle for compatibility to ensure you have the right fit. It's also worth noting that 2″ racks offer more carrying capacity, allowing you to hang as many as four or even five bikes compared to just one or two.
Swagman XC2 Hitch Mount Bike Rack
If you're looking for a simple, no-frills hitch rack that'll get your bikes to and from places safely, you can't go wrong with Swagman's XC2. For starters, it features a design that makes assembly a cinch, allowing you to get set up and ready to go with just a few fasteners. Sure, it's not quite as built-up as more expensive alternatives, but each of its two supports will still hold a solid 35lbs of bike — not bad when you consider that it also folds away for easy trunk access.
Bike Capacity: 2
Max Payload (Total): 70lbs
Included Lock: No
Yakima RidgeBack 4
However, for those who need a bit more carrying capacity, Yakima's Ridgeback line presents an ideal alternative. By trading the trays of the above option for a top-tube securing setup, it improves its weight limit to 40lbs per bike across each of its two, four, and five slot models. What's more, it's a completely tool-less experience, meaning that it's fully assembled and ready to install with just a quick twist of its SpeedKnob. As an added bonus, it even comes with a built-in bottle opener.
Bike Capacity: 4
Max Payload (Total): 140lbs
Included Lock: No
Rockymounts Westslope 3
From this price point onwards, hitch racks begin to offer some pretty premium components. For instance, the Westlope 3 is built around a sloped frame design, effectively tiering each bike's handlebars in such a way that it prevents unwanted contact. The increase in price also gets you a nicer mounting mechanism, with a set of soft-touch hooks and ratcheting swing arms securing the front wheel rather in order to protect your frame's paint.
Bike Capacity: 3
Max Payload (Total): 120lbs
Included Lock: No
Kuat Sherpa 2.0
In the case of Kuat's Sherpa 2.0, you'll find the added $130 expense is well worth everything more that you get. Like the Westslope 3, it comes with front tire hooks to hold your bike in place. However, it also gains helpful features such as built-in locks for theft protection, a foot-assisted pivot lever, and a lightweight aluminum alloy frame (it weighs just 32lbs, making it down a full 13 from Rockymounts' offering).
Bike Capacity: 2
Max Payload (Total): 80lbs
Included Lock: Yes
Thule T2 Pro XTR 2
Thule's heavy-duty T2 Pro XTR 2 hitch rack can hold up to two 60lb bikes, making it a great option for those who want to bring their e-bikes along for the ride. And that's not all; because of its versatile design, it can also accommodate virtually any style of bike with tires up to 5″ wide — no adapters necessary. Rounded out by a three-position HitchSwitch lever for easy storage, cable locks for theft protection, and an AutoAttach system for quick assembly, this one is a true cut above the rest.
Bike Capacity: 2
Max Payload (Total): 120lbs
Included Lock: Yes
1Up Equip-D Double
Despite being similar in construction to the XTR 2, 1up's Equip-D Double will be the better buy depending on your needs. So, in addition to supporting a wider range of wheel sizes (it fits from small 16″ all the way up to 29″ mountain bike tires), it also increases its maximum wheelbase from 50″ to 56″. And that's while still offering a built-in anti-wobble mechanism, a rapid-tilt handle, and a premium powder-coated finish.
Bike Capacity: 2
Max Payload (Total): 100lbs
Included Lock: Yes
Roof-mounted racks position your bike above your vehicle, and will generally require a set of factory-installed rails for their attachment. That being said, there are also racks that bolt directly to your roof as well as those with suction cups that can be vacuum-sealed to virtually any surface. It's worth noting that roof racks typically come in two configurations: wheel-on and wheel-off. As you'd expect, the former means that you can directly mount your bike to the rails, whereas the latter will require you to take off the front wheel and attach the fork with a quick-release or through-axle.
Mounting: If you elect to go for a wheel-off roof rack, be sure to check for compatibility. Most options support both disc and rim brake setups, but you may need an adapter in order to get the right fit.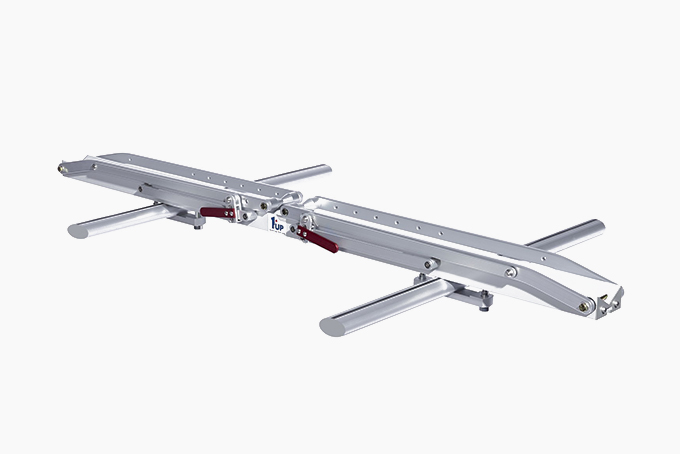 1Up Roof Rack
Most roof racks on the market these days are pretty comparable in terms of their overall design; however, 1Up's offering boasts some of the best tire clearance around, with up to 3.1″ of width across 16″ to 29″ wheel sizes. It can also hold up to 50lbs of bike in its single tray and can even be converted to a standalone hitch rack or as an Add-On configuration to an existing setup. But the best part is that it comes in at a compact 2.5″ tall when folded and only weighs a svelte 14lbs.
Bike Capacity: 1
Max Payload (Total): 50lbs
Included Lock: No
Rockymounts BrassKnuckles
While the BrassKnuckles roof rack won't protect you in any bar fight, it does feature a pretty handy ergonomic grip (the inspiration for its name) that makes mounting your bike a breeze. And because it's compatible with a wide range of crossbars — including Rockymounts' own, as well as Thule, Yakima, and factory setups — you can rest assured knowing that you'll get the fit you need to keep it secure. It may only offer enough spacing for tires up to 3.0″ wide, but with the help of its optional fattie kit, you can up that figure to 5″.
Bike Capacity: 1
Max Payload (Total): 45lbs
Included Lock: No
Seasucker Mini Bomber
Roof racks are great for when your vehicle doesn't come with a built-in receiver hitch, but even then, there are cars without the requisite mounting rails. If you find yourself in such a predicament, Seasucker is one brand well worth your while. Their Mini Bomber rack comes with four 6″ suction cups, allowing you to attach them to your roof, trunk, or even your rear window. And despite coming in at just 12lbs, it offers up to 90lbs of total carrying capacity across each of its two mounts.
Bike Capacity: 2
Max Payload (Total): 90lbs
Included Lock: No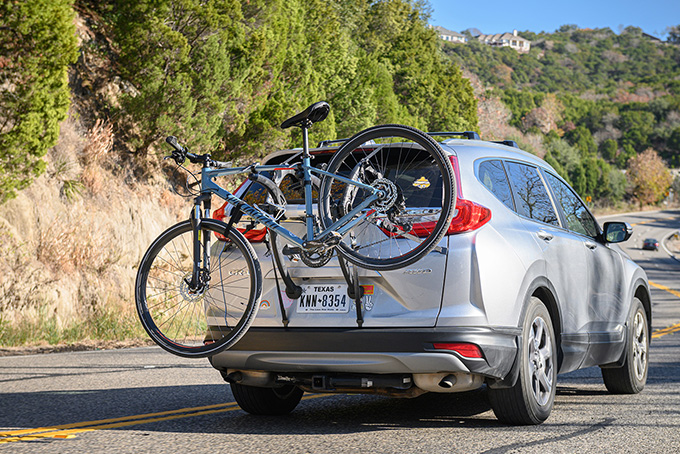 Hatch-Mounted Hangers
Trunk
This style of racks attaches to your vehicle's trunk via a set of straps, support arms, and grippy rubber feet. Compared to the two above options, trunk racks are undeniably cheaper, lighter, and easier to install. And thanks to their ease of adjustment, they'll work with most vehicles, requiring just a tug on the straps in order to get the right fit. However, it comes at a cost — because they don't use bolt-on hardware, they're not nearly as stable, and their overall security is ultimately determined by the user's installation. Furthermore, trunk racks offer no kind of anti-theft provisions, as they don't feature locks and they can be removed with little to no effort. And since they're mounted so close to your car, there's always the potential that a wheel or handlebar will scratch the paint.
Compatibility: Before you go out and buy a trunk rack, make sure that it's compatible with your bike. Since they rely on a toptube supported setup, they may not work with full-suspension mountain bikes and other uncommon frame shapes.
Allen Premier Trunk Rack
Whether you're a casual cyclist or occasional road-tripper, you'd be hard-pressed to find a better budget trunk rack than the Allen Premier. Simple in setup and sturdy in design, it comes with a set of dual compound tie-downs and quick-secure straps to keep your precious cargo safe while you travel. And while most racks like it will result in undue wear on your hatch, this one distributes the load more evenly thanks to its wide profile vehicle pads and side straps.
Bike Capacity: 3
Max Payload (Total): 100lbs
Included Lock: No
Saris Bones EX 2 Trunk Rack
Given that Saris' Bones bike rack has been around for a good 25-plus years now, it goes without saying that it's a respectable performer. The most recent update to this venerable model results in some 20% of extra compatibility, meaning it'll fit 90% of today's top 50 bestselling vehicles. With its unique dog leg design, integrated strap management system, and arced bike mounting system, it's not for nothing that this one's become something of an icon.
Bike Capacity: 2
Max Payload (Total): 70lbs
Included Lock: No
Yakima Halfback
If you're after the cream of the crop when it comes to trunk-mounted bike racks, look no further than the Yakima Halfback. Much like the brand's other rack we've included on this list, it comes with a set of SuperCush ZipStrip cradles to keep your bike safe and sound. Installation is also incredibly intuitive, requiring just a quick unfold and securing of the straps. Oh, and yes — it too comes with a signature Yakima bottle opener for those well-deserved post-ride brews.
Bike Capacity: 3
Max Payload (Total): 115lbs
Included Lock: No
Making The Bed
Pickup Pads
Okay, so while pickup pads aren't technically 'racks' per se, they're easily the best option for those who have access to a working truck bed. Sure, you could just drape a towel or a blanket over your tailgate and throw your bike(s) in the back, but in doing so you're exposing both your bike and your vehicle to needless wear. Any time you go over a speed bump or a pothole, it'll bounce around against the bed — before you know it, you'll be left with some pretty gnarly blemishes to your paintwork. And the thing is — pickup pads don't just offer impact protection for your truck; they also have the benefit of keeping your bikes secure. That's because they typically come with integrated straps that hold your bikes in place by attaching to their downtube.
Bike Type: In general, we wouldn't recommend using a pickup pad for transporting your road bike. Their lightweight frames and carbon forks are far less robust than those of a mountain bike, meaning there's much more potential for undue damage.
Fox Racing Tailgate Cover
While Fox Racing's Tailgate Cover doesn't come with lots of bells and whistles, it's a pretty solid pickup pad when you consider that it'll run you just a little over $100. The small option pictured here fits most mid-size and compact trucks, mounting to your vehicle's tailgate with just three simple straps. It even comes with a hitch flap window for easy handle access as well as five robust webbing straps for secure downtube attachment.
Bike Capacity: 5
Max Payload (Total): N/A
Included Lock: No
Dakine DLX Pickup Pad
However, if your truck has a backup monitor, this option from Dakine is well worth the extra $30. Made from weather-resistant 1000D recycled polyester, it comes with an enlarged window that allows your ride's rear camera to see where you're going. And thanks to its built-in security grommet, you can head out to the trails without worry of it walking off on its own. The small size comes with tie-downs for up to five bikes, but if you're in need of some extra mounting provisions, there's also a large seven-bike model.
Bike Capacity: 5
Max Payload (Total): N/A
Included Lock: No
Raceface T2 Tailgate Pad
Raceface's T2 Tailgate Pad is easily one of the most premium pickup truck covers money can buy. In addition to offering integrated raised bumpers for secure bike positioning, it also sports an incredibly accommodating six-strap design for a fit that's perfectly tailored to your truck's bed. Add to that an impressive six-bike storage capacity and an adjustable rear panel for ideal handle and camera positioning, and the result is a pickup pad whose design prowess speaks for itself.
Bike Capacity: 6
Max Payload (Total):
Included Lock: No
The 12 Best Mountain Bike Trails In America
Now that you have a handle on everything that's needed to safely transport your bike, it's time to scope out your next spot for a ride. If you find yourself yearning for big drops and twisty singletrack, be sure to check out our guide to the best mountain bike trails in America.