Commuting via bicycle is a fantastic mode of transportation that's not only economical but is also good for the environment and a great workout. Regardless of what style of bike you commute on, there are a number of crucial accessories that every daily rider should possess — chiefly locks, helmets, and, if your routine calls for riding after dark, bike lights. And it's that latter accessory that we'll be exploring today. These literal guiding lights aren't just a good idea to have mounted on your bike but are actually required by law in most major cities.
On top of lighting your path and allowing you to see into the night, bicycle lights also have the crucial added benefit of helping to ensure that you are seen by the other vehicles and pedestrians out on the street. But, with bicycle lights having existed for just about as long as bicycles themselves, there's no shortage of types, styles, and models available — making the prospect of shopping for a light a daunting one, especially to the uninitiated. Fear not, however, as this guide to the 12 best lights for commuter bikes has got your back. Below we'll delve into what to look for when you're in the market for a new bike light and, of course, the latest and greatest bike light offerings on the market today.
Shopping For Commuter Bike Lights
The Top 10 Factors To Consider
Lumens: Lumens are a measurement used to quantify an amount of visible (or "luminous") light, and it's the most commonly utilized light measurement metric. The number of lumens afforded by a light will ultimately tell you how bright it's going to be, though there are other variables, which brings us to our next factor…
Beam Distance: This one is fairly self-explanatory, but beam distance is simply how far a light reaches. When purchasing a light for the express purpose of guiding your way on a moving vehicle, this is obviously an important factor to take into account.
Battery: The type and size of the battery pack that powers a light is going to determine how long the charge will last, how long it will take to recharge (assuming it's rechargeable), and how quickly battery life will degrade over time. Another area to consider is the heft of a battery, as many can be compact but still on the heavier side.
Wired Vs Cordless: In today's increasingly untethered world, a lot of people don't want to deal with wires wrapped around or hanging from their fork or handlebars. Wireless bike lights are great options, though they do however have to run an internal battery as they can't link to an externally-mounted cell, often coming at the expense of a shorter battery lifespan.
Smart Features: Today's all-encompassing cutting-edge world of techno-wizardry and smart devices very much includes bike lights. Some smart lights can detect light levels and adjust themselves accordingly, some react to speed, some can detect deceleration and activate brake lights accordingly, and some can warn bicyclists to cars approaching from behind, just to name a few.
Materials: Just like when purchasing any other gear, the materials used are a key area to focus on, as they will largely determine a decent amount of a product's overall quality, and just as, if not more importantly, how durable and hardwearing it is. Its lifespan and reliability will also be greatly affected by the materials used in a light's construction, as will the construction techniques themselves.
Weatherproofing: Unless your boss is cool with you not coming into work on days when the weather gets nasty, weatherproofing is definitely an area to factor into the equation. If you reside somewhere like sunny Southern California, this won't be as important as it is to someone living in the precipitation-heavy Pacific Northwest. If you live somewhere where temperatures routinely dip past the freezing point, you'll want to make sure your light (and its battery) is capable of surviving that level of cold.
Mounting & Hardware: There's a myriad of ways to attach a light, so it's important to figure out what you like, or what's most conducive to your particular commute. Most lights are fixed to the handlebar or somewhere in that general area, though there are helmet-mounted units (and lights that can do both), fork-mounted lights, and even some fancy wheel-mounted offerings. This area will also determine how easily a light can be removed. Circling back to materials, you'll also want to consider the materials used in the mounting hardware.
Size & Weight: Lights come in all shapes and sizes, so a light's mass is definitely an area to check in on. If you just threw a few grand at a 12lb road bike, it makes very little sense to turn around and add a marked amount of weight back onto the thing. There are a lot of extremely compact lights that still offer decent lumen output, though they do tend to cost more.
Style: As much as we'd like to think we're very logical beings, we humans are affected by our emotional reaction to aesthetics, so it's perfectly fine to scrutinize the appearance of a bike light. Obviously the form should take a back seat to the functional aspect (especially considering these are only used at night, in the dark), though there are enough attractive lights on the market that you shouldn't have too hard a time finding one light that satisfies both areas.
USB Rechargeable Bike Light Set
For bicycling commuters on a budget, it doesn't get much more economical than this plainly-named USB Rechargeable Bike Light Set. For under $20, you get a compact LED headlight that offers 400 lumens and a cool eight hour run time, though it can be recharged via USB in just one-quarter that time. Boasting waterproof construction, this light's quick-release mounting system allows it to be removed or attached in just two second's time and doesn't require any tools or hardware. Best of all, this nifty budget option comes paired with an LED taillight that uses the same easy "loop and lock" mounting system.
Crtch Bike Tail Light
The Crtch Bike Tail Light isn't your average aft-end LED. On top of the five stacked LEDs that act as a regular red taillight, this compact offering projects a pair of laser lines onto the ground on both sides of the bike, running parallel to the wheels and giving other vehicles on the road a clear sense of the lane/area you're occupying. Furthermore, the device also beams a laser-projected icon of a bicycle several feet behind the light, making it exceedingly difficult to go unnoticed by other vehicles approaching from behind. IPX4 water-resistant and boasting five different light modes, this sub-$20 gizmo is powered by AAA batteries and fits around seat posts/tubes between 20-36mm.
Xinji Bike Light USB Speedometer
This Xinji item is light on price and heavy on features. At the core of this offering is a 350 lumen LED beam with four brightness modes that can be selected via the light's backlit LCD display which also includes a speedometer and trip meter. It's 1,500mAh Lithium-ion battery can be recharged via USB and provides more than enough life to get you to work and back several times over. In addition to including a separate LED taillight that, like the headlight, offers multiple light modes, the Xinji Bike Light boasts an integrated 120 dB horn feature that lets its user select from one of the half-a-dozen different sounds.
Meilan X5 Automatic Taillight
The Meilan X5 Automatic Taillight takes technology that has been used by cars and motorcycles for decades and applies it to the bicycle world. This wildly-affordable IPX4 water-resistant taillight comes loaded with turn signals, tail, and brake lights, along with a wireless handlebar-mounted remote that activates the aforementioned brake light and indicators. Its 2,200mAh battery offers up to eight hours of run time, and only takes two hours for a full recharge (via USB). As an added bonus, the Meilan X5 also projects a pair of lines on either side of the bike, making it markedly easier to be seen by drivers.
Purchase: $35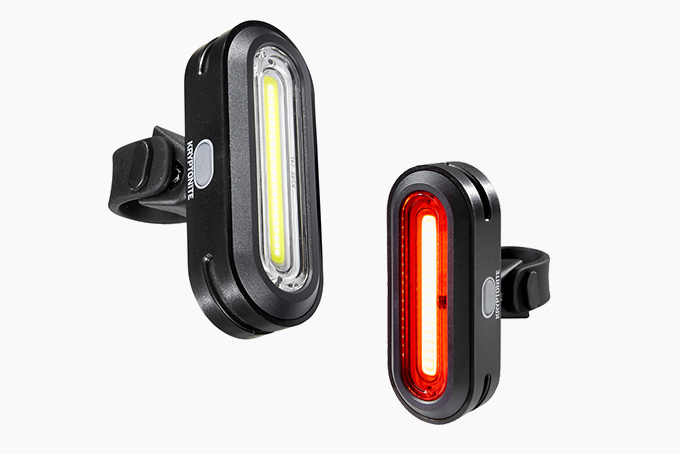 Kryptonite Avenue F-150 & R-75 COB LED Lights
Kryptonite is one of the most trusted names in the bicycle accessories game, and for good reason. The East Coast company consistently makes reliable, quality products, and though it may be best-known for its bike locks, Kryptonite makes equally impressive bike lights. The Avenue COB lights (F-150 headlight and R-75 taillight) are basic, no-frills, LED strip offerings that wrap around the handlebars (or headstock) and seat post and can be attached or removed in seconds. The headlight puts out 150 lumens while the taillight throws out half that number (hence the 150 and 75 monikers). Fully USB rechargeable, these lights afford a generous 24 hour run time.
CYCL WingLights
Bar-end turn signals have become increasingly popular in the motorcycle space, and these offerings from brands like Motogadget and Kellermann are now available for two-wheelers of the pedal-powered variety in the form of the CYCL WingLights. Unlike motorcycle bar-end blinkers, however, these CYCL items boast forward-facing white LEDs and rear-facing red LEDs that serve as head and taillights, though a simple tap on either bar-end will activate the flashing yellow turn signals. These lightweight, shock and waterproof bar-end indicators come with installation pieces that fit inside the handlebars and act as a screw-in mounting point for the semi-conical lights. When not riding, the WingLights can be popped off and attached to a handy magnetic keychain. They can also receive a full charge via USB in just 30-minutes.
Garmin Varia Smart Headlight
Capable of delivering a very respectable 800 lumens for up to 1.5 hours, the Garmin Varia UT800 Smart Headlight is one of the latest and most technologically-advanced lights ever produced. The light is capable of sensing ambient light conditions and adjusting itself accordingly. Offering five separate light modes, this high-intensity beam is powerful enough to be seen during the day from more than a mile away. The UT800 can also be paired with compatible Edge cycling watches and computers to automatically turn the light on or off, or adjust its brightness.
Laserlight Black Safety Light
Intersections can be quite perilous for commuters living in major cities, with approximately 75% of all bicycle collisions occurring there. And it's this fact that seemingly prompted the development of the Laserlight Black Safety Light. This premium bike beam is enshrouded in an aircraft-grade aluminum housing, is fully waterproof, offers more than 40 hours of battery life, and packs a 300 lumen LED light. Setting this light apart from other offerings is its bicycle icon that is laser projected onto the street a few meters ahead of the bike, alerting pedestrians and other vehicles to the fact you're entering an intersection and allowing them to know you're there before they even see you.
NightRider MTB Race Light
One of the absolute best mountain bike lights on the market, this potent downhill-focused beam is rugged and powerful enough to make for a stellar commuting bike light. A trio of CREE LEDs throws some 1,800 lumens across a wide beam. Gasket-sealed, DuPont fiberglass reinforced nylon housing provides a highly-durable, water and dust resistant package for the MTB Race light. Put simply: if it's good enough to meet the exacting demands of professional mountain bike riders, then it's almost certainly sufficient for your daily commute. This wired light comes with mounting hardware for anchoring the light to a handlebar up to 35mm, or a helmet.
Garmin Varia Smart Radar Tail Light
This high-tech light from Garmin is the taillight-counterpart to the UT800 headlight and offers even more impressive "smart" features. The Varia RTL510 has a 65 lumen LED taillight, is IPX7 waterproof and is powered by a USB-rechargeable lithium-ion battery that affords up to 15 hours of run time. The taillight has built-in radar detectors that scan 460-feet behind the bicycle for approaching cars. As a car approaches, a handlebar-mounted display informs the rider how far away a car is in real-time. Once an approaching vehicle is detected, the light responds by flashing in order to best get the driver's attention. And, like the Garmin smart headlight, this taillight can be seen from a mile away during the day.
Revo Lights
By far one of the most innovative and interesting bike light options of the last decade's smart and e-bike era, the Revolight utilizes a unique and clever system to provide wheel-integrated head and tail lights. A series of 35-lumen LED lights found at the outer edge of the front wheel's spokes are used to illuminate the road by sensing wheel speed and only activating the lights as they pass from the one o'clock to the six o'clock position. The taillight works in the same manner on the rear wheel. Together the Revolights provide 360-degree visibility and around four hours of battery life. They also have the added benefit of looking plain awesome.
Cat Eye Volt 6000
While it doesn't come cheap, the Cat Eye Volt 6000 is undeniably one of the very best bicycle light offerings that money can buy. Throwing out an impressive 6,000 lumens — which are made all the brighter by the use of Cat Eye's OptiCube lens technology — this ultra-bright beam is sure to sufficiently guide your way, even in the darkest, rainiest, and/or foggiest of conditions. And despite its oomph, the Volt 6K's battery still affords 12 hours of running time. Offering half-a-dozen light modes, the Volt 6,000 also features carbon fiber construction.
The 10 Best Commuter Bicycles
Intrigued by the prospect of commuting on two-wheels but don't yet own a bicycle for daily riding duties? Intimidated by the sheer volume of bikes on the market? Well, our handy guide to the best commuter bicycles is here to help you find the right set of wheels for your daily commute.
HiConsumption is reader-supported. When you buy through links on our site, we may earn an affiliate commission. Learn more