With spring and summer right around the corner, it's the perfect opportunity to dust off the old road bike and get it in running shape for the season's many adventures. Whether you're an avid road cyclist, mountain biker, or a beginner who's looking to jump into the fray, the allure of taking a trip on a machine that's powered entirely by your own two legs is often undeniable — but for those who have yet to take the plunge into the deep, dark rabbit hole of professional cycling components, groupsets, and gear, the cost-of-entry might seem a little bit daunting. While cycling is surely an exotic pastime that can take up copious amounts of your time, money, and livelihood, an introduction to the wide world of road-oriented excursions isn't as expensive as one might think — and that's where we come in.
It might not come as a surprise to those who have recently decided to dip their toes into the waters of two-wheeled freedom, but some of the industry's finest manufacturers heavily cater to the entry-level rider, offering complete setups that blur the lines between affordability and performance. While these bikes are undoubtedly built for those who want a capable machine that will carry them over a variety of different terrain, there's the legitimate fear of lackadaisical durability, half-baked construction, and less-than-exemplary products that help manufacturers to keep the costs low while providing the bare minimum to would-be riders. Below, we'll briefly outline what to look for when picking up your first road bike, from groupsets, materials, and terrain types, all the way to gearing and riding styles — so you don't fall victim to lazy practices. Put on your racing sunglasses, guys — it's time to go fast.
What To Look For
A Good Groupset
The Perfect Pairing
A streamlined groupset is essential for the wellbeing of your bike and can even affect the way you ride, the amount of time you can ride, and the types of terrain you can navigate. Outside of the realm of road bikes, it's mildly acceptable to mix and match a variety of different parts to achieve your desired build, but when it comes to long-distance riding, it's always a safe bet to pick up parts for your platform that maintain the same "groupset." To put things simply, while looking for a number of different peripherals that make up the primary operating portions of your cycle, it's important to stick to compatible products or products that were built to work well together. This cuts down on the wear and tear of parts over time, and in particular, your braking, gears, and drivetrain will last far longer than they would if you had mixed a multitude of parts that weren't built to operate side-by-side. For instance, a Shimano R2000 Claris Groupset (which is one of the primary groupsets listed below) was conceptualized, designed, and built to work seamlessly alongside Shimano's other R2000 parts. When you're looking to pick up any new peripheral for your bicycle, always ensure that you're considering parts and bike accessories that will work in unison, and not against you and your bike's common goal.
A Preferable Saddle
Comfort Is Key
It might seem like one of the most minimal aspects of a well-performing road bike, but keep in mind that your athleticism, posture, and comfortability are all drastically defined by the type of seat that you've chosen to utilize. For most, a slim, hard saddle will not fit the bill for long commutes — so it's important to figure out which style fits you best. There are a number of brands, products, and styles out there, but it's up to you to understand which biking essentials makes you feel the most comfortable while riding. From bulky, cushioned seats, all the way to aerodynamic center cutouts that sacrifice volume and plush for speed and weight, it's essential that you pick the right seat for your daily commute. As unusual as it sounds, this is a vital piece of your bicycle, and it could make or break your passion for riding, depending on your experience.
The Right Ride Height
Posture Is Crucial
As with a bicycle's seat, buying the correct components and adjusting them accordingly for your suggested ride type is of the utmost importance. For taller individuals, longer, more expansive peripherals are needed to put them into the correct posture for long-distance riding, whereas shorter individuals will have to adapt accordingly due to varying seat post heights, handlebar heights, and crank lengths. This is mostly trial and error, but the rule of thumb (depending on the type of handlebar that you have) is that too much weight on your front end/hands is often unnecessary, and measures should be taken to extend (or shorten) your stem length, as necessary. While it's often unavoidable, be sure to place your seat at a height where your back is not arched or hunched over while riding; you should always maintain a nice, straight spinal posture while navigating the terrain. If you find that you're placing too much stress upon your back, shoulders, or hands, it's time to adjust accordingly — you'll be surprised at the difference that good posture makes during your daily ride.
Vilano Shadow 3.0
Vilano's Shadow 3.0 is boasted as the best cycle in Vilano's SHADOW lineup — an entry-level offering that's great for club rides, daily commutes to your workplace or local coffee shop, and general sweat-inducing exercise and fitness. It features an ultralight 6061 aluminum frame that comes complete with an integrated headset, internal cable routing, and Shimano's top-of-the-line STI brake lever integrated shifters. These revered units allow for near seamless braking and shifting via a single unit and are designed to handle anything the blacktop has to throw at Vilano's beginner cycle. To round out the Shadow 3.0, a set of well-performing disc brakes provide adequate stopping power on a number of surfaces, so you'll never feel like you're lacking when it comes to tactile control.
Giant Contend 3
Giant has more than a few years of experience under its belt when it comes to manufacturing road-ready bicycles, and their Contend 3 is the product of the company's tried-and-true expertise. The brand's entry-level offering is built primarily for aspiring riders who are looking to take their cycling addiction to the next level. Promoting a tailored riding position that caters to endurance-style racing and responsive acceleration, the bike's frame and fork are more forgiving than most, allowing beginners to run wider tires (and a longer seatpost) to cut down on road-wary shocks and vibrations. While the Contend 3 was built with the all-arounder in mind, it's undeniable that the bike feels right at home on the city streets — offering an exhilarating ride that looks the part of a refined road racer.
Tommaso Imola
Tommaso has a long history creating bikes for the serious road-warriors of the world, and the company's Imola bicycle is the perfect segway into the world of hardcore endurance. While most company's cut corners on their entry-level bikes, Tomasso has taken a different approach with the Imola, opting to include a full Shimano R2000 Claris Groupset that provides riders with the ultimate in value and cabability. Since piecemeal setups are often hastily thrown together, the Imola's utilization of Shimano parts serves to create uniformity throughout the bike's many processes, ensuring great performance, seamless integration, and superb shifting throughout the entirety of the cycle's range. Serving as the foundation for the R2000 groupset is the company's Tommasso 6061 SLA aluminum compact road frame and SST steel fork — two fabricated components that only add to the value of the entry-level bike and provide road-oriented cyclists with a reliable, lightweight setup that's ready for any glorious commute.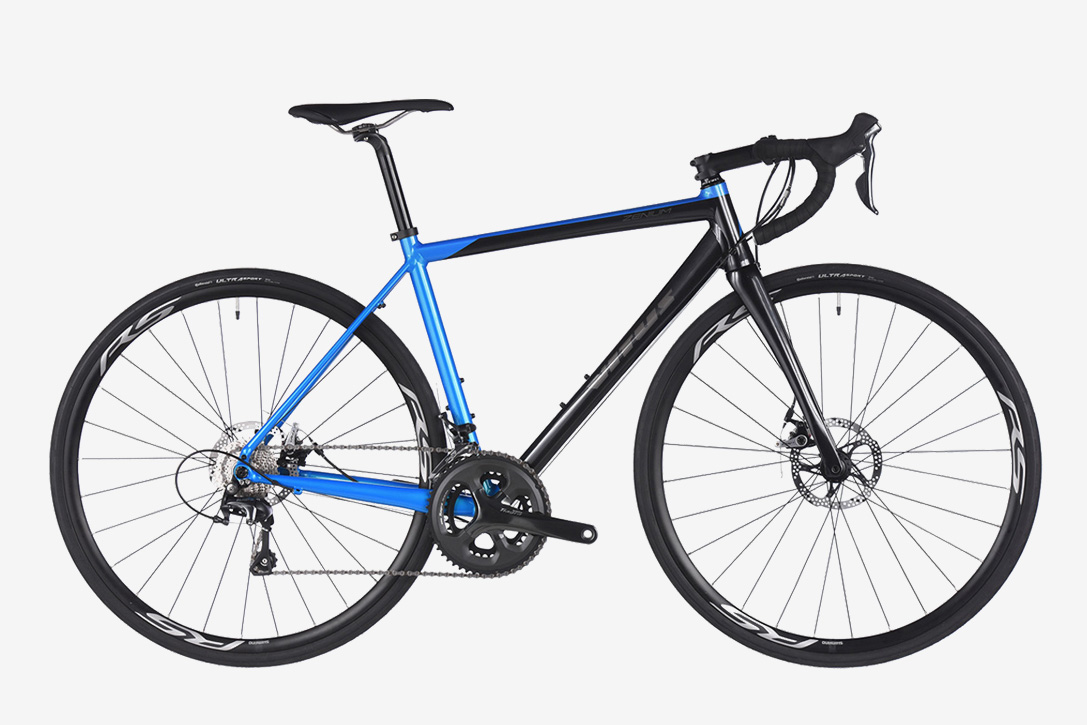 Vitus Zenium Disc
Vitus' Zenium Disc might seem like an odd callsign for a two-wheeled road-farer, but the company's well-built entry-level cycle is actually full of tech that makes it stand apart from its competitors. Utilizing a hydroformed top tube and an all-new alloy frame platform, the Zenium focuses its efforts to create a tailored, road-ready build that epitomizes the notions of comfort and balance. The cycle's fork is crafted with a high modulus weave carbon fiber and utilizes a tapered steerer tube that increases responsiveness while cutting down on unwarranted roadway noise. Flat mount disc brakes and bolt-through axles ensure that riders always feel as if they're in control, while the bike's compliant build aims to reduce rider fatigue and imbue confidence in both amateur commuters and professional cyclists.
Specialized Allez Sport
Specialized is a household name when it comes to all-terrain bicycles, but the company is especially proficient with their road-oriented builds. Their Allez Sport is one such offering, boasting a handsome race-inspired silhouette that caters to the entry-level road-racer. A 9-speed Shimano Sora drivetrain allows riders to navigate variable inclines with ease, while the Allez's professionally-built AXIS wheelset and FACT carbon fiber fork allow for the ultimate in precise handling. Precise shifting isn't the only thing that's great about the Allez, however — it also utilizes a compact crankset, Toupe Sport saddle, ESpoir Sport tires, and an E5 Premium Aluminum frame that embodies sleek, smooth linework for the perfect aerodynamic structure. The Allez is more than just an entry-level bicycle — it's a lightweight competitor that places value and performance above all else.
Bianchi Via Nirone Claris
Bianchi has retained its strategic placement among the ranks of renowned cycling brands for well over a century now, and with each passing series, the brand's offerings get a little bit better. To cater to the entry-level rider who's not quite ready to invest in a professional performance cycle, the Italian company has introduced their Via Nirone Claris — an original endurance bike that helped to shape the future of the racing genre over ten years ago. The Claris is a testament to cycling's endless pursuit of comfort and performance, adopting the brand's proven K-VID (Kevlar Vibration Isolation Device) technology to reduce interference as you travel, as well as a triple butted, hydroformed aluminum frame that uses revised geometry to steer and handle better than other offerings on the market. To top things off, Bianchi's proprietary Active Technology has been implemented to provide the rider with additional support via an optimized seating and pedaling position, which help to cut down on fatigue and premature exhaustion.
Kona Rove
Kona's 6061 aluminum-butted Rove is the perfect all-around bike for beginning cyclists, offering a zero-frills alternative to traditional commuters, adventure bikes, and road-racers at a much lower price point. The Rove was created to be an adaptable road- and grave-faring cycle, utilizing an FSA Tempo Adventure crankset, Hayes CX Comp brakes, and WTB SX19 wheels that operate together seamlessly to provide the rider with a perfect adaptable platform for multi-terrain use. The 8-speed Shimano Claris drivetrain helps to negotiate variable inclines, whether narrow gravel-strewn passages or beautifully groomed roadways. No matter the situation, Kona's entry-level offering is primed to offer everything you need for a fantastic adventure — and possibly, even more than you'd expect from a beginner cycle.
Raleigh Merit 2
While most of the bikes on our list are catered toward mid-city commutes and quick weekend jaunts, Raleigh's Merit 2 looks to bridge the gap between long-distance riding and neighborhood use. The second iteration of the manufacturer's renowned Merit platform provides riders with a responsive, stable, and safe two-wheeled machine that answers the call for century riders and road riders alike. A 6061 double-butted aluminum frame, Shimano Claris 8-speed drivetrain, STI shifters, and TRP Spyre dual-actuated mechanical disc brakes keep the entry-level bike in the upper echelon of the competition, while Clement Strada LGG 60TPI tires keep things rolling smoothly throughout your trip. And while the Raleigh Merit 2 might be included in our list of beginner's cycles, don't be fooled — it's certainly a mid-range offering in a much more affordable package.
Diamondback Century 2
Diamondback is a well-known manufacturer of off-road-oriented, but that doesn't mean the company doesn't dabble in superb entry-level cycles. The company's Century 2 meshes a vibrant, competitive component list with the brand's own cutting-edge technology to ensure a well-performing ride, no matter the circumstance. Custom-formed aluminum tubing and Enhanced Performance Geometry help the bike to maintain a perfect balance between affordability and durable use. To cater to a less experienced rider, Diamondback has implemented a taller head tube and head angle that result in longer rides, enhanced comfort, and aerodynamic prowess. To top it all off, a full Shimano groupset was included to provide seamless operation, as well as to retain an affordable parts list that doesn't stray from the path regarding durable, dependable use.
Tommaso Monza
Tommaso's Monza is a tried-and-true road-warrior that uses a 6061 SLA aluminum compact road frame and an HCT carbon fork to provide entry-level riders with a lightweight, durable commuter bicycle for everyday excursions. A Shimano Tiagra 4700 drivetrain and shifting system provide exceptional acceleration and navigation capabilities, while lightning-fast gearing changes the game for those who are indecisive about the speed at which they'd like to traverse their favorite terrain. Tommaso's TC-40 wheels utilize a great depth ratio that caters to aerodynamic principles, while bladed spokes and a tough construction minimize the amount of vibration that's able to reach the rider through the frame. Even better — the wheels have been designed around the concept of increased centrifugal force, allowing the bike to stay stable and balanced as you pick up speed.
Cannondale Synapse Disc Sora
Cannondale is no stranger to the spotlight, and the company's Synapse Disc Sora is perhaps one of the finest entry-level road bikes in the entire industry. A SmartForm C2 alloy frame and carbon blade fork provide riders with the perfect balance between innovative and durable technology while shaving off some additional weight to keep your commute aerodynamic and smooth. A Shimano Sora Group drivetrain and mechanical disc brakes offer all the starting and stopping power that you'd ever need as a beginning rider, alongside a tried-and-true FSA Vero crankset, Vittoria Zaffiro 28c tires, and Cannondale's very own C4 bars, stem, and seatpost — which dampen troublesome vibrations and allow for a more comfortable ride. As a cherry on top, the Synapse Disc Sora integrates the manufacturer's Stage Ergo saddle and components, offering a comfortable ride that promotes longer commutes and day-trips.
Fuji Jari 1.7 Gravel
Fuji's Jari 1.7 Gravel rounds out our list as an exceptionally built hybrid bike — perfect for the smooth-riding blacktop or the rock-covered roadway. It comes with either an A6-SL super-butted aluminum (or a Reynolds 520 double-butted chromoly steel) frame, giving riders a choice between two different construction types, geometry and weight differences, and upgraded seat-tube and head-tube angles for a more relaxed ride. Oval Concepts handlebars and an FC-440 carbon fiber fork pair nicely with the bike's internal cable routing and flat mount disc brake on the rear, giving it a streamlined, aesthetically pleasing silhouette that looks great on or off the road. Bento box direct mounts and various rack/fender application points allow riders to transition the bike from gravel-gaiting beast to furious-road-racer with a few simple mods — making it the perfect entry-level bike for those who want to tackle as much terrain as possible but aren't quite ready to commit to a full-fledged road or gravel cycle.
15 Best Cycling Instagram Accounts
Now that you've got a good baseline regarding entry-level bicycles, take a look at our guide on the best cycling Instagram accounts to find some inspiration to get out and ride.