Growing a beard is as easy as simply existing. Growing an attractive, well-maintained beard is another story, however, and no one product is more beneficial to a man's mane than beard oil. Natural, untreated beards dehydrate, become brittle, and dry out the facial skin beneath. Beard oil serves as a one-stop solution to these issues, while at the same time providing a myriad of additional benefits such as eliminating facial itch, moisturizing your face and beard, bolstering facial hair growth, effectively combatting dandruff, and adding a pleasant scent.
Despite their close proximity, scalp and facial hair are fundamentally very different, with the latter's follicles being markedly thicker, more curly, and more wiry in texture. For this reason, facial hair requires its own unique nutrients and oils to look and feel its best, and that's where beard oil comes into the equation. On top of yielding a softer, thicker, more manageable beard, beard oils also have the added benefit of moisturizing the underlying skin, as well as bolstering the ease of use and efficacy of supplementary bearding products like beard waxes, balms, and combs. Put simply: beard oil is the unequivocal foundation for any healthy beard.
Beard Oil Basics
What to look for and why
Not only is beard oil incredibly effective, but it's also remarkably affordable and efficient with a single one-ounce bottle typically lasting several months – assuming you aren't rocking a full ZZ Top-style mane. Better yet, beard oil is one of the easiest-to-use men's grooming products out there. Beard oil application is as simple as dabbing 2-4 drops into your palm, rubbing your hands together, and then running them softly and evenly through your beard. It's also worth noting that beard oil isn't a one-time cure as much as an efficacious maintenance tool — not unlike shampoo or toothpaste.
Beard oils are highly-calculated, well-balanced blends of various oils, vitamins, and nutrients, each with their own unique benefits. Selecting a beard oil should be dictated by the particular wants and needs of your beard. If you're in the early phases of learning how to grow and maintain a beard, an oil that delivers solid growth is probably a good call, just as a particularly moisturizing oil might be best if you're looking to remedy a dry, itchy beard. These oils are also offered in a variety of scents as well as non-scented versions, which is another factor to be considered.
Redken Brews Beard And Skin Oil
This beard oil hails from an established big-name cosmetics and grooming brand that's aimed at moisturizing facial skin and hair. Though a very effective formula, the Redken oil's ability to hydrate beards and underlying skin are partially made possible by the use of a handful of non-natural, albeit safe, chemicals. The upside to these non-organic ingredients allows Redken to sell this oil for noticeably less than most of the competitors while still offering a more-than-solid product.
Ritual Of Samurai Beard Oil
This premium beard oil puts a Japanese spin on the typical formula, utilizing powerful sencha and Japanese mint oil in conjunction with traditional bases like sunflower seed, argan, and jojoba oils. The Japanese mint also provides a refreshing scent that's similar to peppermint but slightly smoother and more refined. On top of some truly beautiful branding and packaging, the Ritual Of Samurai beard oil's 1oz bottle also comes fitted with a pump-spout, making its application quick, clean, and easy.
Beard Unlimited Cuban Tobacco Beard Oil
This scented beard oil from Beard unlimited uses a base comprised of jojoba, grapeseed, sweet almond, and argan oils that's been infused with vitamin E to deliver one of the highest-rated and best-reviewed beard oils currently on the market. Boasting the masculine scent of Cuban tobacco, this product offers subtle hints of clove, amber, and warming spices. The elegant branding and old-school eye-dropper are just the icing on the cake with this made-in-America offering.
Detroit Grooming Co. Downtown Grooming Oil
A reputable product from a very reputable company, the Downtown beard oil from the Detriot Grooming Co. uses a magnesium-rich sweet almond oil base infused with vitamins A, B, and E that together help to keep facial skin and facial hair moisturized. This 100% scent-free formula provides fast-acting effects without clogging pores or leaving an unpleasant film. Offered in both 1oz and 0.5oz sizes, this grooming oil is formulated and made in America.
Jack Black Beard Oil
Packed with certified organic essential oils, antioxidants, and botanicals including Kalahari melon oil, brown algae, vitamin E, and carrot extract, Jack Black's beard oil is a stellar choice for transforming scraggly and unruly facial messes into rich, luscious beards. Developed using the company's PureScience natural formulas, this nicely-packaged product is touted for its ability to remedy dry, itchy skin and facial hair. A convenient pump spout makes its application easy and mess-free, too.
Baxter Of California Beard Grooming Oil
This lightweight, fast-acting beard oil blend from Baxter Of California is enriched with squalene and avocado oil and was formulated to moisturize facial hair and skin while at the same time promoting healthy, even growth. The enriching formula is complemented by scents of sandalwood, Jasmin, and cedarwood. And, unlike many of the relatively newer brands on this list, Baxter has a wealth of knowledge and more than half-a-century of experience to draw from, with the Los Angeles-based operation stretching back to 1965.
Babel Alchemy Sandalwood
Another popular and well-rated beard oil engineered around a sweet almond, hemp seed, jojoba, vitamin E, avocado, grapeseed, apricot kernel, pumpkin seed, and argan oil base, this Babel product offers a number of unique benefits. The sandalwood boasts natural anti-bacterial qualities, while the rest of the oil blend actually offers anti-aging and anti-inflammatory properties. Scented with calming, premium-grade essential oils, this all-natural offering comes in a 2oz bottle and is sold with a 30-day money-back guarantee.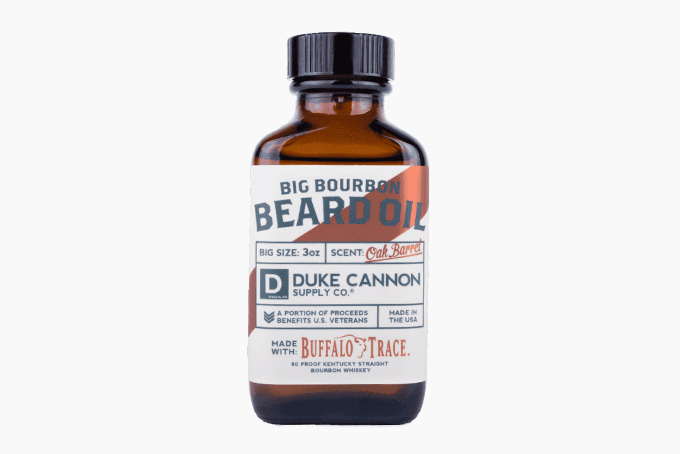 Duke Cannon Big Bourbon Beard Oil
This unique organic beard oil is formulated using Buffalo Trace bourbon, along with apricot kernel, argan, and jojoba oils. Despite the bourbon content, this oil gives off a woodsy, oak scent and was designed to moisturize even the dryest and most damaged beards, so much so in fact that Duke Cannon even claims the oil is effective at treating common skin conditions like acne and eczema. Made in the US and sold in a large 3oz bottle, this oil donates a portion of its proceeds to military-vet-related charities and NPO's.
Beardbrand Old Money Beard Oil
With an argan and jojoba oil base supplemented by a host of essential oils, this all-natural beard oil is a flagship product of its manufacturer, the Beardbrand. The formula includes tones of amber, bourbon, oak, and black pepper, and is the strongest scent offered by the Austin-based outfit. With over 7,600 product reviews on Google, this blend has an average 4.5-star rating, despite costing around twice as much as the majority of the competition.
Tom Ford Conditioning Beard Oil
A luxurious, scented beard oil from legendary designer and film-maker Tom Ford, this aptly-named beard oil boasts a myriad of standard bases (jojoba, argan, and sesame seed oils) combined with high-end ingredients to deliver a truly exceptional formula that moisturizes and conditions facial hair, while also hydrating underlying skin. As one would expect from a design outfit like Tom Ford, this oil is also bestowed with a top-shelf cologne fragrance. While some of what you're paying for here is the brand name, this beard oil's relatively exorbitant price does reflect its overall quality and efficacy.
How To Grow And Maintain A Beard
While beard oil is undeniably a huge help when it comes to properly maintaining your beard, it helps to have a fundamental understanding of how to go about growing it to begin with. Otherwise, things can get hairy pretty quickly. Luckily, this handy guide on how to grow and maintain a beard is here to walk you through the foundational steps of cultivating a proper beard.