Each year as temperatures start to rise, droves of outdoors enthusiasts make their way to the coastline to partake in some R&R in the sun and sand. While it's not difficult to enjoy a day at the beach, there are a handful of summer outdoor gear staples that afford their user the ability to capitalize on the season and make the most of their time on, and alongside the breaks. And it's this group of products that we'll be exploring today in this highly curated guide to the best beach bag essentials.
From warm-weather garments to outdoor furniture to sand and waterproof gadgets, this hand-picked selection of items allows you to take your time at the beach to the next level, adding convenience, luxury, and utility, to the equation while also bringing some of our favorite creature comforts to the coastline. So, without further adieu, let's dive into our picks for this season's must-have gadgets, garments, and gear to line your beach bag.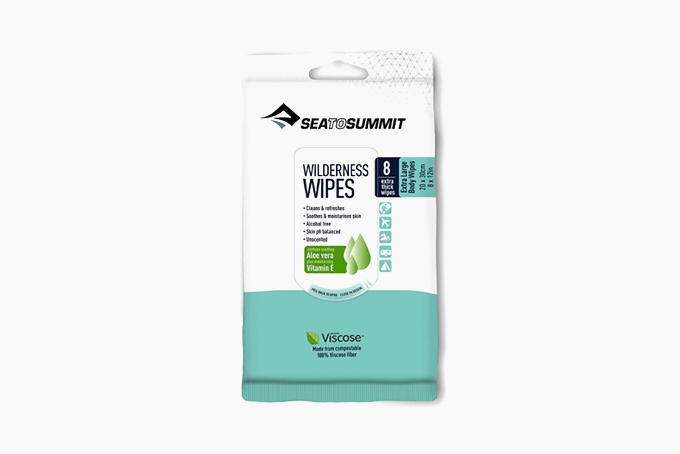 Sea to Summit Wilderness Wipes
Sold in extra-large resealable packs of 12″ x 8″ body wipes, Sea to Summit Wilderness Wipes allow you to carry a mobile shower in your pocket. In addition to helping users freshen up, these 100% viscose fiber wipes are also infused with a variety of nurturing ingredients such as aloe vera and vitamin E and are fully pH-balanced. Because this formula was designed to wipe away salt and grime, it's a perfect addition to any beach day load out.
Bravo Sierra SPF30 Face Sunscreen
A potent, workout-friendly, face-specific broad-spectrum sunscreen, this Bravo Sierra product isn't greasy or sticky and doesn't feel caked on when worn. Comprised of a highly calculated combination of natural ingredients, this sunscreen contains a host of soothing elements and is completely devoid of any added fragrances, phthalates, parabens, sulfates, PEGs, or phenoxyethanol. What's more, in typical Bravo Sierra fashion, this product has been extensively field-tested by several hundred active-duty U.S. Military personnel and is also vegan-friendly, cruelty-free, and reef-friendly.
Yucca Fins Wedge Tested Snapback
Yucca Fins' Wedge Tested Snapback is an ocean-inspired trucker hat with a mid-profile construction, an embroidered front patch, and a nautical-style cord accenting the brim. The hat is crafted from a twill, and features poly mesh rear panels and a cotton headband. And while almost any brimmed hat will hugely come in handy at the beach, this item's nautical theme and surf branding make it particularly conducive to days in the sand.
The Ocean: The Ultimate Handbook of Nautical Knowledge
Cowritten by award-winning writer and editor Jeremy K. Spencer and renowned surfer Chris Dixon, The Ocean: The Ultimate Handbook of Nautical Knowledge is a stellar piece of reading for days in the sun and sand. Comprised of 360-pages, this hardcover item from Chronicle Books explores everything from wetsuit 101, to beach fishing, to basic knot tying to beach flag warnings, and contains a host of other genuinely useful information and intel. The beach-focused book includes a collection of well-written copy accompanied by beautiful illustrations and diagrams.
Pelican Multi-Use Towel W/ Carry Case
Part of Pelican's recently released Outdoor Collection, this Multi-Use Towel is crafted from an insanely absorbent, quick-drying, and ultra-durable poly-nylon composite microfiber that's capable of absorbing seven times its own 0.61lb weight in water. Measuring 29.5″ x 29.5″, this item is available in a trio of color options and comes paired with an aluminum carabiner and a rugged polymer carrying case. This Pelican product also comes backed by a three-year warranty.
Chaco Chillo Slide
Specifically developed to be the ultimate rest and relaxation slide, Chaco's Chillos model is an ultra-comfortable piece of footwear that's absolutely perfect for days at the beach or on the water. Made in America, these vegan-friendly slides feature uppers comprised of polyester jacquard webbing and paired with an EVA mid and outsoles. Offered in five color options, the Chillos Slide is also equipped with the brand's contoured Luvseat arch, and Chaco's adjustable webbing "Z" straps with ladder lock buckles.
Purist Collective Founder 32oz Insulated Bottle
Purist's Founder model isn't your average water bottle, as the double-walled item features an unbreakable glass liner made from a transformed silicon dioxide that's been reinforced with a surgical-grade 316 stainless steel interior layer and a 304 stainless steel shell. Capable of keeping drinks icy cold for up to 24 hours, this unmistakably premium water bottle — which measures 9.25" H x 3.75" W — boasts a lightly-textured, top-shelf fit and finish and comes paired with a Purist's screw-down Element top, which packs an integrated flip-up handle for easy carrying or attachments to bags or other gear.
Apple Airtag + Leather Loop
When spending time at the beach, it's incredibly easy to lose small items like keys or wallets in the sand, though, with Apple's newly released Airtag, this long-held problem is becoming a thing of the past. Available with optional engraving, Apple's Airtag is offered with a variety of accessories including the Silicone Valley tech giant's Leather Loop, which can easily be attached to an enormous variety of gadgets or gear in order to keep constant tabs on their whereabouts.
Goal Zero Venture 35 Power Bank
Having your phone, camera, or portable speaker on hand can hugely elevate one's time at the beach, though without a readily available power source, products like Goal Zero's Venture 35 Power Bank can be a godsend. Built around a rugged, IP67-rated metal housing, the Venture 35 — which is also available in 19,200mAH Venture 75-spec — contains a potent 9,500mAh battery, giving it enough juice to charge the latest iPhone 12 Max several times over. Equipped with an integrated 50-lumen LED light, the item features multiple charging ports that recharge devices at 18W speeds.
Saturdays NYC International Beach Towel
No matter how much time passes, an oversized beach towel remains a bonafide must-have item for days in the sun, waves, and sand, and Saturdays NYC has managed to deliver an understated yet top-shelf take on the item with its International Beach Towel. Spanning 40″ x 74″, the towel is woven from a heavyweight 420gsm cotton sourced from Turkey and is adorned in a jacquard "Saturdays International" logo
Howler Bros H Bar B Tech Longsleeve
Howler Brothers have managed to deliver what is quite possibly the ultimate coastal summer shirts with its H Bar B Tech Longsleeve. Crafted from a quick-drying, wrinkle-resistant, poly-nylon blend with multi-way stretch, UPF 35 protection, and insanely fast quick-drying. Available in two color options, the lightweight garment features snap-secured pocket flaps, main closure, and cuffs, a vented back yoke, a sunglass cleaning microfiber clothe at the hem, and a secret zipper-secured pocket hidden in the shirt's lower right seam.
Birdwell Weekender Board Shorts
While it may sound like a bold statement, we'd argue that Birdwell produces the finest board shorts on the planet, and the Santa Ana outfit's Weekender Short is by no means an exception. Cut and sewn by hand in California, the shorts are made from the brand's SurfStretch fabric — an advanced spandex-infused poly blend — and paired with Birdwell's SurfNyl fabric waistband, black oxide grommets, a flat lace drawcord, and a micro-mesh lining. This pair also boasts the brand's signature back pocket design with an integrated key loop and a woven Birdie label patch.
REI Co-op Outward Shade Shelter
Having a beach umbrella or proper sunshade can make the difference between a memorable leisurely outing and a sun-burnt experience you'd like to forget. And REI Co-op's Outward Shade Shelter is a fantastic option, offering whopping 37-square feet of coverage in a sub-5lb package. Standing at 62″ tall, this shelter also features 68-denier tent walls with a rugged DWR finish that are supported via an aluminum pole structure.
Universal Works Terry Fleece Beach Fleece Hoody
A thin and lightweight layer is one of the most overlooked items when it comes to selecting your loadout for a day at the beach, and when it comes to this space, it doesn't get much better than Universal Works' Terry Fleece Beach Hoody. Produced in a trio of color options, this warm weather men's hoodie is constructed from a luxe terry fleece poly-cotton blend and features a relaxed fit with a 3/4 zip front, an adjustable oversized hood with contrasting draw cords, a central kangaroo pocket, and a hem and cuffs adorned in a jersey-knit fabric.
Pelican 20QT Elite Cooler
Coolers are obvious must-have items anytime you're spending an extended period in the sun, and dollar for dollar, it's hard to beat Pelican's 20-quart (or 20.35 liter) cooler. Backed by a lifetime warranty, this hardwearing hard-sided cooler is built around a hardwearing polypropylene body that's been paired with a matching polypropylene handle, heavy-duty ABS latches, 0.78″ thick polyurethane foam insulation, and stainless steel hardware throughout. Weighing around 12.5lbs (empty), this cooler also features raised, non-slip, non-marking feet, molded-in tie-down points and integrated cup holders, and can accommodate 15x 12oz cans accompanied by 19lbs of ice.
Helinox Beach Chair
Anytime you're in the market for quality outdoor furniture for the beach or campsite, Helinox's catalog is well worth a look. The industry-leading outfit's aptly-named Beach Chair is a packable item with a moisture-wicking nylon mesh construction wrapped around lightweight yet durable aluminum poles that afford the chair a generous 320b weight limit. Helinox's Beach Chair is also sold with a storage sack that can convert into a pillow for an even more comfortable outdoor lounging experience.
Rumpl NanoLoft Puffy Blanket
A thoroughly modern take on a field blanket that's perfect for summer days in the sand and surf — as well as camping and picnics — Rumpl's NanoLoft Puffy Blanket is a 52 x 75″ item that stuffs down into a compact 6 x 14" form. Weighing less than 2lbs, the blanket boasts a 30D ripstop polyester fabric with a DRW finish that's made entirely from recycled material and lined with NanoLoft synthetic insulation which is also derived from post-consumer materials.
DemerBox DB2
The DemerBox DB2 is one of, if not (ITAL) the most robust and rugged waterproof portable speakers currently on the market. The item is built around a crushproof Pelican hard case, making it impervious to impacts and the elements with an IP68 rating. Tipping the scales at less than 5.5lbs, the modern-day boombox offers 40+ hours of battery life and includes an integrated dry storage compartment for accommodating extra gear. This speaker is also offered in a variety of other color options.
MOSCOT Lemtosh-TT SE Sun Glasses
A quality pair of shades is another obvious beach day staple, and while there's admittedly no shortage of offerings on the market to choose from, few are as nice as MOSCOT's decidedly top-shelf Lemtosh-TT SE Sun model. Crafted by hand from an amalgamation of metal and Italian acetate, these premium glasses feature diamond rivets, a key-hole nose bridge, blue glass lenses, and a seven-barrel hinge design with "MOSCOT" temple engravings.
Garmin Instinct Solar Surf Edition
A state-of-the-art smartwatch with a suite of dedicated, surf-specific features, the Surf Edition of Garmin's Instinct Solar model is GPS connected and offers real-time information on tide data. Built to mil-spec standards, the smartwatch features a fiber-reinforced polymer case that houses a digital display under ultra-rugged Corning Gorilla glass. Thanks to its solar charging capabilities, this item can also operate for up to 54 days (in smartwatch mode).
The 10 Best Beach Camping Essentials
If you're interested in extending your time in the sand and waves, then beach camping can be a fantastic way to go, and if you plan on taking this route, our guide to the best beach camping essentials is loaded with must-have items to bring when making your bed beside the breaks.