Let's be honest, working from home certainly has its merits. We don't need to worry about our appearance, we can work in the comfort of our own living room, and we can wear whatever clothes we feel like. On occasion, we'll adorn that semi-professional upper attire for a video call, company meeting, or a client-facing agreement, but, for the most part, we spend our days in leisurely bliss. Naturally, that means that we'll be wearing sweats, shorts, and every so often, the ultimate garment in our relaxed menswear arsenal: the bathrobe.
While robes have traditionally been reserved for post-shower shaves and spa days, they've quickly become one of the work-from-home world's most utilized garments. Not only do they provide adequate coverage throughout the day, but they're also breathable, breezy, and adaptable, allowing you to work in a relaxed manner without feeling so confined. Plus, what's cooler than pounding out all your work for the day in one of the industry's most iconic garments? Nothing, really. That's why we've decided to use our knowledge of the leisurewear space to create a list centered around the stylish, supplementary piece, focusing on luxury, performance, and day-to-day comfort. So kick back and prepare for a decent dive into the world of WFH robes — it's bound to get a little saucy.
CB2 Cotton Gauze Lightweight
CB2 might be known for its home and furnishing essentials, but that doesn't mean it can't offer up its own line of comfortable loungewear. After all, the transition from its plush bathroom and shower staples should be relatively straightforward. That's why the Cotton Gauze Lightweight robe is so highly recommended by the brand's customers. It strikes the perfect balance between lightness and bulk, providing a middle-weight garment that can be used all-year-round, thanks to its four-layer gauze cotton construction. Of course, no robe would be complete without the addition of a belted closure — so CB2 has opted to include one of those, too.
L.L. Bean Men's Scotch Plaid
L.L. Bean's Men's Scotch Plaid robe takes a traditional loungewear silhouette and adorns it with of the most recognizable fabric patterns on the market. As one of the brand's exclusive offerings, this functional flannel piece boasts a longer-staple cotton composition, giving it a leg up on its competition when it comes to strength and overall quality. It also helps that the garment has been brushed eight separate times, before being approved by an in-house master weaver for its softness and comfortability. But it's a robe, right? It should keep you warm, first, and foremost. Luckily, the brushing process also helps to check off the boxes for superior insulation, meaning that you'll be able to rock L.L. Bean's Plaid robe throughout the year.
Ettitude Organic Bamboo Lyocell Waffle
Ettitude is known for its modern approach to timeless classics, and when it comes to the brand's Organic Bamboo Lyocell Waffle robe, there's hardly an argument in opposition to its handsome attributes. It's the perfect garment to don after a hot shower, bath, or sauna session, sure; but where it really shines is its leisurely, lounge-worthy construction, which utilizes a silky-soft bamboo lyocell for the ultimate in luxurious comfort. It also boasts an aesthetically-pleasing honeycomb texture, helping you to partake in that true "spa experience" without leaving the comfort of your own home.
HAY Waffle
HAY is yet another in-home essential brand that's taken its expertise in design to the realm of garments. The company's aptly-named "Waffle" robe contracts one of the genre's most timeless styles, while a seamless blend of cotton and polyester helps to provide a balance between adaptability, comfort, and durability over time. Like many of the examples on this list, the Waffle is built around relaxation, incorporating soft, absorbent cotton, a cross-woven waffle silhouette, and wide sleeves, complementing its one-size-fits-all persona.
Standard Textile Shawl Collar Waffle
Standard Textile's Shawl Collar Waffle robe is a great-looking alternative that pays homage to the spa-savvy variants of old. It's crafted with a comfortable 100% cotton fabric and utilizes its unique waffle texture to promote adequate breathability and comfort, mimicking the high-profile variants that you'll find at the world's most prominent luxury hotels and establishments. To amplify its standing, it's also been treated to a shawl collar, giving it the look of a premium, rolled garment that you might see adorned by celebrities and other important individuals.
Coyuchi Organic Waffle
Coyuchi's Organic Waffle robe isn't far removed from Ettitude's similarly-built Lyocell variant, at least in orientation. It takes on a silhouette like many of the genre's classic spa bathrobes, and as such, it's been streamlined to become the perfect unisex offering for lounging around the house, enjoying a cup of coffee out by the pool, or heading to the wellness center to get in a sauna session. Better yet, it's been prewashed prior to sale, so you won't have to worry about shrinkage putting a damper on your overall relaxation potential. As you continue to use and clean the garment, it gets softer and softer, thanks to its consciously-sourced organic cotton fabric.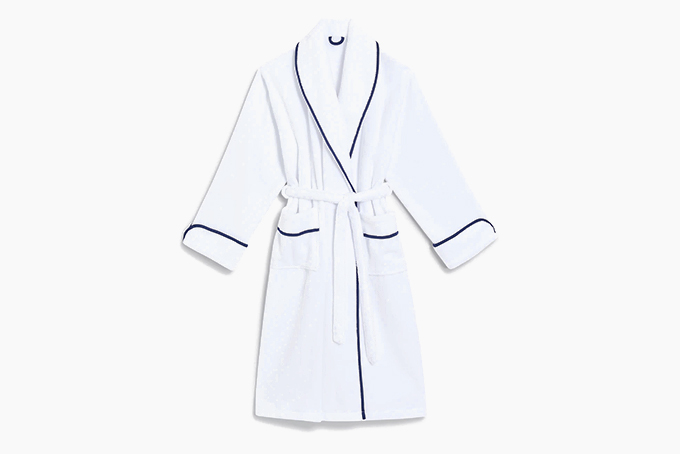 Hill House Home Men's Hotel
If you're looking for an elegant robe that's reminiscent of retro variants from years past, look no further than the Hill House Home Men's Hotel example. This unique garment looks similar to virtually every other model that's available today, but where it sets itself apart is in its subtle design elements. A lined and piped cuff, trim, and shawl bring a different perspective to this loungewear piece, helping it to obtain its own identity amongst the droves of spa-inspired products that we see on a day to day basis. But minimalist design isn't the only thing that it's got going for it. It's also been conceptualized and crafted in Portugal, where the company's talented workers have utilized 100% organic, zero-twist micro cotton to create a garment that's comfortable, pure, and durable.
Parachute Home Cloud Cotton
If there's a name that you should know within the world of work-from-home loungewear, it's Parachute Home. The company's renowned garments are tried-and-true examples of iconic spa wear, and the Cloud Cotton is its star. Pairing luxury, lightness, and comfortability, this quintessential garment incorporates a two-ply gauze design, a premium, 100% long-staple Turkish cotton fabric, and a waist tie to keep things secure, regardless of your body size. The result? One of the industry's most refined robe examples, and a surefire hit for the loungewear connoisseurs who expect only the best when it comes to simplified leisure.
Snowe Honeycomb
Snowe's Honeycomb robe might look like it's just another classically-inclined loungewear piece, and if you don't take the time to dive a bit deeper into its story, you'd be right to believe so. A quick glance will prove otherwise, however, considering the fact that the brand has improved upon the original waffle design to create a quick-drying, soft-construction variant that's Oeko-tex certified. Aside from being consciously-crafted, the great-looking example also boasts a more textured appeal than many of today's most lauded bathrobes, giving it a unique look and feel that's been described as one of the softest in the industry.
Sleepy Jones Glenn Checked Cotton-Poplin
We've featured Sleepy Jones in a few of our loungewear guides in the past, which means that they were a perfect contender for one of the genre's most important garments. Luckily, their Glenn Checked Cotton-Poplin robe came through when we needed it most, thanks to its relaxed, cotton-poplin fabric, classic plaid pattern, and an old-school look that can only be described as "suave." If you're looking to take on the evening with a bit of rest, relaxation, and a cocktail (or two), make sure you don this bad boy for the ultimate level of comfort and immersion.
UGG Brunswick
UGG only makes ultra-soft booties and footwear, right? Wrong. UGG also makes one of the industry's most comfortable plush robes. The Brunswick, as it's been named, is the perfect garment to enhance your morning (or evening) routine, thanks to is stretchy cotton jersey exterior, soft fleece lining, and belted closure. It also adopts one of the more "sleek" architectures that we've seen in a robe, giving it a super-smooth feel, inside and out. If you're looking for an example that ditches the retro waffle style for something a bit more contemporary, the UGG Brunswick might be the perfect option to add to your leisurely collection.
Pendleton Men's Lounge
No loungewear list would be complete without a little bit of Pendleton. Naturally, that means that the company's Men's Lounge robe was the perfect item to incorporate into our guide, thanks to its inherent heritage, quality, and comfort. Calling upon the brand's generational knowledge and commitment to classic design, the Lounge features only the finest woolen fabrics from its pacific northwest mills, which place an emphasis on their conscious respect for the environment. If you've been making some of the world's most renowned clothing for over 100 years, chances are, you know how to make some of the best loungewear pieces known to man, as well.
Reigning Champ Midweight Terry Hooded Robe
If you're an avid gymgoer, or your life revolves around athleticism, you've likely heard of Reigning Champ. Not only has the brand introduced some of the most cutting-edge training gear available on the market today, but they've also carved a swathe into the athleisure market, thanks to their post-workout loungewear. If you're heading home from the gym on a cold night, or you're looking to keep those muscles warm as you sit down for a relaxing afternoon indoors, the brand's boxing-inspired Midweight Terry Hooded robe is a prime example of functional comfort. Each example is crafted in Canada by the brand's professional workers and features a premium midweight Terry, low-abrasion, flat-locked seams, and an oversized hood to block out the world as you go into recovery mode.
Filson Alaskan Guide
We're rounding out our list with Filson's Alaskan Guide robe — and if we said that this wasn't our favorite pick, we'd be lying. True to the old adage "saving the best for last," this classic flannel variant is as iconic as it's going to get, thanks to its breathable, but rugged eight-ounce cotton composition. Like the L.L. Bean Scotch Plaid that we mentioned earlier, this ultra-soft model has been brushed numerous times to promote unprecedented warmth, feel, and adaptability, allowing it to take on those breezy summer days, or cold winter nights. If you're looking to stow your favorite accessories or items, there's also a pair of vertical-entry front waist pockets to keep everything secure.
The 20 Best Work From Home Wardrobe Essentials
Working from home doesn't always call for a subdued style. When things get a bit more professional, you're going to need to look the part. Head over to our guide on the best work from home wardrobe essentials to get a better feel for those days where being well-kempt is key.