When people think about health, the first couple of things that pop up in their heads is challenging workouts and healthy meals. Although those are two very important components to staying healthy, personal hygiene is as well. And using a well-made bar of soap can make a significant difference compared to bottom-shelf bricks.
You may be asking yourself why you would choose a bar of soap over the liquid variety. The truth is that it completely depends on what you prefer. Maybe you need to use a bar of soap for travel convenience or perhaps you prefer a block over liquid soap. If a bar of soap suits you, then you're in the right place. We've scoured the web to search for the best bar soaps for men, so you can stay clean and smell fresh.
Finding The Right Block
What To Look For
When you're searching for a bar of soap, don't grab any old block with a tantalizing box design. There are a few aspects to look for when you're searching for a trusty bar of soap. You'll want to make sure there's some kind of moisturizer in the ingredients, such as glycerin, so it doesn't dry out your skin, making you look like a dusty old mummy. Next, you'll want to consider organic ingredients, as they tend to be healthier. And you'll want to consider its scent, so you don't end up smelling like delicious fruit pastries. We kept these factors in mind while constructing our list of the best bar soaps out there.
JJ-Young All-In-One Soap
This 3-in-1 charcoal and menthol soap can be used for your face, body, and hair, making it perfect for traveling. The charcoal purifies your [ores, controlling the sebum on your face, and the propolis and orbital get read of sweat and deodorize your body. And the menthol comes into play by soothing your irritated skin and scalp. Cleanse yourself from head-to-toe with JJ-Young's soap.
Olivina Men Exfoliating Bar Soap
Olivina's Exfoliating Bar Soap provides will give your pores a deep clean after a long day on the grind thanks to its hardworking ingredients, including kaolin clay and ground olive stone. It also contains moisturizing glycerin, cannabis sativa seed oil, and flea Europaea seed powder. And it reduces environmental impact by using certified sustainable palm oil, so you can help the planet while you keep up with good hygiene.
The Arm Bar Soap Co. The Northern Night Batch
All bars of soap from this company are highly effective, especially if you're into mixed martial arts, but The Northern Knight batch is arguably the best. It's made with a crimson resin called Dragon's Blood Extract, which is an ingredient that's been utilized to heal internal an external sounds since the 1600s. It also contains high-grade Australian tea tree oil, mineral-rich Alaskan glacial mud, and bacteria-killing Himalayan Cedar Wood.
Every Man Jack Body Bar
Using 100% vegetable base and zero tallow, this bar of soap contains everything you need and nothing you don't. That means there's no parabens, aluminum, dyes, or phthalates diluting the effectiveness of the mix. The naturally-derived cleaning block is vegan, gluten-free, and contains glycerin to help moisturize your skin. It also comes in a variety of scents, including citrus, cedarwood, and sandalwood, which all smell amazing.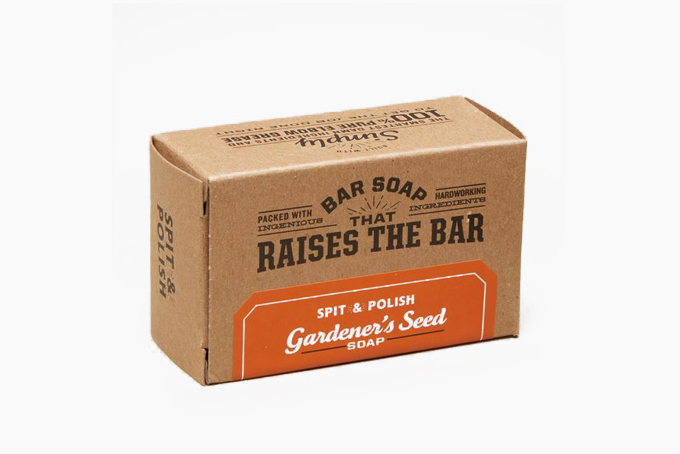 Duluth Trading Spit & Polish Prairie Sage Gardener's Seed Scrub
If you get down and dirty daily, Duluth's soap bars are ideal for your deep-scrubbing needs. The all-natural Gardner's Seed Soap contains a blend of black sesame, strawberry, and chia seeds to help grab the grit, leaving you feeling brand new. There's also hydrating cocoa and shea butter, as well as plant-based oils to moisturize your skin. And you'll end up smelling like fresh herbs with a hint of citrus after you're done.
Sheaterra Organics Buchu & Eucalyptus Muscle Relaxing Bath Bar
By using the 100% natural Sheaterra Buch & Eucalyptus bath bar, you can relax your muscles the same way the indigenous Bush tribesman do before they go off into the wild for a big hunt. This soap bar contains a relaxing touloucouna and gum eucalyptus oils to relieve body aches. It also contains certified organic shea butter and extra virgin olive oil to moisturize your skin.
Aspen Kay Dead Sea Mud & Charcoal Bar Soap
Made from 100% organic activated charcoal and therapeutic-grade essential oils, Aspen Kay's Dead Sea Mud & Charcoal bar soap will cleanse your body of dirt and grime, leaving you fully refreshed. It contains 100% pure dead sea mineral made from Israel and lemongrass, peppermint, and eucalyptus essential oils. The chemical-free soap can be used for your face and body.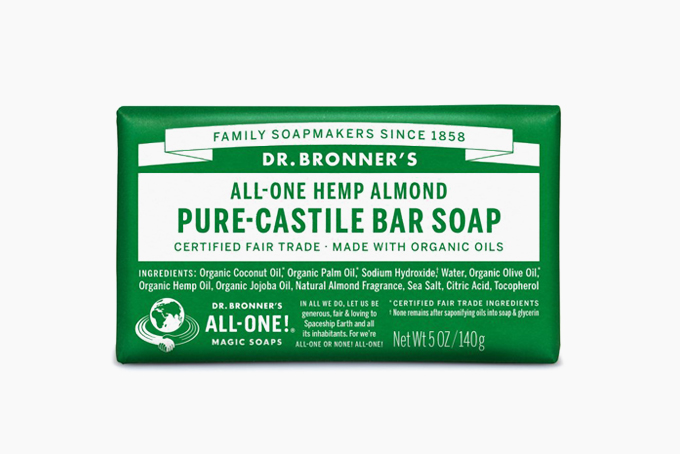 Dr. Bronner's Pure-Castile Bar Soap
Made using certified fair trade ingredient, such as organic hemp, coconut oil, and palm oil, this bar of soap is a healthy option. It has a slightly sweet scent similar to amaretto and is 100% biodegradable, as well as wrapped in a 100% post-consumer recycled wrapper. You can use the versatile vegan soap on your body, face, and hair.
Dr. Squatch Pine Tar
Dr. Squatch's Pine Tar soap bar is an all-around winner. It's made from genuine pine extract, nourishing oatmeal, and shea butter. The exfoliating bar also contains orange essential oil, lye, sea salt, and kaolin clay, making it effective for both oily and dry skin. You can get sudsy in the shower and come out smelling like the forest with this block of body-nourishing soap.
Duke Cannon Limited Edition WWII-Era Big Ass Brick of Soap
This brick of soap is made for hardworking men who make a living with their hands. It contains steel cut grains, avenue sativa oat kernel meal, glycerin, and sodium palm kernelate. Use it to wash your body after a long day of work in the field, and you'll come out smelling fresh. And it doesn't hurt to have WWII-era propaganda packaging.
Baxter of California Exfoliating Body Bar
To exfoliate and revitalize your skin, making you feel like a million bucks, Baxter of California's body bar is an excellent choice. The paraben-free soap sheds dead skin cells with ease thanks to ingredients like jojoba meal and crushed olive seed, which also boosts cell renewal. It boasts a superior hydrating formula that's ideal for all skin types, leaving your body smooth to the touch and smelling like oakmoss and cedarwood.
Land Meets Sea Exfoliating Bar
Using a custom recipe, Land Meets Sea's soap bar will exfoliate your skin to give you an invigorating feeling. It contains coffee, pumice, aged patchouli, black pepper, natural moisturizing oils, and Japanese peppermint. When you're done in the shower, you'll smell like the perfect blend of peppermint and coffee. Each bar is handcrafted in Maine with precision and care.
How To Shave With A Straight Razor
After you cleanse yourself of dirt from the day with a high-quality soap bar, following it up with a nice shave is a good look. Take a look at our guide on  straight razor shaving to upgrade your grooming skills.