Youtube has fundamentally changed the way we consume media. No longer does one need the backing of producers and a cable deal to make it onto the airwaves, and as a result, a pioneering group of innovators and entertainers have harnessed the power of Youtube to generate unique and novel content and independently unleash it upon the world. The enormous popularity of the video streaming platform has also allowed what have been viewed as traditionally niche spaces to absolutely flourish, with the necessary audience size and support to permit many creators to focus on Youtube as a full-time gig.
One genre that's seen an enormous influx in popularity since the site's launch in 2005 is the automotive space. Straddling the line between mainstream and subculture, automotive content on Youtube has evolved from simple car vlogs to highly-produced, individualized programs, each with their own unique angle and hook, though still falling under the general automotive content umbrella. Whether you're interested in tuning, custom builds, automotive history, mechanical knowledge, racing commentary, car comedy, or anything in between, Youtube has a channel that has you covered. And with this space having reached its most competitive point in recent years, we thought we'd take the time to highlight the greatest the platform has to offer, with this guide to the best automotive Youtube channels.
DDE
Damon Fryer isn't your average exotic car owner, with a contagious enthusiasm for the high-dollar vehicles coupled with a deep belief that cars are built to be driven and enjoyed. As such, he's created a unique YouTube channel that centers around daily use and ownership of exotic cars, and the good, the bad, and the ugly that comes with that. Short for "Daily Driven Exotics," the channel also includes content focused on road trips, vehicle builds and upgrades, some good old fashioned automotive shenanigans, a few crash videos, and unsurprisingly, the occasional interaction with law enforcement. And, though the lion's share of this channel's content is about supercars and hypercars, it does produce occasional videos about tuners and off-roaders and whatnot.
Date Established: January 23, 2013
Subscriber Count: 2.56M
Views: 536,127,965
Specialty: Exotic Car Vlogs
Donut Media
Since its launch in 2015, Donut Media has grown into one of the most eminent players in YouTube's automotive space. The channel produces a diverse array of content, all focusing on cars and motorsport, with typical series that include "Up To Speed" model and company history videos, count-down lists, mechanical explanation videos, and various build projects. Aside from a healthy budget, solid camera work, editing, and overall production value, what really makes this channel shine is the way its hosts — James Pumphrey and Nolan Sykes — deliver content, with a lighthearted and comedic vibe that keeps viewers engaged and coming back. Bart Bidlingmeyer is admittedly no longer on the team, though the channel has by no means declined in quality.
Date Established: July 9, 2015
Subscriber Count: 4.04M
Views: 843,077,617
Specialty: General Automotive Entertainment
Doug DeMuro
Doug DeMuro is a writer, YouTuber, entrepreneur, and all-around gearhead. DeMuro previously worked for Porsche, before becoming an automotive journalist for outfits like Jalopnik. Today, the San Diego-based content creator uses the knowledge he's gained over his career in the car business to generate fun and insightful reviews. With a near-encyclopedic wealth of knowledge and an ability to never take himself too seriously, DeMuro's reviews have a unique feel and style of delivery. And, while the channel tends to cover more high-end supercars and exotics, it's not without videos that highlight some incredibly average models (or "affordable cars") as well as luxury cars and trucks and SUVs, plus DeMuro tosses in some wacky vehicular antics from time to time to keep things fresh.
Date Established: September 11, 2013
Subscriber Count: 3.7M
Views: 1,147,507,737
Specialty: Car Vlogs, Commentary, & Reviews
Driver61
If you're looking to educate yourself on the finer point of Formula One racing, there's no better place to do it on YouTube than the Driver61 channel. Hosted by a talented and highly-knowledge driver, the channel covers a wide range of F1 topics, from historical videos, to explanations of how F1 clutch or brake systems work, to race gear reviews, to more in-depth analysis on topics such as Ayrton Senna "bizarre clutch technique" and the differences between real racing and sim racing, to name a couple. And, considering this channel is run and hosted by Scott Mansell — a seasoned racer with plenty of experience behind the wheel of a genuine F1 race car — it's unsurprising the Driver61 channel also boasts tutorials on topics on how to improve your technique and shorten your lap times.
Date Established: June 22, 2015
Subscriber Count: 274K
Views: 28,537,554
Specialty: F1 Commentary & Analysis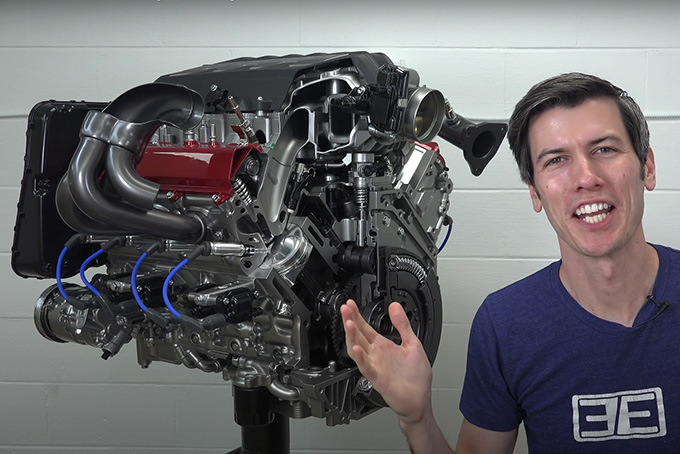 Engineering Explained
Compared to prior generations, millennials generally exhibit less of an interest in what makes an engine tick. Knowing this, Jason Fenske created the aptly-named Engineering Explained YouTube channel in order to provide viewers with an easily-digestible means of learning about what's going on under the hood. Whether you want to learn the basics of an internal combustion engine, the difference between carbureted and fuel-injected, or want to dive into more advanced topics such as how a clutch or supercharger works, Jason's got all the bases covered, and then some. Best of all, these subjects are tackled without the use of complicated terminology and can be understood by most laymen, plus Jason— who is a mechanical engineer by trade – uses a host of cut-away models, drawings, diagrams, and other visual aids to make it easier to wrap your head around the subject at hand.
Date Established: June 24, 2011
Subscriber Count: 2.78M
Views: 467,811,166
Specialty: Mechanical Explanations
Grind Hard Plumbing Co
Headed up by Edwin Olding and Ethan Schlussler, GHPC is a group of friends based in Sandpoint, Idaho that produces some incredible projects. The team's taken on full-size builds like a Toyota Tacoma rock crawler, a BMW E36 coupe-turned rally truck, and an E46 drift car, though its most notable one-off creations are undoubtedly their pint-sized works. Built around fully-custom frames and outfitted with appropriate off-road suspension and running gear, the shop converts Fisher-Price-style Power Wheels into mini off-roaders on steroids, stuffing motorcycle engines into the kid's cars, including a Honda CRF450-engined Barbie Jeep, a CRF230-powered Power Wheels Mustang, and a Power Wheels Jeep kicked along by the LC8 V-Twin engine from KTM's 1290 Super Duke R naked. Once complete, the team unleashes the vehicles upon Schlussler's sprawling property, capturing the entire journey from start to finish along the way.
Date Established: November 29, 2017
Subscriber Count: 878K
Views: 120,608,485
Specialty: Completely Bonkers Builds
Jay Leno's Garage
Whether or not you're an automotive enthusiast, you're almost certainly familiar with Jay Leno. Having spent decades in Late Night television, the comedian's career has afforded him the means to acquire a ridiculously-prestigious and abundant vehicle collection that boasts some 280-odd cars and nearly 120 motorcycles. Wanting to share his passion with the world, Leno now heads up this YouTube channel — which also exists as a television show on NBC — in which he showcases examples out of his massive stable of elite rides. And, while Leno's personal stable is world-class through and through, the bulk of the machines featured on this channel are brought in from outside guests and are wildly diverse in variety, with everything from elite vintage race cars to custom motorcycle builds.
Date Established: December 10, 2008
Subscriber Count: 3M
Views: 640,693,957
Specialty: Noteworthy Vehicle Profiles
Mighty Car Mods
Mighty Car Mods is a channel with humble roots. Run by gearhead buddies, Blair "MOOG" Joscelyne and Martin "Marty" Mulholland, the duo began by working out of Marty's mom's driveway in 2007, creating videos around their highly-ambitious, yet low-budget automotive projects. Since then, the Sydney-based YouTubers have taken on increasingly involved builds, with a resume that includes working alongside the production of numerous Hollywood blockbusters such as installments of the Fast&Furious franchise and Mad Max: Fury Road, though at its core, Mighty Car Mods remains a show about two pals clowning around in the garage while bringing outrageous ideas to life. The onscreen chemistry and camaraderie shared by Marty and MOOG give this channel a really unique feel and is undoubtedly a huge part of its overall appeal, almost akin to hanging out with a few friends in a garage.
Date Established: January 7, 2008
Subscriber Count: 3.37M
Views: 633,161,297
Specialty: Custom Garage Builds
Motor Trend Channel
The print magazine world has been on the decline for some time now, and while a great many once-prominent publications have gone under, the suits at Motor Trend saw the writing on the wall all the way back in 2006, and as a result, opted to launch a YouTube channel. And as the transition to online content became greater, so too did MT's efforts on YouTube, with the channel now containing a plethora of TV-quality shows like Dirt Every Day, Faster with Finnegan, Roadkill's Junkyard Gold, Head 2 Head, Ignition, and Drift This, among a slew of other shows. With Motor Trend's connections and resources, it's been able to secure ample funding for its shows from big-name sponsors, allowing for a caliber of content normally reserved for cable television.
Date Established: March 11, 2006
Subscriber Count: 6.57M
Views: 1,160,324,697
Specialty: Numerous Automotive Shows
Petrolicious
Petrolicious is an automotive website and blog written for diehard car fans, by diehard car fans. Rather than highlighting the latest and greatest hypercars, Petrolicious tends to focus its content on unique, rare, often vintage, and/or otherwise noteworthy vehicles, the individuals that own and drive them, and the subsequent relationship between the two, On top of unbridled enthusiasm for cars and a serious knack for selecting stellar subject matter, Petrolicious' videos are made all the better by the outfit's top-notch production quality and camera work, approaching its videos as mini-documentaries of sorts and bringing elements from professional filmmaking to the table. And, while the channel covers a great many different makes and genres of cars, the one common element is they're all brimming with personality and tend to carry an interesting story, with the channel consistently placing a premium on character rather than pedigree.
Date Established: March 14, 2012
Subscriber Count: 835K
Views: 112,384,688
Specialty: Noteworthy Vehicle & Driver Profiles
RegularCars (aka Regular Car Reviews)
Though the particular brand of humor exhibited on RegularCars admittedly might not be for everyone, there's no denying the idiosyncratic nature of this content. This channel's bread and butter is reviewing largely unremarkable cars with brutal honesty and a comedic native throughout. Furthermore, RegularCars — which is better known as "Regular Car Reviews" — doesn't just discuss and review the actual vehicle itself, but also the type of people that tend to be associated with whatever model is in question, along with the often hilarious stereotypes that come with them. If you aren't particularly well-versed in the automotive subculture than some of the jokes may go over your head, but by and large, almost anyone can enjoy these brilliantly-written reviews of painfully average cars.
Date Established: January 12, 2012
Subscriber Count: 741K
Views: 247,194,287
Specialty: Comedic Car Reviews
S1apSh0es
SlapShoes — or "S1apSh0es" — is one of the most slept-on YouTubers in the automotive space, which is a real shame considering the caliber of the channel's content. The channel centers around the uniquely American race series, its rules and regulations, and noteworthy chapters from its history. After watching a few of the guy's videos, it becomes abundantly clear that his knowledge and passion for NASCAR (and racing in general) are next-level, and this very much shows through his content. Even if you aren't a fan of this particular motorsport series, S1apSh0es' ability to select fascinating stories makes for some surprisingly engaging video — an area undoubtedly helped along by the host's witty humor. And, despite a relatively meager following — though in all fairness 80,000+ subs is nothing to scoff at — S1apSh0es continues generating new content on a near-weekly basis.
Date Established: September 6, 2012
Subscriber Count: 83K
Views: 12,947,914
Specialty: Motorsport History & Explanations
Tavarish
Born in Russia and raised in New Jersey, Freddy "Tavarish" Hernandez is a renowned automotive journalist and Jalopnik contributor that also runs a wildly-successful Youtube channel. His videos primarily focus on Tavarish buying basket case luxury, super, and hypercars, fixing them up, and keeping or flipping them. Some of his better-known builds include purchasing ( for $850) and "fixing up" a 1999 Dodge Caravan that was featured on the show, Pimp My Ride, and turning the orange Lamborghini stunt car driven by Tyrese Gibson in 2017's Fate Of The Furious into a fully-bespoke SEMA build. Additionally, Tavarish's role as an automotive journalist affords him some unique opportunities and insights that you couldn't get from an industry outsider.
Date Established: February 20, 2006
Subscriber Count: 1.62M
Views: 219,234,679
Specialty: Auto Journalist Vlogs & Projects
The Hoonigans
Based out of Long Beach, California, Hoonigan is a motorsport and lifestyle brand that was founded by Brian Scotto and legendary driver, Ken Block in 2011, and produces what is unquestionably some of the best motorsport content on the planet. Putting on a bonafide masterclass in general awesomeness, this channel builds some of the raddest and most high-performance drift and rally vehicles, before unleashing them on an array of exotic locales, from epic hill climbs, to closed-off sections of entire major cities — all the while being helmed by world-class drivers like Block. These videos not only feature some of the coolest builds and best driving but thanks to some deep-pocketed sponsors, the production value is also second to none. The Hoonigan channel also boasts a number of regular shows, such as The Unprofessionals, A Beer With, Field Trip, and This Vs That.
Date Established: October 12, 2010
Subscriber Count: 3.5M
Views: 615,291,113
Specialty: Elite Stunt Driving
VINwiki
Founded and run by exotics enthusiast, previous Cannonball Run Challenge record holder, ex-Lamborghini dealer, and famously shrewd negotiator Ed Bolian, VINwiki is a channel built on the premise that every car guy has a few great stories worth telling, but not enough to create a full channel around. As such, VINwiki features the creme-de-la-creme of car stories from noteworthy individuals in the Motorsport arena, ranging from pro drivers, to exotics dealers, to custom builders, to name a few. The stories told are as diverse and varied as the backgrounds of the people telling them, though they're all centered around cars, and all well worth hearing. Car chases, valet fails, Cannonball, Gumball, and other rally stories, stolen vehicle recoveries, and SEMA builds are just some of the many, many topics covered. This channel is also the YouTube counterpart to the VINwiki app, which is a vehicle database of sorts.
Date Established: May 30, 2016
Subscriber Count: 1.21M
Views: 365,994,021
Specialty: World-Class Car Stories
The 13 Best Car Magazines To Read Right Now
While there's admittedly no shortage of truly fantastic car content on the interwebs, the print world still shouldn't be overlooked. With this in mind, we've put together this guide to the best car magazines to read right now, for a condensed look at the most noteworthy players still operating in print.