Whether it be in the garage, shop, or kitchen, hard work necessitates the right selection of gear. And while a "good carpenter never blames their tools," having the right equipment on hand can make a monumental difference when working. While a quality workbench, cutting instruments, and hand and power tools are obvious must-haves, there are also some smaller supplementary items that we'd consider to be just as essential. One such item is the classic shop apron, which has been utilized for the better part of the last millennium by everyone from butchers to welders to woodworkers.
With work aprons having existed for so long, there are now literally hundreds and hundreds of different models, styles, and materials to choose from, each designed for a specific purpose (or purposes). And while the sheer abundance of available aprons gives buyers an enormous wealth of options to pick from, it can also make it tricky to sort through the seemingly endless sea of items to hone in on the best shop and kitchen aprons for men that you can currently buy — a dozen of which we've handpicked for this feature buyer's guide.
Carhartt Firm Duck Apron
Engineered to lend itself to a variety of different applications from woodworking to barbequing, Carhartt's Firm Duck Apron sports the durability and dependability that one would expect from the American workwear brand. Boasting a 33" length that extends down to just before the wearer's knees, this apron is cut from the strongest version of Carhartt's signature cotton duck — a 12oz heavyweight, entirely ringspun firm-hand canvas — and paired with a set of adjustable, crisscrossing polyester strap ties that evenly distribute weight across the wearer's body. The Firm Duck Apron comes loaded with a bevy of pockets, including a zipper-secured bib pocket, multiple tool and utility pockets, a pair of small accessory pockets, and four large gear pockets. This apron is also offered in a blacked-out colorway or in the company's signature Carhartt Brown.
Primary Construction: 12oz Cotton Duck
Length: 33"
Readywares Deluxe Utility Apron
Made from the same ultra-rugged 20oz waxed canvas used to make the brand's log carrier, Readywares' Tool Apron is a super hardwearing apron that was engineered to stand up to a lifetime of use. Easily removed via a plastic buckle at the waist, the apron's shoulder straps are comprised of padded cotton and polyester webbing with adjustment points at the waist and shoulders. The apron features a 33" length, a suite of a dozen pockets, and double-layer hammer loops with integrated secondary loops for accomodating drivers, wrenches, and other smaller tools. This apron also includes a dedicated smartphone pocket that's conveniently located on the chest for quick and easy access.
Primary Construction: 20oz Waxed Canvas
Length: 33"
Inside Line Equipment Work Apron
Made by hand in California, Inside Line Equipment's plainly-named Work Apron is a modern take on a classic shop apron. Extremely rugged, this apron — which sports a 30" length — is crafted from two layers of 500-denier CORDURA fabric and is accented with Dimension-Polyant X-Pac sailcloth trim pieces. Bar-tacked reinforcements at key stress points guarantee years of hard use, while heavily-reinforced pockets allow for the carrying of heavy tools without having to worry about the pockets or seams failing over time. The apron is also bestowed with an adjustable neck loop and an auto-locking cam buckle on the waist strap. On top of being offered in a variety of solid and camo color options, this apron is also offered in several waxed canvas construction variants.
Primary Construction: 500D CORDURA
Length: 30"
Puebco Vintage Tent Fabric Apron
First established in 2007, Puebco is a Japanese company that was founded on the belief that every object and material has a story. As such, every product that Puebco produces is crafted from recycled or repurposed materials — with the brand's work apron being no exception. Equipped with a 36" length, this apron is made from recycled fabric sourced from vintage tent shelters and paired with wraparound fabric ties and a single chest pocket. Because this apron is made from repurposed, upcycled materials, no two units are exactly alike, with each apron sporting its own unique patina right out of the box.
Primary Construction: Upcycled Vintage Tent Fabric
Length: 36"
Patagonia Hemp Denim Chef's Apron
Aiming to deliver an ideal amalgamation of comfort and durability, this apron from Patagonia is made from a rugged yet breathable 9.6oz blend of industrial hemp, recycled polyester, and organic cotton canvas. This highly abrasion-resistant primary construction is paired with an adjustable neck strap and a tie-able waist strap, allowing for a custom fit that can accommodate a wide variety of body types. In addition to boasting multiple utility pockets and a reinforced loop for hanging a hammer or hand towel, the use of doubled-layered fabric at the midsection also protects the wearer from extreme heat, whether welding or manning the grill. And, while this apron was designed for use in the kitchen, its hardwearing nature makes it suitable to wear in the shop or garage, as well.
Primary Construction: 9.6oz Industrial Hemp, Recycled Poly, & Organic Cotton Canvas Blend
Length: N/A
Flint and Tinder Waxed Apron
Made in America, the Flint and Tinder Waxed Apron is a rugged item that utilizes old-school, tried-and-true construction techniques and materials. The apron is composed of 7oz Martexin Original Waxed Sailcloth made in New Jersey and has been reinforced at all key stress points using metal peekaboo rivets. On top of cotton construction neck and waist straps, this apron features a main chest pocket with two pen holders, a trio of large utensil pockets, and a reinforced tool strap. Sold in black or khaki color options, this apron will also slowly form a unique patina over time with use.
Primary Construction: 7oz Martexin Original Waxed Sailcloth
Length: N/A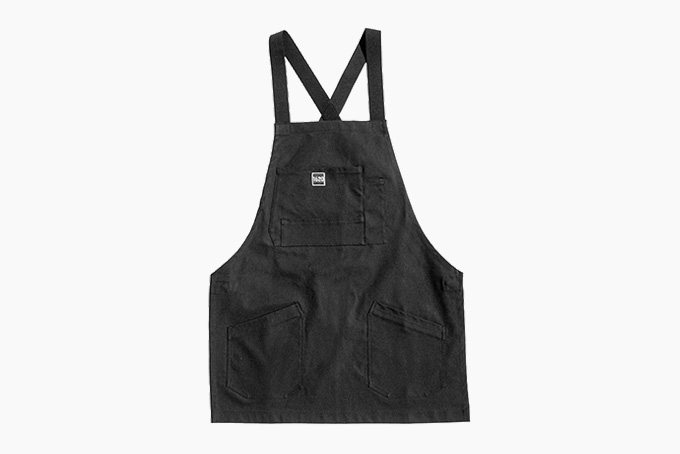 1620 Utility Apron
1620's Utility Apron is an incredibly rugged and versatile item designed for hard work in a variety of different settings. The apron is made in America from a 14oz plain weave STRETCH NYCO construction that was custom-developed by 1620 and inspired by U.S. Military BDUs. On top of being ten times more abrasion-resistant than cotton duck, this material also dries at twice the rate. What's more, this primary construction is also fortified via a PFC-free DWR coating and meets NFPA1975 standards for melting and dripping. Other details include five pockets, double-stitching on all pockets and hem, heavy-duty elastic cross-back straps, and a micro-snap adjustment system. 1620 also stands behind this product with a lifetime warranty. What's more, this apron is offered in two custom, made-to-order sizes.
Primary Construction: DWR-Coated STRETCH NYCO
Length: 30"
Iron & Resin Shop Apron
In today's world of "fast fashion," high-quality, built-to-last items are becoming increasingly rare. Turning its nose at this trend, Iron & Resin has set out to reinvigorate high-quality, American-made apparel and accessories with well-crafted items like the InR Shop Apron. The apron features a primary construction that's composed of 11oz Martexin waxed canvas and supplemented via crisscrossing premium cowhide leather straps. This apron also boasts a bevy of pockets for tools, and copper rivets and burs at all critical stress points — the latter of which practically guarantees a lifetime of use. InR produces its Shop Apron in black, oak brown, charcoal, or olive color options.
Primary Construction: 11oz Martexin Waxed Canvas
Length: N/A
Red Clouds Collective Winston Apron
While Red Clouds Collective may not possess the household recognition of workwear brands like Filson and Carhartt, the company — which was founded in 2012 — has nonetheless carved out an impressive reputation for itself with items like the Winston Apron. Handcrafted in Portland, OR, this product takes ample inspiration from vintage aprons, with a 10.10oz waxed canvas construction that's complemented via 5oz Hermann Oak vegetable-tanned leather straps, trim, and accents, and pieced together using antique brass rivets. This apron also features reinforcements at all critical stress areas, plus crisscrossing shoulder straps and D-rings constructed from solid brass.
Primary Construction: 10.10oz Waxed Canvas
Length: 35.5″
Filson Tin Cloth Apron
For the last 125 years, C.C. Filson has produced rugged garments and gear that have been trusted by several generations of fishermen, loggers, and other laborers and craftsmen. And the Seattle-based heritage brand is now continuing this more-than-century-long tradition with the debut of its new Tin Cloth Apron. Equipped with an oversized 37.5" length, this apron is made in America from Filson's signature tin cloth — with a 10oz antique tin cloth comprising the primary construction and a 14oz oil-finish tin cloth making up the trim. In addition to a total of five utility pockets, this apron also features a waist tie closure and a nylon webbing neck strap that's adjustable to three different lengths. Conveniently, this tin cloth apron is actually machine-washable, too.
Primary Construction: 10oz Antique Tin Cloth
Length: 37.5"
Kiriko Made Japanese Selvedge Denim Work Apron
Kiriko Made's Japanese Selvedge Denim Work Apron is crafted from American-sourced 12oz selvedge denim in the company's in-house studio in Portland, OR. Designed with a major focus on the apron's smaller details, this item also boasts an asymmetrical six-pocket configuration that includes a hidden smartphone pocket, plus genuine aged copper rivets and premium shoulder straps. The shoulder straps on this apron are also secured to the main body using leash-style clips that anchor to leather-reinforced connection points. This is another shop apron that will legitimately last a lifetime — if not several.
Primary Construction: 12oz Selvedge Denim
Length: 37"
Best Made Hedley & Bennett Waxman Apron
Made in downtown Los Angeles and produced in small batches to ensure exacting standards for quality control, Best Made's Hedley & Bennett Waxman Apron is a premium take on the segment that puts an eco-friendly spin on your average shop apron. Cut from a 12.5oz cotton canvas that's been coated in a sustainably sourced and made soy wax, the apron features an adjustable leather neck strap, a nylon waist strap, a small chest pocket, and rivet-reinforced tool pockets. This apron can also be re-waxed over time as needed for added longevity.
Primary Construction: 12.5oz Soy Wax-Coated Cotton Canvas
Length: 33"
The Best Work Gloves For The Jobsite
Any work around the shop that requires an apron will also likely necessitate a solid pair of work mitts — and we've done all of the heavy lifting for you in our guide to the best work gloves.