Dec 31, 2021
Category: Gear
Well, we're not even through the end of summer, and winter is already looking like it could be a ringer. From apocalyptic floods in the northeast to raging wildfires in the west, we've seen more than our fair share of freak weather at this point. To make matters worse, there's still an ongoing pandemic that just can't seem to quit. If you're anything like us, then, you're probably ready to pack your bags, head for the hills, and hunker down until you get the all-clear. Just one problem — you're going to need a jacket that's ready for the worst the weather has to offer.
Enter the anorak. Warm and insulating yet weather-resistant and watertight, it's a type of outerwear that's ideal for the coming transitional months. Because let's face it. On those days when it's not quite cold enough for a parka yet just a bit too wet for a fleece, you're not left with many suitable options. With an anorak, however, you can have it all. Keeping this in mind, we've rounded up 12 of what we deem to be the best anorak jackets on the market, including everything from top-notch technical pieces to stylistic wardrobe essentials. No matter which option you choose, though, know that you can't go wrong with a little less zip.
What Exactly Is An Anorak Jacket?
The Skinny
While there's no denying that anoraks are hotter than ever, there seems to be little agreement as to what the term actually signifies. So let's set the record straight. Anoraks originate with the Greenlandic word annoraaq, meaning a garment made using caribou pelts or seal skin. Originally created for warmth and water-resistance while hunting, such jackets were characterized by their hip-length, pull-over design, and hooded protection. Of course, today, we use cutting-edge synthetic insulators like GORE-TEX and DWR; however, the fundamental principles still hold true. That is to say — an anorak is any type of hooded pull-over jacket. Specific materials may vary depending on the manufacturer (as does the zipper length), but anything that opens from neck to hem is not considered an anorak.
L.L.Bean Mountain Classic Anorak
L.L.Bean absolutely nailed the '90s look with its Mountain Classic Anorak. Though there are some subtler blocked options as well, this retro multi-color pick is perfect for those who want that vintage vibe. Made from a wind- and water-resistant suplex fabric, it comes complemented by some Bean Boot lace zipper pulls and an old-school Katahdin graphic. As an added bonus, L.L.Bean made this puppy packable, meaning you can stash it away in its own pocket when not in use.
Nike Anorak Jacket
However, if high-vis happens to be your thing, you can't go wrong with this option from Nike. Exceptionally lightweight yet still plenty durable, it's even pretty weatherproof thanks to its 62% cotton and 38% nylon fabric blend. What's more, it features a pair of hand pockets beneath its main kangaroo pouch, giving you quick access and secure storage for all of your EDC. Above all else though, it's the fit that's most impressive; relaxed with a slight taper through the torso, you'll find it offers the perfect balance for practically any outfit.
Patagonia Isthmus Anorak
Another heritage-inspired option, the Isthmus jacket is based on an Anorak from Patagonia's back catalog. However, just because it's classic in look doesn't mean that it's outdated in design. On the contrary — it's packed full of modern-day eco-friendly innovations, like a nylon shell made from recycled fishing nets and a PFC-free DWR finish. Stuffing into its own zippered flap pockets and fitted with an adjustable hood, the result is a jacket that's as smart as it is sustainable.
Adidas Myshelter Parley Wind.Rdy Anorak Jacket
Okay, so this one is more of a packable poncho than it is an out-and-out anorak, but you have to appreciate the design for its added wet-weather coverage. And that's not all; in addition to stowing as a convenient crossbody bag, the MYSHELTER jacket also sports a host of useful details, like reflective elements, mesh inserts, and a stand-up collar. And, being made from Parley Ocean material, it even helps upcycle plastic waste that would otherwise pollute our waters.
Arc'Teryx Gamma SL Anorak
When it comes to making robust, outdoor-ready adventure gear, you'd be hard-pressed to find a brand better than Arc'Teryx. Case in point: the Gama SL Anorak. From hood to hem, this jacket is ready for exploration, built with a weather-resistant Fortius double weave that's lightweight, breathable, and tough as they come. It's worth noting that, because of its trim fit, you may want to size up depending on your body type. However, because it comes with an articulated construction, it's in no way constricting or inhibiting to your movement.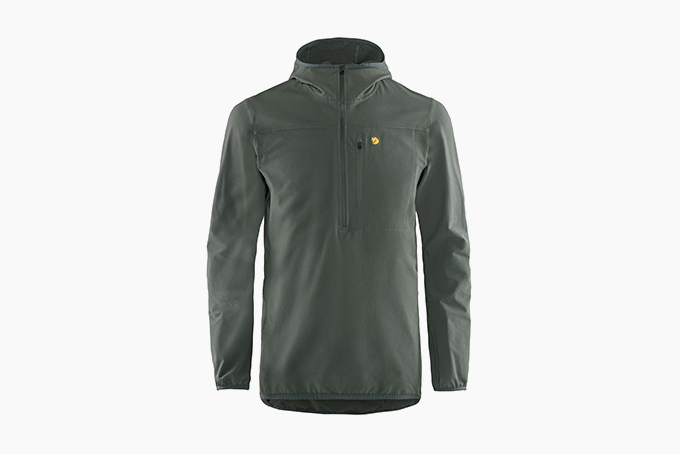 Fjällräven Bergtagen Stretch Half-Zip
For all of their weatherproofing proficiency, most jackets aren't designed with movement in mind. Fjällräven's Bergtagen anorak, however, is one option that breaks from the trend. That's because it's designed with a four-way stretch Cordura fabric, a material that's as hard-wearing as it is motion-enhancing. And, while it boasts impressive wind- and water-resistant for a mid-layer, it's nevertheless plenty breathable enough to keep you from overheating during active applications.
Filson Lightweight Waxed Anorak
When you're after a jacket that's ready for anything the day has to offer, this option from Filson is easily your best bet. In addition to a super-light British Millerain cotton fabric construction, it also comes with a durable dry-wax coating to improve its waterproofing ability. As if that wasn't enough, though, Filson reinforced the forearms for added toughness and fitted the kangaroo pouch with a zippered security pocket to keep your essentials in order. Finished in gray khaki, the Lightweight Waxed Anorak is a jacket that's as timeless as it is technically proficient.
Lululemon Outpour Stretch Seal Anorak
Ever an authority when it comes to all things active apparel, lululemon proves once again just how performance-focused its clothing can be. With the Outpour Anorak, for instance, you're getting a grip of run-ready features, such as a zippable side seam, a two-way stretch fabric, and some reflective details to ensure that you're safely seen. Of course, being a rain jacket, it's also got waterproofing provisions aplenty, like sealed seams, StretchSeal fabric, and a cinchable hood to keep precipitation out of your face.
Jane Moto Anorak
Just because you want to rock an anorak on the bike doesn't mean that you should have to sacrifice your safety in the process. Rather, because Jane Moto's jacket features hidden pockets in the shoulders and at the elbows, you can fit D30 armor to ensure that you're still protected in the event of a fall. Furthermore, it comes crafted from a Japanese Herringbone fabric — a material that's tough, timeless, and as stylish as can be. Top it off with a handy back pocket for extra carrying capacity, and you have a moto jacket that's perfect for your inner-city commutes.
On Waterproof Anorak Jacket
On's Waterproof Anorak is an exercise in technical perfection, combining a three-layer membrane with a water-repellent coating for an iron-clad defense against the weather. However, element-proofing alone isn't enough in a running jacket, so On has also fitted it with hidden vents for airflow, an elastic pull-tie to keep the hood out of the way, as well as a hydrophilic liner for breathability. When you consider that it'll even pack into its own inner storage pocket, the Waterproof Anorak makes for a value proposition too good to pass up.
Battenwear Scout Anorak
Although most rain gear is far too utilitarian for city use, this option from Battenwear is an anorak that proves an exception to the rule. As functional as it is fashionably inclined, the Scout pairs a weatherproof nylon construction and a host of handy storage pockets with a roomy fit and an understated design. In practice, such a combo will ensure that you not only stay dry but also look the part — no compromises necessary. And because it features a fleece lining in the kangaroo pouch, you better believe that it'll keep your hands warm on a cold autumn evening.
Alps & Meters Alpine Anorak
At nearly $700, the Alpine Anorak is definitely an investment; however, that's a small price to pay given everything that you're getting. Inspired by the outerwear of the US Army's 10th Mountain Division, it sandwiches a 10k/10k membrane beneath a heavyweight British Millerain waxed cotton shell to deliver a jacket that'll keep you dry inside and out. Moreover, Alps & Meters has fitted it with plenty of ski-friendly features, like a pass pocket at the sleeve, some reinforced fabric at the seat, and an integrated face mask inside the hood. Backed by a 100-day on-mountain trial, you can even return it — no questions asked — if it's not up to your standards.
The 15 Best Synthetic Down Insulated Jackets For Men
Though anoraks strike an excellent balance between warmth and weather-resistance, we understand that there are times when a bit more material is in order. If you find yourself in such a predicament, head on over to our guide to the best synthetic down insulated jackets for men. In addition to keeping you toasty, they're also far kinder to the planet.
HiConsumption is reader-supported. When you buy through links on our site, we may earn an affiliate commission. Learn more