Some of us sit behind a computer screen most of the day and grind away in the digital world. Others spend most of their hours outdoors, earning their wages, as well as their thick skin, with good old blue-collar labor. If you're going to be outside most of the day, you'll need to shield your feet with the proper pair of work boots.
When you're looking for a sturdy pair of boots, it's ideal to invest in American-made footwear to ensure craftsmanship. Big box department stores may be too caught up in passing trends more so than the quality of their product. There are a variety of work boots out on the market today, so you'll need to consider the type of work you do and the footwear aspects you need. Typically, it's smart to acquire a pair with water-resistance, toe protection, and grippy outsoles for balance. You'll also want to consider oil-, chemical-, and even flame-resistance, depending on your occupation. If you're looking for the best American-made work boots on the market today, you've come to the right place.
L.L. Bean Boots
Produced in Maine, the legendary L.L. Bean Boots originally designed in 1912 are still reliable for today's blue-collar workforce. They're made using full-grain leather for lasting comfort and rubber bottoms for waterproof protection. And they have steel shanks for unrivaled support, keeping your feet fresh on the job. These boots are the rare exception to the saying "they don't build things like they used to."
Carhartt Made in the USA Work Boot
Carhartt's Made in the USA boots are the complete package when it comes to protecting your feet while keeping them fresh. They have oil-tanned leather uppers, Storm Defender waterproof breathable membranes, composite toes that meet ASTM 2413-17 standards for compression and impact hazards, and direct-attached polyurethane outsoles. These boots also meet electrical hazard requirements, protecting against incidental contact with electric currents up to 18,000 volts in dry conditions.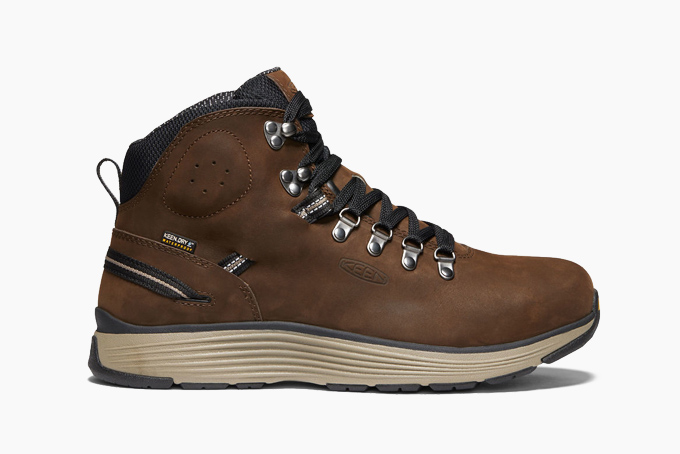 Keen Manchester WP
Built for light construction, the Keen Manchester WP work boots are inspired by hiking. They have KEEN.ReGEN midsole cushioning to keep your feet comfy throughout your workday and waterproof leather uppers, so your soles stay dry. These boots also have slip-resistant outsoles for excellent traction no matter what the terrain, TPU shanks, and aluminum toes for extra protection. The boots meet ASTM F1677-96 MARK II Non-Slip Testing Standards, ensuring your safety out in the field.
Carolina Amp USA Steel Toe
Boasting slip-resistant Meramec Raptor polyurethane outsoles, the Carolina Amp USA boots ensure you get a grip on the terrain. They're made with handsome Tobacco Stampede leather uppers and steel safety toe caps for impact protection. For amazing comfort, they have removable AG7 polyurethane footbeds. With a welt construction and steel shanks, these boots provide a reliable shield for your feet, so you can focus on the task at hand.
Danner Bull Run Lux Boots
Danner blends performance and style with their Bull Run Lux Boots. Featuring beautiful burnish able nubuck leather uppers that get better as the time passes and intricate stitching, these are one of the most fashion-forward boots on the list. They also have removable ortholite footbeds made of open-cell polyurethane for breathability and heat dispersion. And the rugged boots have Danner Wedge outsoles that are both oil-and-slip resistant for ideal traction on the job.
Thorogood 1957 Moc Toe Maxwear 90
Originally released in 1957, these re-issued work boots are an American classic. They feature full-grain leather construction, X-Stream waterproof properties, and fiberglass shanks, making for a well-rounded pair of boots. These boots also have MAXWear 90 slip-resistant outsoles for unrivaled traction and a Goodyear storm welt construction for long-run reliability. Not to mention, these boots have memory foam footbed, allowing them to model to your unique feet.
Chippewa Modoc
The Chippewa Modoc boots feature Chip-A-Tex waterproof technology and Ruby Dri-Lex lining to keep your feet dry and happy onsite. They have steel shanks for dependable support and Vibram Lug outsoles to help you grip the playing field with confidence. The boots also have 5 Iron High Tech Rubber midsoles and Ortholite removable insole inserts for extraordinary comfort.
Timberland American Craft Moc-Toe
Built with high-quality waterproof Horween leather, these boots are designed and handcrafted in the United States by dedicated craftsmen who appreciate the process. Everything you need in a work boot is right here in this model, including Vibram wedge outsoles Goodyear Welt construction, and leather linings. And these boots are not too shabby when it comes to style, allowing you to wear them when you go for a glass of whiskey in the city.
Wolverine Mike Rowe Works Edition 1000 Mile Boots
Handcrafted in the USA, the Mike Rowe edition of the Wolverine 1000 Mile Boots are tough-as-hell. Utilizing a classic pattern that originated in 1914, thees boots feature premium leather from the Horween Leather Company in Chicago and classic leather outsoles with Vibram heels from Williamsport, Pennsylvania. They also have flat waxed cotton laces from Landrum, South Carolina. Built to last with Goodyear Welt construction, these boots will go the distance.
Red Wing x Todd Snyder Moc Toe Boots
Red Wing and Todd Snyder present the Moc Toe Boots, combining a striking silhouette with quality construction. They are inspired by the 877 Classic Moc Boot, which is an iconic Red Wing safety shoe model that was used by millions of American workers, including American President Dwight D. Eisenhower. The boots have lightweight Vibram soles, premium leather and suede construction, and leather laces.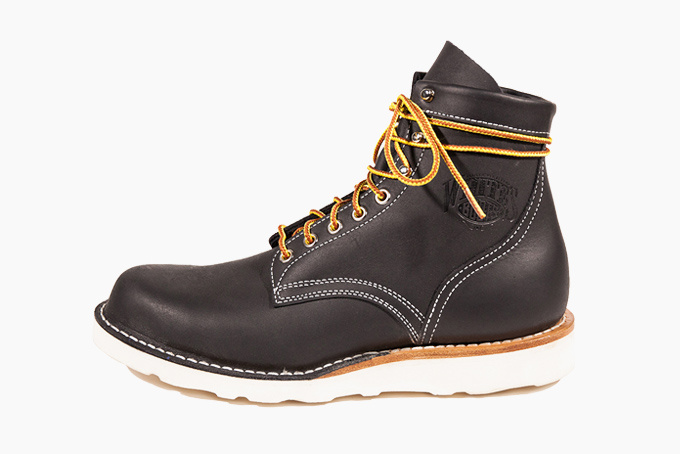 White's Foreman
Featuring a clamp-down construction and full-grain, oil-tanned water-resistant leather, the Foreman boots can protect your feet in snow, mud, or gravel. The resole-able footwear has Ortholite footbed cushioning, brass hooks and eyes, and iron leather shanks. It is the evolution of the classic work boot, and it's ready to serve you well for a lifetime no matter what task you specialize in.
Frye Penn Lug Moc Workboot
The American-made work boots by Frye have a vintage leather Goodyear-welted construction with a rich patina thanks to an oiled hand treatment. Underneath the boots, you'll find rugged anti-slip lug soles to keep you on your feet no matter what terrain you're dealing with. They embody classic style and hardwearing quality that intrepid blue-collar workers deserve.
The 10 Best Work Pants For Men
Now that you've invested in a pair of hardwearing American-made work boots, it's time to grab a rugged pair of bottoms. Check out our picks for the best work pants for men and update your attire.