There's no shortage of stylish sneakers out there, and thanks to advances in technology, fashion, and the ever-changing tastes of individuals, there are more colors than ever to choose from. But sometimes, a robust selection makes things a bit more difficult to quantify, especially when you're trying to find the perfect palette to pair with your wardrobe's most prominent hues. Luckily, a handful of the industry's most viable sneakers come in the fabled all-black colorway, helping guys like us to round out our outfits with ease.
It's a universal fact that black makes everything look better, and for most guys, an all-black wardrobe isn't outside of the realm of possibility. You see, when you don't have to worry about the collaboration of colors, life becomes recognizably simple, and that same rule applies to sneakers. While colors like red, green, blue, and yellow are difficult to couple with your favorite garments, black is always in style, so we've decided to create a guide to the space's quintessential offerings. Check out our favorite picks below.
Converse Chuck Taylor All Star Hi
Converse has been a mainstay within the footwear industry for many years, so it comes as no surprise that the company's established collection isn't devoid of at least a few all-black offerings. As you might expect, the Chuck Taylor All Star Hi has been dressed in a number of colorways since its conception, from neon green and blue, all the way to classic tonal examples like red and white. But the company's well-rounded basketball sneaker also comes with a shadowy, all-black silhouette, encompassing a durable, lightweight canvas upper, high-profile ankle support, and the subtle patch that helped to make the footwear famous.
PF Flyers Sandlot Center Hi
PF Flyers' Sandlot Center Hi sneakers made their debut as one of the most sought-after athletic offerings on the market, and thanks to years of trusted use, they've become an iconic part of footwear history. While they do sport a subtle green (or white) badge on their ankle, these all-black offerings are a testament to timeless wear, thanks to a classic, vertically-ribbed toe box, treaded outsole, and Posture Foundation insert. If you're looking for a pair of retro sneakers to round out your all-black wardrobe, the Sandlot Center Hi are certainly an attractive acquisition.
Vans Sk8-Hi
Vans Sk8-Hi sneaker has made a name for itself as one of the most renowned skate shoes of the past few decades, and with its lauded persona, the brand has released more than its fair share of unique colorways. But, if you're looking for something a bit more original, the shoe's heritage-embued, all-black canvas upper is sure to please. Here, you'll find the same dependable reinforcement, composition, and style as the original, albeit, with a much more opaque color palette.
Novesta Star Dribble
Novesta's Star Dribble sneaker is as classic as it gets when it comes to minimalist principles and features a unique silhouette that plays on the most revered aesthetic qualities from the past. A chunky sole and handmade vegan upper put the sneaker onto the radar for those who are looking for an ethically-sourced iteration, and thanks to its stylish shape, heritage-focused accents, and shadow-strewn colorways, it's become the perfect silhouette to complement your tasteful wardrobe.
Adidas Stan Smith
Adidas Stan Smith has made a ton of appearances on virtually every sneaker listing imaginable, and as such, it's only natural that we validate its presence as one of the world's most attractive all-black sneakers. The transcendental tennis shoe is still made with soft, supple full-grain leather, an all-leather lining, and a rubber cupsole to keep you grounded at all times. Whether you're trying to channel your inner tennis champion or spend a fun-filled night on the town, the Stan Smith is an iconic sneaker that promises to earn its wearer a few compliments.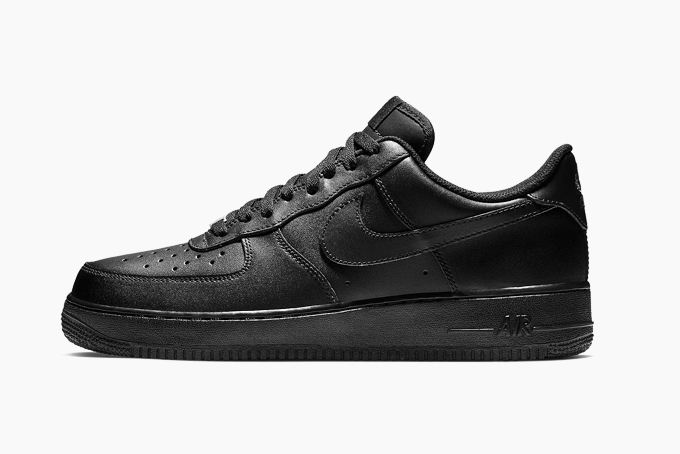 Nike Air Force 1 '07
Nike's Air Force 1 is a legendary sneaker that's become a staple of men's fashion over the years. And, like most iconic shoes, it can be found in a slew of classic colorways, including an all-black example that exudes a clean, fashionable persona. On the sneaker's exterior, you'll find a great-looking premium leather upper, perforations for enhanced ventilation, and a foam sole outfitted with encapsulated Air cushioning, offering consumers a comfortable, non-marking silhouette suitable for everyday wear. At the shoe's collar, the company has even implemented additional padding, helping to reinforce the Air Force 1 as a timeless, basketball-oriented example.
Adidas Ultra Boost Core
Adidas' Ultra Boost Core is renowned as one of the most comfortable, capable, and attractive trainers in the industry, and thanks to its success in a variety of different areas, it's been revised in a handful of tasteful colorways. If you're feeling a bit nostalgic, they still come in a triple-black variant that's as sleek as ever, offering wearers a stylish example that pairs well with the company's reinforced Primeknit upper, Boost cushioning, and innovative running technologies.
NEIGHBORHOOD G.R Hi
NEIGHBORHOOD's G.R Hi sneaker is relatively new to the game, but with a classic design that harkens back to the industry's most influential silhouettes, it's bound to be a hit wherever you go. In an effort to blend the shadowy persona of streetwear's most prolific examples with that of timeless basketball shoes, these technical-looking variants have everything you could ask for when it comes to all-black attribution. They're built using durable canvas uppers, detachable zip closures, and faux fur lining to enhance comfortability and warmth, alongside tasteful branding and printed patches on the ankle, and heel, of the shoe. A vulcanized rubber outsole rounds everything out, providing wearers with a dependable foundation that's ready to stand up to everything you can throw at it.
Oliver Cabell Low 1
Oliver Cabell has designed some of the most iconic men's shoes around, and the Low 1 is no exception. This low-top example exudes an err of true luxury, offering wearers a mixture of high-quality, full-grain calfskin leather, an Italian 70 rubber sole, and an internal lining crafted from the finest Spanish cowhide. Outside, you'll find a collection of capable calfskin counters, Italian waxed cotton laces, and a bespoke silhouette that's been hand-stitched by talented craftsman in Albacete, Spain.
Greats Royale
Greats' Royale sneaker is a must-have staple for every guy's collection. It's the company's best-selling shoe, and boasts an attractive, all-black colorway that helps it to round out every outfit with ease. Each example is handcrafted by master craftsmen in Italy and arrives outfitted with premium leather uppers, soft leather lining, and a custom outsole that's adorned by Greats' famed branding. These minimalist sneakers offer top-of-the-line quality at an affordable price; and if you're asking us, they're one of the best-looking style essentials around.
Ace Marks Duke
Ace Marks' Duke sneaker is a low top dress sneaker that embodies all of the best qualities of high-end offerings, without all of the unneeded extravagances. Instead, they set themselves apart through the implementation of hand-dyed calfskin leather, a pillow padded tongue, and waxed laces, giving the shoe an undeniable presence that's decidedly prestigious. Sure, if you're looking for a casual shoe that's built for everyday wear, these might seem a bit ambitious; but, with classic colorways like all-black, they're sure to carve a permanent swathe into your casual shoe collection.
Grenson Sneaker 1
Grenson's Sneaker 1 might have one of the most simplistic names in the industry, but it's far from drab. It features one of the most tasteful silhouettes around and draws heavily from some of the most iconic tennis shoes from the 1970s to round out its unique design. On the sneaker's exterior, you'll find an Italian black rubber sole and a dark, subtle upper, dressed in the finest calfskin leather available. One look at Grenson's established shoe is all it takes to understand why it's become lauded among high-end footwear fans.
VOR 5A
VOR's 5A sneaker is a premium offering for a brand that not many people are familiar with. But rest assured, you're still being treated to a high-end sneaker made from the finest full-grain leather around, an attractive all-black silhouette, and suede panels that remind us that sometimes, it's ok to divert from mainstream design. The sneaker also boasts a monochrome black dual-density TPU cupsole, tonal laces, and a dependable construction that's been approved by some of Germany's finest shoemakers.
Common Projects Original Achilles
Common Projects are a staple entry on almost every sneaker list, and with a small selection of iconic variants, it's never farfetched to assume that the Original Achilles is the one making an appearance. Staying true to the company's famed minimalist aesthetic, the Achilles boasts a smooth leather upper, rubber outsole, and tonal leather lining to create one of the most obscure silhouettes around. Of course, the shoe's simplicity is only accented by its shadowy, all-black exterior, making it a must-have variant for any fashion-minded individual.
Maison Margiela Replica
Mason Margiela's Replica is an all-black sneaker that exemplifies tasteful simplicity. It's made from a durable cotton-blend, features a unique fleece effect, and boasts a laceless structure that's not often seen in high-end offerings. A flat rubber sole provides a capable foundation for wearers who are looking to traverse the urban environment day in, and day out, while subtle branding on the shoe's tongue and heel serve to complement its minimalist aesthetic.
The 15 Best White Sneakers For Men
If you're looking for the opposite end of the color spectrum to round out your quintessential shoe collection, take a look at our guide on the best white sneakers for men.