Smart technology has taken the world by storm over the last couple of years. Now, it seems like every single high-tech device category — from headphones to home appliances — has the option for a bevy of smart features. And most of those smart features come courtesy of an AI assistant. Of course, some of the artificial intelligence devices are a bit more advanced and far-reaching than others.
Thanks to a wide suite of offerings and unmatched programming, Amazon's Alexa might actually be the most far-reaching AI assistant — at least in regards to compatibility and market share. The technology can be found in smart devices for your home, your car, the office, and so much more. And it's not just found in Amazon's own offerings — they contract Alexa to outside brands, as well. So whether you're looking for a voice-controlled lightbulb, smart speaker, car charger, or something else, you'll find the best option here on our list of the 18 best Alexa-enabled smart devices.
Amazon Smart Plug
A simple way to help you save some money, this smart plug will allow you to stop the slow trickle of power to any device that's plugged in but not in use. You can also use Alexa to set up a schedule so your devices turn on for you in the morning and shut themselves off at night. It's a simple, easy, and very clever way to make your home smarter.
Amazon Echo Dot Smart Speaker
If you want the benefits of a smart speaker but you're on a tight budget, Amazon has you covered with their Echo Dot. Small enough to bring with you anywhere, this tiny device is Alexa enabled, so it can sync your schedule, stream music, and anything else you'd expect from an Alexa smart device.
Philips Hue Smart Light Bulb
It might seem a bit lazy to swap out your current bulbs for those that offer voice control, but these Philips Hue smart bulbs actually offer a lot more than just convenience. Unlike standard bulbs, these ones can be set on a schedule for better efficiency and power conservation, they can dim rather than just going full-blast or off, and they can be linked to up to 50 other smart bulbs at a time.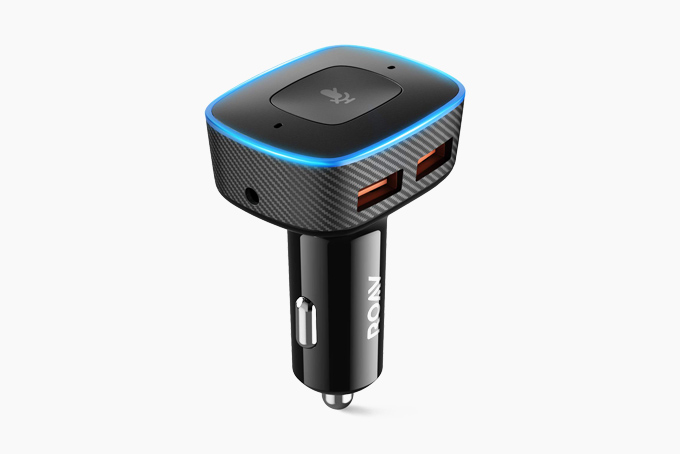 Anker Roav Viva Pro
Even if you own a newer vehicle with Bluetooth capabilities, that doesn't necessarily mean you can control your car's tech with your voice. But that's where Anker's Roav Viva Pro comes into play. This little device plugs into any standard cigarette lighter port and gives you access to Alexa and, by proxy, voice control over navigation, music streaming, and it even has side-mounted USB ports so you don't lose charging capabilities.
Amazon Echo Show 5
The Echo show is kind of like a hybrid between a smart speaker and a full-color digital organizer and entertainment center. And the upcoming 5 slims it down while pumping up the onboard tech and capabilities. The 5.5″ display can show you everything from weather reports to streaming TV shows, and the whole device even works as a central hub for all your other smart devices.
Amazon Cloud Cam Security Camera
Pair this device with any of your Alexa-enabled screen devices — like the Echo Show — and it's a simple and intelligent way to make your home safer and more secure. It boasts 1080p high-def imagery, comes with night vision for protection after sundown, and even has two-way audio — so you can tell the perp on your property that you're calling the cops. Not everyone needs this level of home security, but it sure is nice to have the option.
Amazon Echo Spot Smart Alarm Clock
Most people dread their alarm clock, but we imagine that existential terror could be somewhat mitigated if theirs was the Amazon Echo Spot. While the primary function of this device is to tell the time and help you get up in the morning, it also puts a whole suite of other features at your bedside courtesy of Alexa. That means it can tell you the weather before you even get out of bed, as well as give you calendar alerts, turn your lights on and off (if they're smart, also), or even play some pleasant tunes to help you get your day started.
Amazon Echo Sub Smart Subwoofer
If you are already an owner of the Amazon Echo and you enjoy using it to play music, but you've noticed that the sound range is lacking on the lower end, then the Echo Sub is for you. This device syncs with your Echo to add booming bass to anything you might be listening to — be they movies, television shows, music, or even an especially immersive audiobook. Keep in mind: you can use this device on its own, but the full experience requires a regular Echo to offer a wider range of sound.
Ecobee4 Smart Thermostat
If you're going to make your appliances and light bulbs all smart, you might as well go all-in and get yourself a voice-controlled smart thermostat, as well — like the Ecobee4. Officially licensed and compatible with Alexa, this device will let you warm up or cool down your house just by talking to it. Plus, like all other similar smart devices, you can set up a schedule to save power and manage your home's temperature.
Schlage Connect Smart Locks
There is a bevy of smart locks available on the market nowadays, but few of them offer Alexa compatibility and come from a brand as trusted as Schlage. Available in two different types — one with Z-Wave Plus tech and the other certified by Zigbee — these deadbolts offer up compatibility with physical keys, numerical codes, and can even open with the sound of your voice without letting in any intruders in the process. They can even be programmed with up to 30 different codes, so you'll know exactly who is entering your home at any time.
Amazon Echo Link
If you've gone to great lengths to put together the perfect stereo system, you're probably not eager to spend a bunch of money on new smart equipment. But you can still imbue your analog stereo setup with smart technology so long as you pick up the Amazon Echo Link alongside and Echo unit. This simple device plugs into your audio system and, when mated to an Echo, allows you to stream music through your speakers without having to get any other new gear.
Amazon Fire TV Recast DVR
Most cable companies want to charge you an arm and a leg for a recording device on top of already gouging you for television in the first places. But the Amazon Fire TV Recast DVR circumvents that situation by giving you the ability to record over-the-air TV without a subscription. It's also compatible with Alexa for voice control, has app functionality so you can record shows remotely, can store up to 75 hours of footage, and can record two things at once.
Sony Extra Bass Wireless Headphones
Wireless headphones have been a boon to travelers, commuters, and audiophiles around the world. But there is always room for improvement, as Sony has proven with their WH-XB900N 'phones. Not only do these offer up some of the best sound quality and range for their price point — thanks largely to the Extra Bass technology built right in — but they also come with active noise-canceling (so you can drown out your environment), easy folding for packability, and Alexa compatibility for voice control. And that's just the start of what makes these some of the best wireless headphones on the market right now.
Logitech Harmony Elite Remote Control
The more technology is imbued into our lives, the more devices we need to control all of it. After all, every gaming console, television, stereo, soundbar, etc. comes with its own remote control to turn it on, off, or adjust the settings. Toss all of them out the window and switch over to the Logitech Harmony Elite — a combination smart hub and remote control that gives you the ability to command everything in your home theater with a single device. Mate that with Alexa voice controls and a smartphone app and this becomes one of the most useful devices across the spectrum of smart technology.
Bose Home Speaker 300
There are a lot of smart home speakers on the market — even if you're specifically looking for those with an onboard AI assistant. But few of them can stand up to the sound quality found in the Bose Home Speaker 300. Tiny enough to fit on even the most crowded of countertops, this smart speaker boasts 360 degrees of sound, a hefty amount of bass, and works with both Alexa and Google Assistant. Available in either white or black, this device promises booming sound in a minuscule package — making it one of the best smart speakers out there, Alexa-enabled or not.
Marshall Voice Smart Speakers
Originally, Marshall came to prominence as a guitar amplifier manufacturer. But they've done a brilliant job of pairing that audio expertise into a series of iconic and stylish audio devices — including home speakers. Now, they've taken things a step further by integrating voice controls and Alexa-compatibility into some of their best offerings. Available in either the Acton II or Stanmore II home smart speakers, the Voice Speakers lineup makes Marshall's catalog all the more enticing. Of course, if you're not looking for Amazon-compatible devices, they also offer both with Google Assistant, as well. Unfortunately, however, it's one or the other — not both.
Sonos Beam Smart Soundbar
There are plenty of televisions — even smart TVs — that have built-in speakers. But the sound quality of most built-in speakers is a bit wanting. That's why many people opt for a soundbar to pair with their television. And they don't get much better than the Sonos Beam. Not only does this device offer Alexa voice control but it's also loaded with some impressive tech to put the sound quality through the roof. In fact, it was specially-tuned by Oscar-winning sound engineers to ensure the highest fidelity, no matter what you're listening to or watching. Like all other similar voice-controlled smart devices, it can also give you the news, calendar alerts, set alarms, or any other audio notifications you want.
GE Profile Smart Range
It's truly amazing just how many home appliances feature smart technologies nowadays. You could even fully-equip your kitchen with smart devices if you so desire. For those looking to bring their kitchen into the year 3000, GE has built an Alexa-enabled smart range they've called the Profile. To some, it might seem like excess, but to chefs that take themselves seriously, it's like having your very own digital sous chef. Not only can it automatically heat up the oven to whatever temperature you tell it, but you can even remotely control it from your smartphone. That way, the next time you forget to turn off the oven once you're done cooking, you won't have to rush home in a panic.
10 Best Smart Home Devices
Amazon and Alexa aren't the end-all-be-all of smart technology. Get your hands on a bevy of other high-tech gear on our list of the best smart home devices.