With mankind's love for alcohol dating back millennia, it's frankly unsurprising that today's omni-connected smartphone age has ushered in a bevy of online platforms offering beer, wine, and liquor delivery on-demand. The steep influx of alcohol delivery services in recent times has, however, made it more difficult to sort through the bevy of outfits in the space to hone in on the dozen-or-so services that are well-worth utilizing. For this reason, we've filtered through the multitude of available platforms, weeding out the sketchier and less reputable firms to distill down the list and bring you our guide to the 12 best alcohol delivery services.
Available in desktop and mobile formats, these online services make the already-enjoyable experience of having a drink that much more pleasant, removing the need to hop in the car, or hoof it down to the local liquor or grocery store to procure your beverage of choice. Instead, these delivery services do the legwork for you, heading out into the world on your behalf to acquire your desired selection of drink(s) and deliver it to your door — often within an hour or so's time (depending on the company). And while every entry on this list will ferry firewater to your front door, they differ in interface, features, and focus, making it extremely worthwhile to explore the different offerings to determine which is most conducive to your wants and needs, whether you dabble in drink or full-on tipple.
Lastly: if you tip your bartender, you should be tipping your delivery driver/shopper. They're providing a valuable and convenient service and braving the outside world on your behalf so you can enjoy some booze. Be polite, don't make them wait, and tip appropriately.
Cocktail Courrier
Rather than simply trading in spirits, Cocktail Courier is a premium delivery service that offers top-shelf cocktail recipe kits formulated by some of the world's most eminent bartenders and mixologists. Said kits are available in a variety of sizes from personal allotment to party-appropriate quantities, and include the liquor itself, along with everything else need to create these craft mix drinks, down to the garnishes. Whether you're looking for a classic margarita, the perfect Moscow mule, or a cooling Mojito, these guys have got you covered. If you like your order, Cocktail Courier has a customizable subscription program, along with a feature that lets you procure the services of a bartender along with your booze. There is admittedly an added premium for this service, though we'd argue the convenience, quality, and expertise offered by Cocktail Courier make it well worth the extra couple of nickels.
CraftShack
Founded in 2012, Craftshack is an online delivery service that sells a selection of liquors, and hard seltzers and ciders. What separates this company from other entries on this list in undoubtedly its unrivaled selection of craft beers of west coast origin. Craftshack sells hundreds of different unique porters, pale lagers and pilsners, pale ales and IPAs, Belgian, wheat, stout, and barrel-aged beers — along with a few oddities like wild sour beers — from more than 70 of California's finest craft breweries. A fantastic way for California-native transplants to enjoy their favorite beers from home while living in other states, the service offers flat-rate shipping within America's lower 48, with pricing broken up into three regions: Western; Central; and Eastern. And, while you're not gonna get your hooch within an hour (or hours) of placing your order, Craftshack places an enormous focus on customer service, which makes it markedly easier to sort out any shipping or delivery snafus, should one arise.
DoorDash
If you operate in the modern world, then chances are you're familiar with DoorDash, and while the online delivery giant is best known for take-out, its shoppers/delivery drivers are also good for sourcing your favorite tequila, bourbon, beer, sake, or whatever else you're itching to throw back. Furthermore, this service lets you take a virtual trip to one-stop spirit stores like BevMo, and in some cities can deliver in as little as half-an-hour. And, in addition to the aforementioned food delivery options from restaurants in your local vicinity, DoorDash also connects its user to local liquor stores, where you can also get same-day deliveries for basic home essentials like dog food and toilet paper, though unfortunately, DoorDash doesn't allow for the delivery of any kind of tobacco products, including JUUL pods.
Drizzly
Touted as "America's #1 alcohol delivery service" and informally referred to as "the Amazon of liquor" (or the "Amazon of alcohol"), Drizzly is one of the largest ad most reputable services on the market today, operating in more than 100 major markets throughout America. Also founded in 2012, this Boston-base business connects users to their local liquor stores and allows them to place same-day orders that can arrive in under an hour, depending on what time and day you're ordering. Offered by more than 2,000 retailers in major cities across 26 states (plus DC), Drizzly also boasts an enormous selection of foreign and domestic beer, wine, and liquor, and has some of the best prices in the industry. Unsurprisingly, they also have an incredibly easy-to-use interface. As one of the biggest and most established players in this space, it's hard to do much better than Drizzly, so long as you aren't looking for specialty items.
Flaviar
While Flaviar delivers liquor to your door like pretty much every company on this list, it takes a unique approach, attempting to arm its users with the most possible information before making their purchase. It also places a decent emphasis on design in the form of a beautifully-designed app that's wildly-easy to navigate and has features like easily-accessible records of the drinks you've tasted, favorited, purchased, or added to your wishlist. Further distinguishing the service is its idiosyncratic "Flavor Spiral" that aims to give users the best possible sense of a spirit's smell, taste, and appearance via a unique (and admittedly artsy) flavor profile display. But it doesn't end there, as Flaviar also has distillery backgrounds and trivia for more than 10,000 bottles in its inventory. The service also heavily encourages trying new ethanol-based goodness, using a curated subscription service that sends a trio of 50ml bottles each month, along with your choice for a full bottle of the liquor sample you liked most. Flaviar also recently released a blended whiskey in collaboration with Whistle Pig that was created using feedback crowdsourced from the platform's users.
Hopsy
What's better than beer freshly delivered from the store? Beer fresh from the tap; and that's exactly what Hopsy offers. The company has a unique service in which its users order Hopsy's SUB Home Tap beer tap system which dispenses draft beer without needing C02 canisters or cartridges. The SUB Home Tap then accepts a large variety of mini (67oz) kegs that are available through Hopsy, as well as versions from existing craft breweries that have partnerships with the mini-keg and draft-system purveyor. Mini-kegs can be ordered by themselves, or users can sign up for Hopsy's subscription service to receive either 4 or 6 mini-kegs every six-weeks (or six mini-kegs every four weeks) at a 25% discounted rate. It also really helps that Hopsy happens to have a diverse collection of great-tasting beers.
Instacart
Like DoorDash, Instacart is another massive player in the online delivery world, only rather than trading in take-out deliveries, its bread and butter is groceries. Instacart's drivers can the service's users access to a wide variety of liquid intoxicants, brining the liquor, wine, and beer sections from your local grocery store straight to your front door. Because these bottles are coming fro major grocery chains, you can typically pick up whiskeys and vodkas and whatnot at exceedingly reasonable prices. This also means Instacart drivers are also able to pick up any mixes, soft drinks, fruits, seasoning, or garnishes needed to make the mixed drink of your choice, as all of this is readily on hand at any grocery chain. And, though Instacart did say in 2018 that it doesn't sell tobacco products on its platform, a cursory Google search shows a number of smokeless tobacco on offer, though that may be limited by region. It also doesn't hurt that you can have your driver grab a few extra items for you from the grocery store when you place your order, should you be running low on milk or just craving some mint ice-cream.
Minibar
Similarly to Drizzly, Minibar is another alcohol delivery service that offers wine, beer, and liquor in as little as an hour (in select major cities). And while they are similarly priced to the competition, Minibar doesn't have quite as expansive of a catalog as some of the other larger entries on this list. It makes up for this (and sets itself apart from other outfits) by carrying other peripherals and drink essentials like kegs, ice, mixers, sodas, juice, fruit, garnishes, and whatever else you could possibly need to make a cocktail as well as a few specialty items like caviar an CBD gummies, drops, oils, lotions, drinks, and snacks. Minibar also possesses several extras that further set it apart as well, such as its multitude of easy-to-follow drink recipes, "Book A Bartender" feature, and options for gift cards and gift boxes. Minibar also picks a new charity to partner with each month, supporting these philanthropic efforts through their "Drink & Do Good" program. In the regions where Minibar doesn't offer same-day delivery, the service is available through traditional post.
ReserveBar
For more discerning top-shelf liquor aficionados that are more concerned with the caliber of their beverage than they are how quickly it arrives at their door, there's ReserveBar. With a blatant preference for quality over quantity, this premium service has a robust selection of elite alcohol. This means some of the world's finest cognacs, vodkas, tequilas, gins, Scotches and bourbons, as well as an equally-expansive array of wines, and exclusive champagnes like Dom Perignon, Moet, Veuve Clicquot. There's also a large number of top-shelf TV-themed booze, plus bottles from celebrities like Bob Dylan, Oprah, Ryan Reynolds, Bryan Cranston & Aaron Paul, and Jay-Z. And, in addition to gift boxes, ReserveBar also offers boxes and bottles with custom-engraving.
SAUCEY
Whether you're mid-party, have a broken leg, don't want to venture out into the rain or snow, SAUCEY will come to the rescue, delivering Dutch courage on-demand in as little as half-an-hour. On top of their unrivaled delivery times, this alcohol delivery service also forgoes the delivery fee service model and instead sets a fixed price for each bottle of whiskey, vodka, tequila, wine, or beers — the latter of which is offered in 500, 650, 710 and 750ml (16.9, 22, 24, and 25.3oz) bottles and cans, as well as 4, 6, and 12 packs. Unfortunately, SAUCEY is only available in certain (major metropolitan area) markets, though hopefully the list of cities it serves will grow over time.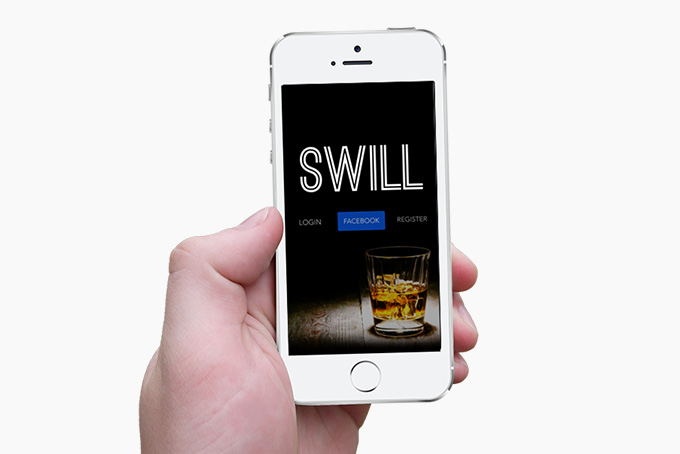 Swill
Swill's "The Liquor Store In Your Pocket" slogan is pretty accurate, as the business uses its app to get users whatever they need from their local liquor store, without having to leave the house, and all without an hour or so's time. This online house of hooch offers a wide selection of beers, wines, and spirits, along with a host of helpful features to make ordering easier, including tasting notes, a massive reviews section, and the ability to get recommendations in case you're ever on the fence regarding what to get. Like SAUCEY, Swill has fixed prices for its items instead of tacking a delivery fee onto your final bill, and because the company connects users to local liquor stores, you also have the option of placing orders for things like ice, mixers, energy drinks, condoms, candy bars, hot sauce, or whatever else you might need from the store.
Winc
Winc is an online wine delivery platform with an emphasis on enjoying quality wines on a regular basis versus serving up super elite vintages for special occasions. The company operates under a monthly subscription — or "Wine Of The Month Club" — model, first asking users to fill out a basic questionnaire to get a better sense of their wine-preference, without requiring a knowledge of wine terminology, and instead asking questions like, "how do you take your coffee?," and whether or not you like the taste of berries or earthy mushrooms. From there Winc sends you bottles of wine in the mail, which you then rate, helping them further dial in your taste to help figure out which wines you'll most enjoy — not unlike Netflix's old ratings and recommendations feature. The company has also been around for quite some time now, and has racked up more than 5,000,000 reviews over its existence, with the overwhelming majority being incredibly positive.
The 20 Best Meat Delivery Services
Now that you've got your drink situation all sorted out, why not stock up on further provisions for the home with our guide to the best meat delivery services? Whether looking for snacks, salmon, or steak, this list has got you covered.