When director Bruce Brown released The Endless Summer in 1966, surfers from across the globe were offered a dream-worthy glimpse at the near-infinite possibilities for perfect and uncrowded waves thousands of miles from their home breaks. And while the stars of the film, Michael Hynson and Robert August, certainly weren't the first gentlemen to embark on an international surf trip, they could very well still be responsible for putting the idea into the heads of wave-hungry surfers for many generations to come.
Today, the world's greatest breaks are well documented and often crowded, but that doesn't mean that a little bit of planning and some basic swell knowledge can't yield a couple of weeks of head-high surf and inviting culture in a foreign land. Even better, with homeowners everywhere supplementing their income by renting out beach-front property at world-class surf breaks on sites like Airbnb, it's never been easier to plan an international surf trip. So update your passport, get yourself a new board bag, and tell your boss that it's pumping in Bali — after all, you've found a great deal on your next Airbnb surf shack.
Casa Madera Bungalow
Visiting Nicaragua today is what it must have been like for surfers visiting Costa Rica for the first time 30 years ago. While the big cities can be a little dangerous if you're not careful, the coastal portion of the country is wide open and welcoming to traveling surfers from every corner of the globe. This surf shack bungalow sits a stone's throw from what's widely considered the country's best-known and possibly the most crowded wave in Popoyo. Casa Madera is the ideal home-base for a 4-person Nicaraguan surf trip. The single bedroom home has two beds, 1.5 baths, a full kitchen, and a "superhost" who will even take you to the grocery store to get you stocked up for the week. The lack of WiFi is a big bonus for travelers who may need an excuse to stay off the grid while on vacation. At $50 a night split four ways, you can stay here for a long time without worrying about your budget.
Location: Popoyo, Nicaragua
Best Season: Summer
Wave Garden
One of only two European destinations on our list, the Wave Garden in Sagres sits at the southwestern tip of the continent where empty beaches and firing waves are a regular occurrence. This six-bed, two-bath surf shack has room for 7 guests and a long list of modern amenities like cable television and WiFi just in case you miss the swell. We were particularly drawn to the outdoor lounge area complete with hammocks and a grill that would make the end of a long day in the water with a group of friends absolutely blissful. You can even rent bikes from the "superhost" and enjoy a 15-minute ride to any number of world-class waves.
Location: Sagres, Portugal
Best Season: Winter
Surfers Escape Apartment
A mainstay on the premiere World Surf League tour for decades, J-Bay hosts a powerful and fast right-hander at Supertubes that's arguably as good as any wave on the planet. Anyone but experienced surfers finely-tuned boards will likely get chased out of the water during a decent swell, but if you can hold your own here, the Surfers Escape apartment would be the perfect base of operations for the cold-water surf trip of a lifetime. The one-bedroom surf shack features three beds, a full kitchen, and WiFi to upload your edits like a real Instagram pro at the end of the day. But best of all, this home is only about 50 yards away from Supertubes and Tubes — if you don't mind surfing near great white sharks.
Location: Jeffrey's Bay, South Africa
Best Season: Winter
Casa Mambo in Tamarindo, Costa Rica $100
After Robert Agust enjoyed his role in the Endless Summer, he relocated to the then-quaint town of Tamarindo, Costa Rica where he still shapes surfboards today. While the days of a Tamarindo as a quaint surfer's paradise are long gone, it's still a short boat ride to Witch's Rock, the surf spot that put Costa Rica on the map. Casa Mambo offers two guests the quintessential Costa Rican lifestyle complete with plenty of outdoor space for relaxation, hammocks to enjoy the ocean breeze, and WiFi to keep you connected to home. The location is a quick walk to the beginner-friendly Tamarindo beach, or an easy-to-find shuttle ride to a slightly more demanding wave at Playa Langosta. Tamarindo is a bustling tourist town with no shortage of amenities and boardshort-appropriate activities just in case you miss the swell window.
Location: Tamarindo, Costa Rica
Beak Season: Summer
Costa Dulce Beachfront Paradise
If you've never surfed in Nicaragua, you'd better hurry up before it gets too crowded. Located in the San Juan Del Sur region of the country, the Costa Dulce beachfront surf shack is an ocean and nature lover's paradise. This one-bedroom home treats four guests with jungle-entrenched living and a pristine open balcony that boasts views of the deep blue Pacific while swinging from a hammock. If the regularly consistent offshore winds aren't working at Playa Maderas, visitors can enjoy guided yoga, paddle boarding through the estuary, hikes to waterfalls, and even the opportunity to watch baby turtles make their way into the ocean for the first time. For a group of nature fanatics who wouldn't mind some fun surf on their long list of activities, Costa Dulce is the perfect summer destination.
Location: San Juan Del Sur, Nicaragua
Best Season: Summer
TDA House
Puerto Escondido is home to a sometimes fun but often ferocious wave aptly named the Mexican Pipeline due to its similarity to Hawaii's most famous wave. But if you and seven guests have what it takes for the powerful sometimes 20-foot waves that chew up boards and bones without thinking twice, the TDA House would make for a stellar base of operations. The award-winning surf shack features a modern mix of concrete and wood paneling with walls that open completely, offering stunning views from the comfort of comfy mattresses that are perched above a private pool. The home is located near a bevy of small shops, restaurants, bars, and the beach of Carrizalillo.
Location: Puerto Escondido, Mexico
Best Season: Spring-Autumn
East Coast Escapes Studio 105
Southeastern Australia's Byron Bay offers no shortage of first-world accommodations for any beach-going travelers. Studio 105 is a well-appointed studio for two that's close to the shops, cafes, and beaches that make up the heart of Byron Bay. The airy home features ample outside space with deck chairs for relaxation in the sun or predinner drinks after a long day on the sand. The home has all of the modern conveniences like Wifi, cable TV, and free parking on the premises for guests. Surf spots like Watergo's offer sand-reef combos with slow peeling rights that are suitable for beginners and more advanced surfers depending on the swell. And if you have access to a car, you're only 30 miles away from Kirra beach, one of Australia's premier destinations for hours of surfing.
Location: Byron Bay, Australia
Best Season: Summer-Fall
Villa V Uluwatu Suite N1
The holy grail destination for surf trips, Bali offers wave-hungry travelers everything they could ever want on their dream destination — friendly locals, an assortment of waves for nearly any swell, and inexpensive food and accommodations. But if you're headed to the famous left-hander at Uluwatu, you should treat yourself to at least a few nights at Villa V, Suite N1. This luxury surf shack offers an unbeatable panoramic view of the ocean, modern amenities like air conditioning and WiFi, an indoor rain shower, and even daily breakfast. Villa V sleeps 4 guests comfortably with modern styling in a home that's only 300 steps above Bingin Beach — a well hidden, yet vibrant oceanfront area. Rent a scooter for access to endless wave variety and bring some reef shoes to protect your feet from the razor sharp coral to make the most of your time on the Indonesian island.
Location: Binggin Beach, Bali
Best Season: Spring
Casa Norte at Casa Communal
A far less popular surf destination than its neighbor Costa Rica, Panama still has some amazing waves and welcoming culture if you can handle flying in a small propeller plane to find it. And with more surf camps popping up each year, Bocas Del Toro is on its way to becoming a real surf destination worthy of a surf movie. The island chain province offers solid beach breaks over soft sand, a really heavy deepwater break, and a full assortment of lefts and rights over shallow reefs. And if you want to see it all, Case Norte is an ideal base of operations for surfing and eco-tourism throughout the region. Perfect for you and eight friends, this three-bedroom surf shack has nine comfortable beds and two modern bathrooms with mid-century design and furniture throughout. The property exemplifies the artisanal feel with furniture and textiles crafted by local artisans. You'll even be provided with a cell phone upon your arrival, just in case you find yourself needing anything extra during your blissful visit.
Location: Bocas Del Toro, Panama
Best Season: Winter
Casa Com Vista
Located just north of São Paulo, Casa Com is a destination-worthy wood and glass structure with four bedrooms that can comfortably sleep up to eight guests. The home features contemporary architecture with gorgeous views of the ocean, matched with the tranquil splendor of the nearby forest — making it feel like an adult treehouse more than a typical home. Visitors will enjoy stunning, open views from the treeline that will make you feel like you've found an isolated island paradise just outside one of the busiest cities in the world. Nearby, Ubatuba beach offers dozens of quality beach breaks — housing a range of waves suitable for beginners and advanced surfers alike.
Location: Praia Do Felix, Brazil
Best Season: Winter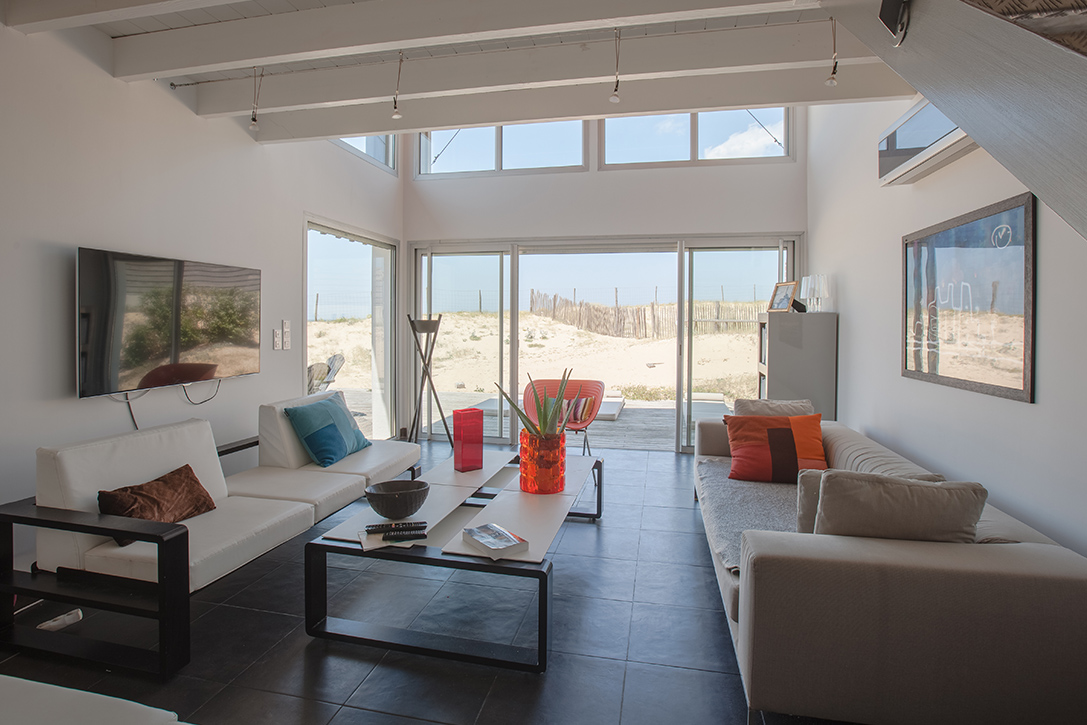 Architect's Beach House
Another frequent stop on the World Surf League's dream tour, Hossegor, France, might hold Europe's best waves and most challenging surf. The Architect's beach house is the perfect surf shack for six guests who want to see what the famous south of France has to offer. The modernly-appointed loft-style home is perched above sandy dunes that offer guests brilliant and uninterrupted views of the sea. This beach house features a well-equipped kitchen, beautiful open living space, and upstairs sleeping that's bathed in sunlight. The international surf contest is hosted in October each year, meaning that fall is your best bet to get spit out of a few head-high right-handed barrels during the day before ripping off your winter wetsuit and treating yourself to fine dining (and even better wine) during the evenings.
Location: Hossegor, France
Best Season: Fall
North Shore Surf House in Haleiwa, Hawaii $350
The North Shore of Hawaii is the hands down best surf spot in the USA, and if you've got the world-class talent to handle pipeline, backdoor, sunset, or off-the-wall when it's well overhead, we've got the surf shack for you. The North Shore Surf House offers visitors a bright and contemporary stay on the world's best strand of surfing beaches. With one bedroom and 1.5 baths, this oceanfront surf shack sleeps three guests comfortably and offers private access to the most consistent breaks on this part of the island. With Haleiwa Town just around the corner, guests can enjoy the farmer's market, cafes, food trucks, and no shortage of Ahola vibes everywhere they look. And if the surf proves too difficult during your trip, you'll also have access to the kid-friendly swimming area to really let the island vibes sink in.
Location: Haleiwa, O'ahu
Best Season: Winter
10 Best Surf Books
If you're looking for inspiration to travel more or you need something to occupy your time on the long journey, you can't go wrong with a selection from one of best surf books to help you pass the time.