A-Frame cabins have quickly become one of the most recognizable architectural styles in the world. They're the face of glamping, offering renters a perfect balance between luxury amenities and off-grid immersion. Aside from the fact that they've helped to redefine what society understands as a true bucket-list experience, they're also relatively chic, embodying old-time character, and capitalizing on pine-country coziness.
Due to their popularity, they've become a mainstay within high-altitude locales, placing them at the forefront for adaptation into rentable Airbnb spaces. Owners have found that there's a certain allure to the A-Frame style, and have exacerbated that with cleanly-tailored interiors, vintage furnishings, well-outfitted kitchens, and loft areas that look like something you might see on an influencer's Instagram post. But we don't blame them; there's a reason that they've captivated builders and denizens alike for almost 100 years. Below, we've outlined a number of our favorite offerings tailored strictly to the Airbnb service, providing you with some awe-inspiring places to "set up shop" whenever you decide to pop into town. So pack your bags and throw on your hiking boots, we're headed to the mountains.
Storybook A-Frame Cabin
We're kicking off our list with the Storybook A-Frame Cabin — a perfectly-sized slice of heaven located in the forests of Boone, North Carolina. This rustic abode features a two-bedroom, one-bath layout, making it an attractive proposition or traveling parties of four or less. Inside, the 700-square-foot home boasts one of the most elegant interior design languages we've seen in a cabin, thanks to its clean, minimalistic lines, bright hues, and cozy furniture. Upstairs, a lofted sleeping area provides renters with a true treehouse feel, while also providing heightened views of the space's folk art detailing. If you're one for the outdoors, there's also a relaxing socialization area where you'll be able to partake in serene views of the nearby creek.
Location: Boone, North Carolina
Layout: Two-Bed, One-Bath
Amenities: Vintage Furniture, Folk Art, Nearby Creek
LILLA NORR A-Frame
The LILLA NORR A-Frame is a cozy abode in the heart of Brook Park, Minnesota. It boasts a rich history as an all-original dwelling dating all the way back to 1978 when builders first broke ground on its five-acre plot. Translating to "Little North" in Swedish, it acts as an extension to one of Minneapolis's most prominent vintage goods stores, Arlee Park, taking on era-specific features and nostalgic knick-knacks from throughout history. An expertly-designer interior space provides cozy nooks for reading, writing, and disconnecting from the monotony of everyday life, while a two-bed, one-bath layout provides just enough square footage for up to four people. Resting inside is only part of the fun. Bring your own canoe or kayak if you're planning on traversing the Snake River, and don't forget to pack the fishing gear for a quiet afternoon on the shore.
Location: Brook Park, Minnesota
Layout: Two-Bed, One-Bath
Amenities: Vintage Goods, Nearby River
The Hygge Chalet
The Hygge Chalet wants you to relax, and it wants you to do it the right way. It's part A-Frame cabin, part sauna, meaning that you'll be able to sweat out all of your stressors without heading into town. This two-bed, one-bath dwelling is located in the beautiful forests of Grant, Colorado, and boasts of 3.5 acres of space for guests to explore and escape. Inside, you'll find various areas that draw inspiration from "hygge" — a Danish word that embodies comfort, coziness, and simple pleasures. While simplistic in nature, the Hygge Chalet boasts one of the more eclectic feels that we've come across, thanks, in large part, to its minimalistic interior, lofted sleeping area, and substantial kitchen. A small, wood-burning stove only adds to its allure. Head outside to partake in a variety of different activities, including social gatherings on the porch, individual hammock naps, or a group sauna session, courtesy of the space's separate sweat room.
Location: Grant, Colorado
Layout: Two-Bed, One-Bath
Amenities: Sauna, Wood-Burning Stove, Hammocks
Transforming A-Frame
The Transforming A-Frame is a pet-friendly glamping getaway located outside of Bonner, Montana. Unlike some of the other offerings on our list, this escape is truly "off-grid," meaning that you'll have to abide by the rules of nature to enjoy it to its fullest. That means a short, one-minute trek to the enclosed outdoor bathroom, a shower area that's heated by the sun (solar), and a regimen that's dictated by the mannerisms of the big glowing orb in the sky. Inside the A-Frame, however, you'll be entirely disconnected, allowing you to cut-away from society for some much-needed rest and relaxation. Since you won't be spending all of your time inside the two-bedroom abode, you'll be happy to hear that the dwelling's unique location promises unprecedented immersion within nature, including various readily-accessible hiking trails, robust wildlife, and awe-inspiring views that you'll have to see to believe.
Location: Bonner, Montana
Layout: Two-Bed, External Bath
Amenities: Solar Integration, Wildlife, Nearby Hiking
Rancho Relaxo A-Frame
The owners of this unique A-Frame had the right idea when they named it "Rancho Relaxo." Not only does this Oregon-based cabin bring all of Mt. Hood's wildlife, greenery, and ambiance to your doorstep, but it's also entirely renovated, meaning that you won't have to worry about creaky floorboards, outdated appliances, and dusty furniture. This two-bed, one-bath home features an airy, open floor plan, an aesthetically-pleasing spiral staircase, and a rustic atmosphere that's unique to many of Oregon's wood-clad living structures. It can house up to four guests for a weekend (or weekday) of fun in the sun, providing solitude and escape for outdoor lovers, skiers, snowboarders, and hikers. It's even got its own library, giving you access to a handful of the host's favorites for an intellectual evening indoors.
Location: Rhododendron, Oregon
Layout: Two-Bed, One-Bath
Amenities: Rustic Atmosphere, Wildlife, Library
Dreamy A-Frame
The Dreamy A-Frame, located in Idyllwild-Pine Cove, California isn't one for subtlety. It's a two-bedroom, one-bath abode that's painted in an eye-catching red hue, and it features a cozy, traditional interior that pays homage to some of the genre's most recognizable design choices. While it might look retro, it's by choice — the entire cabin has been remodeled to ensure that your stay is as pleasant as possible. An expanded back deck gives you access to wondrous views of the surrounding area, as well as hummingbirds, blue jays, and other local wildlife. Whether you're a fan of staying indoors for an eclectic experience by the fireplace, or you want to head outdoors for some much-needed immersion within nature, you'll be able to enjoy both, thanks to the Dreamy A-Frame's centralized location.
Location: Idyllwild-Pine Cove, California
Layout: Two-Bed, One-Bath
Amenities: Remodeled, Wildlife, Expanded Deck
Oceanside A-Frame
The Oceanside A-Frame is not located in Oceanside, California. It's located in Oceanside, Oregon — a census-designated area within the Pacific Northwest that boasts unparalleled views of the state's rugged coastline. As part of a small, unincorporated area within Tillamook County, this withdrawn dwelling features a stunning mid-century design, "quasi-rustic" comforts, and unobstructed views of the surrounding area. Inside, the two-bedroom, one-bath unit brings cozy staples like a wood-burning stove, secluded kitchen/dining area, and a simplified living room to the forefront. Head on the rooftop deck to partake in views of the Cape, where you'll be able to watch as the tide rolls in, or spend a lazy afternoon below the rafters, enjoying the view from indoors. It's also been outfitted with some modern pleasantries, including music streaming devices, WiFi, and a small flatscreen television for some late-night binging.
Location: Oceanside, Oregon
Layout: Two-Bed, One-Bath
Amenities: Mid-Century, Wood-Burning Stove, Rooftop Deck
Mid-Century Alpine A-Frame
If you're a fan of Big Bear, California, you know just how beautiful it can be during the winter. For those of you who are less versed, the Mid-Century Alpine A-Frame might be the perfect way to experience the area for the first time. It was built all the way back in 1963, and since then, it's been revised and renovated for guests to enjoy the locale's wildlife, greenery, and seasonal charm. Nestled in a grove of dense pine trees, this cozy A-Frame features an ultra-private layout/location, an indoor fireplace, and a grand deck for unprecedented immersion within nature. Since it's only 12 minutes from Snow Summit and Bear Mountain Ski Resort, it's also a perfect base camp for out-of-towners who are looking to upgrade their hotel reservation for something a bit more refined. You'll be within walking distance of snowboard, ski, and mountain bike rental facilities, as well as a handful of restaurants, antique stores, and coffee shops that are unique to the area.
Location: Big Bear, California
Layout: One-Bed, One-Bath
Amenities: Proximity To Ski/Snowboard/MB Trails, Wilflife, Facilities
Sky Haus A-Frame
The Sky Haus A-Frame is one of Skykomish, Washington's most lauded Airbnb locations, and for good reason. Not only is this amazing abode located just 15 minutes from some of the best ski and snowboarding slopes in the state, but it's also central to many of the PNW's most memorable hikes — although, that doesn't seem to narrow things down. Unlike many of the offerings on our list, the Sky Haus is only a one-bedroom, one-bath structure, but it makes due with its open-ended interior, which sleeps up to four individuals. A lofted rest area overlooks the space's cozy living quarter, which has been outfitted with a widescreen television, ambient lighting, and a gas fireplace that's controlled via thermostat. Head out back to enjoy your afternoon on the home's elongated deck, which boasts its very own hot tub.
Location: Skykomish, Washington
Layout: One-Bed, One-Bath
Amenities: Proximity To Ski/Snowboard Trails, Thermostat, Hot tub
Tye Haus A-Frame
The Sky Haus A-Frame is popular in its own right, but it's brother, the Tye Haus, is an iconic part of Skykomish, Washington's cultural identity. This one bed, one bath abode is located right next door to Sky and features a large, 1100 square-foot layout characteristically-catered toward rest and relaxation. Downstairs, you'll find three individual couches, a small flatscreen TV, and a centralized fireplace to keep things cozy during the winter months. Out back, you'll find a deck and hot tub much like the one that we spoke of with Sky Haus. Since the two are so closely related, it goes without saying that you'll be able to access many of the same trails, experiences, and amenities that Skykomish has to offer, meaning that you can't go wrong, regardless of where you book.
Location: Skykomish, Washington
Layout: One-Bed, One-Bath
Amenities: Expansive Living Area, Hot Tub, Centralized Fireplace
JR's Ecohut
JR's Ecohut might be a bit out of the way in Nangus, New South Wales, but we think it's worth the trip. This small, comfortable home is nestled just above the Murrumbidgee River and provides stunning views of the area's Kimo valley. If you're looking for a top-of-the-line glamping experience, it'll be difficult to top this off-grid wonder, thanks to its reclusive location, beautiful interior, and placement atop a working 7,000-acre farm. It's been expertly-crafted from timber, steel, and galvanized iron, providing a modern contrast to Australia's rustic landscape. Inside, a series of wide, length-running windows provide panoramic views of the area, showering the home in natural light, and framing starlit skies at night.
Location: Nangus, New South Wales
Layout: One-Bed, One-Bath
Amenities: Nearby River, Length-Running Windows
The Yellowstone Haus
As you might surmise, the Yellowstone Haus is a mesmerizing A-Frame located near Island Park, Idaho. It elaborates on the natural splendor of the surrounding area, providing guests with a private escape nestled among the pines. It's located on a small, two-acre plot, and features floor-to-ceiling windows, a large front porch, and a two-bed, one-bath interior layout (that can sleep up to eight guests). You'll be able to partake in serene views from the kitchen area as you craft your early morning meal, and head out to the national park's wondrous trails in the afternoon. After everything is all said and done, head to bed within the home's semi-private loft space, or its private room, revitalizing yourself for yet another day among Yellowstone's lakes, waterfalls, and rivers. If that's not your thing, there's always a handful of amenities within the home, including a medium-sized smart TV, WiFi, board games, and an outdoor fire pit that you'll be able to curl up next to at night.
Location: Island Park, Idaho
Layout: Two-Bed, One-Bath
Amenities: Proximity To National Park, Outdoor Fire Pit, WiFi
Mid-Century Modern A-Frame
If you're near Red Hook, New York, the Mid-Century Modern A-Frame is our recommended base camp. It was built in 1968, and mirrors its owner's enthusiasm for creative pursuit, thanks to its various art pieces, collectible items, and vintage furnishings. While it might not be as secluded as some of our other choices, it more than makes up for it by providing one of this list's more unique interior experiences. It features a well-outfitted kitchen, a large two-bed, two-and-a-half-bath layout, and floor-to-ceiling windows to help its denizens reconnect with their surroundings. Wind down in the living room and read one of your favorite books, cozy up by the fireplace for a night indoors, or head outside for a breath of fresh air on the Modern A-Frame's wooden deck; no matter what you do, we guarantee that you'll find the serenity you're looking for.
Location: Red Hook, New York
Layout: Two-Bed, Two-And-A-Half-Bath
Amenities: Art Pieces, Vintage Furniture, Worldy Items, Fireplace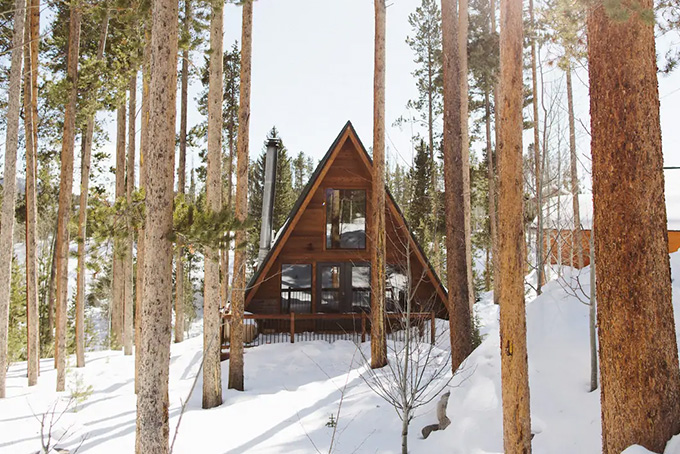 Classic Colorado A-Frame
We're headed back to Colorado for the aptly-named Classic Colorado A-Frame. This charming home is located in the vicinity of Grand Lake and boasts one of the larger floor plans on our list. If you're planning to escape the city with friends and family, this is the perfect choice for you. It features an expansive four bed, two bath interior layout, two primary living areas, and a walk-out basement, giving you a variety of areas to utilize for entertainment. Once you're done indoors, you'll be able to head outside to enjoy one of the home's two deck areas, hop on some snowmobiles to explore the surrounding area or head down to the creek for a serene afternoon among the water. Better yet, the Classic A-Frame is only a mile from Grand Lake, meaning that you'll be able to head into town to grab dinner, check out the shops, and immerse yourself in Colorado culture.
Location: Grand Lake, Colorado
Layout: Four-Bed, Two-Bath
Amenities: Dual Decks, Snowmobile Parking, Nearby Creek
Stylish Modern A-Frame
If you're looking for the ultimate A-Frame glamping experience, we've got just the cabin for you. The Stylish Modern A-Frame — located just outside Sunriver, Oregon — is an exercise in premium outdoor immersion. With a large five-bed, three-bath layout, it acts as a centralized base camp for larger groups of friends, business trips, and family gatherings, taking the place of a traditional "lodge" for a much more private experience. Built in 1974, the cabin boasts an interior design terminology reminiscent of the era, including vintage furniture, colorful wall dressings, period-correct carpeting, and a billiards room for some good old fashioned pool playing. At its center, a gigantic dining room gives way to two expansive living areas, complementing its spiral staircase, stainless steel appliances, and cozy fireplace. When (and if) you want to leave the house, you'll be able to partake in a variety of different activities, including day and nightlife at Sunriver village, SHARC waterpark, and various bike trails within walking/riding distance.
Location: Sunriver, Oregon
Layout: Five-Bed, Three-Bath
Amenities: Vintage Furniture, Interior Design, Game Room
The 12 Best Airbnb Surf Shacks
Looking to escape the cold and head somewhere a little more summer-savvy? Check out our guide on the best Airbnb Surf Shacks, where we hone in on homes that exude a warm-weather vibe.