Despite society's increased focus on environmental sustainability and the like, the world's air quality has witnessed a marked decline as pollution has spiked over the last half-decade or so. For today's average urbanite, simply drawing breathe means exposing their throat and lungs to an enormous—and frankly alarming—amount of dander, pollen, nitrogen oxides, carbon monoxide, and other industrial and vehicle emissions that collectively comprise the cacophony of contaminants that permeate the air in major metropolitan areas.
While your options while out in public may be limited to donning a protective mask, the same can't be said for your personal living space, which can achieve markedly cleaner and healthier air quality levels through the use of an air purifier. Because these apparatuses have witnessed such a substantial evolution in the last two years alone, it can be particularly difficult to navigate the product space, especially for those unfamiliar with the segment. So, with this in mind, we've thoroughly scoured the sector, breaking down what to look for, and ultimately steering you towards one of today's best air purifiers.
Purifier Fine Print
Understanding The Sector's Language And Acronyms
When shopping for an air purifier, you'll quickly notice that there are a handful of acronyms and terms that get thrown around a lot in this space, and while these may sound extremely technical on the surface, the reality is that they are all concepts that are incredibly easy to comprehend and digest. Below, we'll dive into the four main terms that arise when shopping in this space.
ACH: Denoting "Air Changes per Hour," this metric refers to how many times an air purifier is able to completely cycle air in and out within a 60-minute span.
AHAM: Short for the "Association of Home Appliance Manufacturers," is an industry trade association that has received approval from the EPA (or "Environmental Protection Agency") to test, rate, and verify products' abilities and metrics. AHAM is also responsible for the "Energy Star" program and is behind a variety of other noteworthy efforts and guidelines such as the "Two-Thirds Rule" (which we'll delve into below).
CADR: Standing for "Clean-Air Delivery Rate," this metric refers to a formula that multiplies the fraction of airborne particles and contaminants pulled from the air via an airflow rate, which is measured in cubic feet per minute. Often times, CADR ratings are divided into a trio of categories—comprised of ratings pertaining to smoke, pollen, and dust.
CFM: Piggybacking off of the entry above, this acronym stands for "Cubic Feet Per Minute," and denotes the amount of airflow occurring. As you can probably guess, the larger the number, the higher the airflow.
HEPA: Often referred to as a "True HEPA" filter, this term is short for "High-Efficiency Particulate Air." Representing the current industry standard, HEPA filters must be able to filter out some 99.97% of all airborne particles larger than 0.3 microns. There are filters that operate even more efficiently, though the 99.97% standard is nothing to scoff at. It's also worth noting that HEPA filters, at least on their own, are unable to rid a home or office of volatile organic compounds (aka smoke, odors, or other fumes) and require an additional filter or system to capture said compounds.
Airborne Particle Protection
What To Consider When Buying A Modern Air Purifier
While the product space can be a tad intimidating to the uninitiated, one really only needs to be able to wrap their head around a few key concepts in order to glean the information needed to make an informed purchase. So, with that said, let's delve into those key areas.
Additional Features: Every entry on this list is good for performing the same basic function of cleaning and/or sanitizing the immediate air space, though a handful of manufacturers have opted to further distinguish their wares from that of the competition by bestowing them with a variety of supplementary bells and whistles. This includes elements such as built-in space heaters or air conditioning units and/or integrated humidifiers. There are also cutting-edge units with onboard sensors capable of detecting airborne particles and adjusting themselves accordingly.
Smoke & Odor Eliminating: On top of improving air quality through the mitigation of airborne particles and contaminants, some air purifiers take things one step further thanks to these systems being armed with the ability to neutralize smoke and other odors from animals or food.
Industrial Design: Traditionally, air purifiers were manufactured with a much greater focus on function than form, placing little to no importance on their outward appearance. Fortunately, today's air purifiers often place a premium on appearance, drawing inspiration from modern architecture and Scandinavian design language to deliver genuinely attractive items that no longer resemble your average office printer.
Style & Mounting: Air purifiers are manufactured in a wide range of shapes and sizes, with today's segment offering freestanding floor models, smaller desk or bedside table items, and even purifiers that can be mounted on a wall–the latter of which tend to be extremely low-profile.
Filter Type: Most modern air purifiers utilize some kind of filter, though the traits of these filters can vary pretty wildly. Alongside a filter's efficacy (and ratings), there's also a filter's expected lifespan and whether or not a filter is washable or reusable, just to name a few of the variables. On top of the purifier itself, you'll want to explore the type of filter it uses, and what pros and cons are associated with each type. There are also modern air purifier units that forgo traditional air filters entirely in favor of other more novel systems.
Size & Square Footage: Air purifiers are rated to be able to properly clean and sanitize specifically sized rooms or buildings. Rather than finding a model that jives perfectly with your house or apartment's square footage, experts recommend utilizing what is called the "Two-Thirds Rule," which states that a given air puffer's CADR rating should be, at a minimum, two-thirds the size of the room or living space. For example, if the room in question is 360 square feet, then the air purifier should be rated to handle spaces of at least 240 square feet.
Smart Connectivity: Like most other modern appliances, from gas grills to speaker systems, one major amenity that separates today's latest and greatest air purifiers from their predecessors of yesteryear is undoubtedly smart connectivity. Contemporary air purifiers boast Bluetooth connectivity, affording them the ability to link with an app on a smartphone, tablet, or computer in order to monitor or adjust the settings. In addition to being able to remotely control the unit, these apps allow for much easier scheduling and adjustment than traditional push-button control setups.
The COVID Kerfuffle
An Honest Examination Of Air Purifiers' Effect On COVID-19
Unsurprisingly, the ongoing global pandemic has resulted in an influx of interest and sales in the air purifier industry, though there appear to be so pretty major misconceptions surrounding air purifiers and their ability to combat the COVID-19 virus. Because of the physical size of the COVID-19 virus falling into the sub-0.1-micron range, the majority of HEPA filters should have no problem remedying the air of said virus. Having said that, it's crucial to note that the lion's share of COVID cases is spread person-to-person or via other types of contact transmission.
Easy Breathing
The Best Air Purifiers Currently On The Market
Now that you've got a decent understanding of what aspects to keep an eye out for when shopping, let's jump into our picks for the best production air purifiers that are currently available to the general public.
Winix 5500-2
Boasting an advanced four-stage filtration system, the Winix 5500-2 harnesses cutting-edge PlasmaWave Technology in order to create Hydroxyls in order to effectively neutralize bacteria and other harmful airborne viruses and contaminants. What's more, a True HEPA Filter handles 99.97% of pollutants while a built-in air-quality indicator displays real-time room conditions. Further protection comes from a fine mesh pre-filter and an active carbon filter, both of which are washable and help to effectively eliminate smoke, pet, and food odors. AHAM-rated and verified for cleaning spaces of 360-square feet, this freestanding unit also comes with an included remote and an Energy Star certification.
Square Feet: 360
Filters: HEPA + AOC carbon
Coway Airmega 150
Despite its relatively diminutive size, Coway's Airmega 150 packs an enormously effective punch, with a triple filtration system—comprised of a pre-filter, deodorization filter, and Green True HEPA Filter—that can sanitize spaces as large as 214 square feet. Filter replacement indicators also alert the user to when said filters need to be swapped, at which time the pre-filter can be taken out and washed before resuming filtration duties. On top of featuring sensors that allow for an air quality indicator, this unit is also equipped with an Auto Mode that can detect air quality and then make the necessary adjustments, before automatically shutting itself off after 30 minutes of clean air.
Square Feet: 214
Filters: Pre-filter, deodorization filter, & True Green HEPA
Coway Airmega AP-1512HHS
An unmistakably modern air purifier that boasts a sleek and striking industrial design, the Coway Airmega AP-1512HHS is a smartphone-connected unit that's been outfitted with a pre-filter, activated carbon, and true HEPA for three layers of protection. Furthermore, the Airmega AP-1512HHS can achieve an impressive 5.7 ACH in a 350-square-foot space. Operating at a whisper, this product also sports a color LED air quality indicator, multiple fan speeds, and an auto mode that adjusts itself based on a room's air quality. Looking like a low-profile subwoofer, this device is also compatible with the Alexa smart assistant and is capable of eliminating over 90% of a room's volatile organic odors.
Square Feet: 325
Filters: Pre-filter, activated carbon filter, & True HEPA
Blueair 211+
For those residing in lofts, industrial live-work spaces, or homes with an open floor plan (or high ceilings), it's hard to do better than the Blueair 211+, at least on this side of the industrial/commercial market. Good for cleaning spaces of up to 540 square feet, the 211+ offers solid protection through the use of a fabric construction pre-filter, a secondary particle filter, and then finally a robust carbon filter. Together, the trio of filters—which use a 360-degree air intake—not only captures and eliminates 99.97% of airborne particles, but also rids rooms of smoke, dander, and other odors and contaminants. Offered in a variety of colors, this purifier also features a simple one-touch button control setup with a warning light that tells the user when the filter needs changing.
Square Feet: 540
Filters: Pre-filter, particle filter, & carbon filter
Airdog X5 Ionic
Constructed from a fireproof material known as V-0, this personal home or office air purifier offers levels of protection that exceed HEPA standards, capturing and eliminating particles as microscopic as 0.0146 microns, allowing it to rid rooms of as much as 99.99% of airborne contaminants. Blasting out a whopping 200 cubic feet of clean and sanitized air every minute, this item's efficacy is owed to its use of Two Pole Active (TPA) Acquire active filtration technology. Equipped with a best-in-class brushless electric DC motor, the purifier also packs a pre-filter and collection plates that can be removed, washed, and reused, saving money and making for a more environmentally sustainable offering. A single control button also lets users select between one of half a dozen operation modes while an LCD display shows real-time air pollution levels.
Square Feet: 450
Filters: pre-filter, ionic field, composite catalyst, & collecting plates
RabbitAir MinusA2 SPA-780N Peanuts Edition
Unquestionably one of the most modern and advanced air purifiers currently on the market, RabbitAir's MinusA2 (SPA-780N) model features a six-stage filtration system with a pre-filter, medium filter, BioGS HEPA filter, carbon-activated charcoal filter, and a sixth filter that let's user select between Pet Allergy, Germ Defense, Toxin Absorber, and Odor Remover filter customization options. Backed by a five-year warranty, this WiFi-connected appliance can protect as many as 815 square feet from dust mites, pollen, pet dander, mold, fungi, VOCs, and other particles and bacteria. This particular special edition version of the MinusA2 is adorned in one of two images of Charles Schulz's iconic canine cartoon character.
Square Feet: 815
Filters: Pre-filter, medium filter, BioGS HEPA filter, carbon-activated charcoal filter, & customizable filter
Dyson Pure Cool Cryptomic
Unquestionably the most technologically-advanced air purifier that money can buy, Dyson's Pure Cool Cryptomic model boasts a decidedly sleek appearance backed by unrivaled amounts of functionality and utility. This smartphone-connected purifier uses an active carbon filter and a glass HEPA filter to clean the air, though it can also function as a powerful space heater or an air conditioner unit. Thanks to the utilization of Dyson's Cryptomic technology, this item also constantly eliminates airborne formaldehyde. Protected by a two-year warranty, this product also features onboard sensors that can detect airborne particles and gasses and then adjust itself to handle them accordingly.
Square Feet: 500 – 1,200
Filters: Activated carbon & glass HEPA filter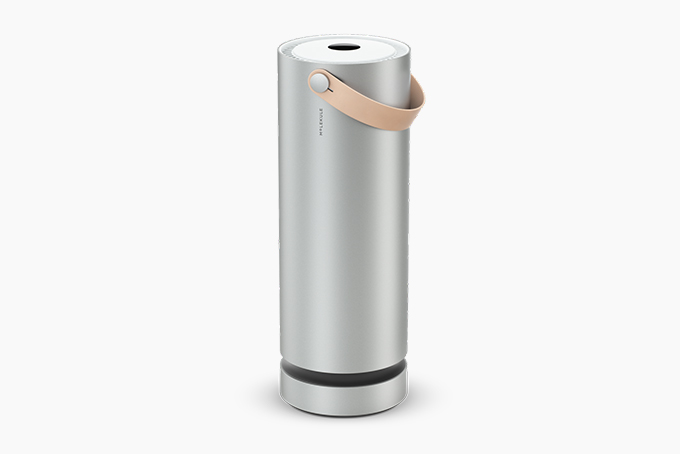 Molekule Air
Inspired by modern Scandinavian design language, the Molekule Air is a wildly-effective purifier that utilizes a cutting-edge dual-stage filtration system. Good for spaces of up to 600 square feet, the Molekule Air is equipped with a pre-filter that captures larger particles while a PECO filter neutralizes bacteria and other contaminants that are up to 1,000-times smaller than the industry standard. This unit's brushed alloy housing is paired with a genuine leather strap, adding a bit of extra utility along with a few obvious style points. The company also offers a similar, more compact Molekule Air Mini that is roughly a quarter the size but still good for clearing out spaces of around 250-square feet.
Square Feet: 600
Filters: Pre-filter & PECO filter
The 10 Best Smart Home Devices
Interested in further upgrading your living quarters? Then be sure to check out our guide to the best smart home devices for a high-tech look at around the house upgrades ranging from connected speaker systems to security cameras to smart assistants.