While projectors were once reserved for cinemas and the home theaters of the ultra-wealthy, in recent years these systems have become markedly more accessible while simultaneously experiencing major technological leaps and bounds with better resolution and more lumens in increasingly compact packages. And while 4K projectors have been the standard for several years — first debuting in 2011 with Sony's VPL-VW1000ES — it wasn't until more recently that the prices of these systems started becoming significantly more affordable.
With more accessibly-priced offerings on the market than any previous point in history, now seemed something of the perfect time to take a deep dive into the segment, counting down the best affordable 4K projectors you can currently buy. What's more, this curated guide will also delve into the benefits of projectors as well as the primary factors to take into account when shopping for one.
4K Projector Fine Points
The Most Important Areas To Consider In A Projector
While it is true that pretty much every projector on the market — whether it be a portable item or a full-size system for a movie house — performs the same basic function of projecting an image onto a flat surface, there's a plethora of distinguishing factors that are important to wrap your head around prior to making your purchase. Directly below, we'll quickly unpack ten of the most important elements to factor in in order to find the projector that's best for your particular wants and needs.
Screen Size: Alongside figuring out what size screen to buy — assuming you aren't just projecting onto an existing wall or flat surface — you'll also want to closely consider the projector's maximum screen size, as this is one of the biggest benefits that these systems have to offer.
Throw Distance: In terms of throw, projectors can be broken down into three categories; regular, short throw, and ultra-short-throw (or UST). The latter of this trio of categories can practically be placed at the base of a wall while still delivering a remarkably crisp image. Short throw projectors do tend to cost more, though this area ultimately boils down to your living room setup, as this should dictate which of these three styles of projector best suits your home.
Resolution: Traditionally, there's been some tradeoff with screen size and picture quality, with bigger images usually sacrificing clarity, contrast, and crispness. While this element is typically of the utmost importance when shopping around for a projector, every model on this list is of the 4K variety — or at the very least offers native 4K support and/or compatibility — so you'll be getting a crisp picture no matter which you choose.
Price: Obviously, spending a larger amount of money will get you a better, more capable projector, though the law of diminishing returns very much applies here. As such, there are certain projectors that offer markedly better value and bang for your buck than others — a decent selection of which we've assembled below.
Connectivity: Unlike TVs that typically sport HDMI inputs, projectors tend to come with a much wider range of connectivity options and inputs such as MHL, HDMI, VGA, DVI, S-Video, and Composite video, just to name a few. What's more, there are also smart wireless projectors that can stream shows and content over Bluetooth.
Lumen Count: In order to achieve good picture quality, a projector needs to offer solid contrast, and in order to yield decent contrast, you need ample brightness. Just like with EDC flashlights, the brightness of projectors is measured in lumens – making this a wildly important area to review before purchasing a new system.
Sunlight & Glare Resistance: One of the biggest and most obvious downsides to using a projector is sunlight's ability to create glare, hinder contrast, and overall hurt the quality of the image. Fortunately, the manufacturers of today's systems are well aware of this reality and have invested substantial resources into the development of projector systems that are highly resistant to daylight and glare, with some models even offering TV-quality images in direct sunlight.
Sound System & Speakers: We would recommend that anyone considering upgrading their living room or home theater setup with a projector should also seriously consider also investing in an upgraded sound system. For those that don't want to take this route, however, many modern projectors actually come equipped with integrated speakers — some of which actually afford pretty remarkable audio quality, all things considered.
Portability: Compared to modern televisions, projectors are wildly portable. With that said, there are a handful of models that are designed specifically to be ultra-portable and travel-friendly. If you plan on using your projector outside of your home, we'd recommend shopping around for portable mini projectors.
Maintenance & Upkeep: Another area in which projectors can hugely differ is in maintenance and upkeep. When looking into this area, you'll want to review aspects such as the shelflife of a projector's bulb — as well as what it costs to replace. We'd also advise those in the market for a 4K projector to check out the factory warranties being offered with many of today's leading models.
Silver Screen Strengths
The Main Benefits Of Using A Projector
Though they aren't without their limitations or downsides, there is a slew of factors that give projectors a leg-up on traditional televisions and displays. Below, we'll briefly touch on half a dozen of the most crucial areas to think about before pulling the trigger on your purchase.
Value: Projectors are capable of affording enormous screen sizes while costing a fraction of what an HDTV with the same dimensions would. So, while they admittedly aren't cheap, projectors undeniably offer pretty stellar value in the grand scheme of things.
Physical Size: Not only do projectors cost less than traditional TVs of the same size, but they do so while coming in much smaller packages that take up dramatically less space in your home. What's more, on top of being produced in the ultra-space-saving ultra-show-throw variety, projectors can also be mounted to walls or ceilings for even better and more convenient storage and/or use.
Customizable Dimensions: One of the main, and most obvious, benefits of a projector is its ability to offer customizable screen sizes, allowing users to cater their setups to their exact wants and needs.
Theater-Scale Viewing: While one would be hardpressed to find a high-definition TV with a 300" screen — even if the price wasn't a concern — projectors that boast enormous screen sizes are fairly common. This means these systems offer the largest viewing surfaces on the market, making for a much more immersive viewing experience — especially when paired with a quality surround sound audio system.
Eye Health: Numerous studies have shown that watching content on a projector is actually better for one's eyes compared to using a standard display. Not only is the human eye more comfortable and less strained when viewing projected images, but the massive screen size afforded by projectors also requires the eye to strain less (not unlike how eye exams become straining when reading out the smallest/smaller letters).
Mobility: The idea of trying to transport a more than 100" television over even a short distance would quickly become a logistical nightmare, however, this is far from the case with projectors. These systems are offered in purpose-built travel-friendly mini mobile versions, though even the non-mobile projectors tend to be relatively portable, at least when compared to modern TVs.
A/V MVPs
The 10 Best Affordable 4K Projectors On The Market
Now that you've got your head wrapped around the objective benefits of projectors and what to consider when shopping for one, let's dive into our picks for the ten best affordably-priced 4K models you can buy right now.
KODAK Luma 350 Portable Projector
Measuring just 4.4″ x 4.4″ x 1.1″, KODAK's Luma 350 is an ultra-compact portable projector that packs a host of impressive features including onboard wifi, Bluetooth connectivity, and screen mirroring, along with more standard amenities such as USB and HDMI ports. And while this mini projector doesn't offer full 4K UHD resolution, it can support native 4K.
Resolution: Full Ultra HD (& support for native 4K)
Wireless Connectivity: Yes
Maximum Screen Size: 150"
Lumens: 350
EliteProjector Ultra Short Throw DLP Projector
With a minimum throw distance of less than 4", this ultra-short-throw system from EliteProjector contains a plethora of noteworthy features. IPX2-rated, the projector offers a 20,000:1 contrast ratio, an onboard 37,800mAh power bank, and a surprisingly well-equipped sound system with a pair of Class D amp-backed 8-watt speakers with aluminum diaphragm drivers and a 20KHz response rate.
Resolution: 4K
Wireless Connectivity: Yes
Maximum Screen Size: 120+"
Lumens: 1,500
ViewSonic PX701-4K 4K Projector
Dollar for dollar, exceedingly few 4K projectors afford better bang for your buck than ViewSonic's PX701-4K model. Armed with 3,200 lumens, a 240Hz refresh rate, a 1.1x optical zoom, anti-warping stabilization, automatic vertical and horizontal keystoning, and the ability to wirelessly stream content from apps like Netflix and Disney+, this true 4K projector also boasts a bulb that can last for a whopping 20,000 hours before needing replacement.
Resolution: 4K UHD
Wireless Connectivity: Yes
Maximum Screen Size: 300"
Lumens: 3,200
AAXA 4K1 4K DLP Projector
While the AAXA 4K1 4K DLP Projector doesn't necessarily blow us away in any one particular area, it's a solid and accessibly-priced system that manages to perform fairly well across the board — making for an excellent entry-level unit. Weighing less than 4lbs, the projector features DLP image technology, 1,500 lumens, a 2,000:1 contrast ratio, dual HDMI ports, an RGB LED array lamp with a 30,000-hour lifespan, built-in 2-watt speakers, Ultra HD 4K resolution, and a (3840 x 2160) screen size of up to 200".
Resolution: 1080P (& support for native 4K)
Wireless Connectivity: No
Maximum Screen Size: 200"
Lumens: 1,200
JMGO O1 PRO
Developed in collaboration with renowned camera outfit Leica, the JMGO O1 Pro is a brand-new ultra-short-throw projector that comes equipped with a thoroughly cutting-edge array of features. Powered by the state-of-the-art MediaTek MT9669 Chip — the same ultra-advanced flagship chip found in some of today's finest smart TVs and projectors —the 01 PRO offers a 6000:1 contrast ratio, 1,500 lumens, and can project from as close as 4". Other noteworthy elements include a Zero Perception Intelligent System and automatic wall color calibration.
Resolution: 1080P (& support for native 4K)
Wireless Connectivity: Yes
Maximum Screen Size: 110"
Lumens: 1,500
Optoma Technology UHD38 Projector
Optoma Technology's UHD38 admittedly may lack some of the new high-tech amenities found on several of the above models, though what it lacks in bells and whistles it more than makes up for in basic performance capabilities. This means a 4,000-lumen 4K UHD projector with an otherwordly 1,000,000:1 dynamic contrast ratio, a refresh rate of up to 240Hz, a lightning-fast input response of 4.2 milliseconds, and an enormous screen size of up to 300".
Resolution: 4K UHD
Wireless Connectivity: No
Maximum Screen Size: 300"
Lumens: 4,000
BenQ TK700STi 4k Projector
BenQ's TK700STi is one of those items that, if featured on The Price Is Right, would have contestants guessing that the system is valued at far more than its shockingly-accessible $1.5K MSRP. Sold with an included Android TV Wireless Adapter, this projector boasts a cool 3,000 lumens, true 4K UHD resolution backed by XPR Tech, a 5-watt speaker, and access and compatibility with Android TV and Google Play.
Resolution: 4K UHD
Wireless Connectivity: Yes (Sold W/ Adapter)
Maximum Screen Size: 200"
Lumens: 3,000
ViewSonic X10-4KE 4K UHD Projector
Another thoroughly modern and cutting-edge projector available for around the $1,500 mark, the ViewSonic X10-4KE affords stellar video and audio quality thanks to being loaded up with some very state-of-the-art tech. A bulb with an extended 30,000-hour lifespan, a maximum screen size of 200", 4K UHD resolution, frame interpolar technology, and built-in Dual Harman Kardon Bluetooth speakers all come as standard items on this system. Incredibly portable thanks to being outfitted with a pivoting handle, this same 2,400-lumen projector is also available in higher-specced 2,900, 3,200, and 4,000-lumen versions.
Resolution: 4K UHD
Wireless Connectivity: Yes
Maximum Screen Size: 200"
Lumens: 2,400
Epson Home Cinema 3200 4K 3LCD Projector
Next, we have the Epson Home Cinema 3200 4K 3LCD Projector. This model is brimming with usable features and technology such as ±30° keystone correction, 2,900 lumens of color and white brightness, a UHE 250W lamp with a 3,500-hour lifespan, vertical and horizontal lens shifting, a 2.15:1 throw ratio range, compatibility with a wide range of signals and inputs, 4K PRO-UHD resolution, and an ultra-short throw of as little as 1.32″ while still being able to project images as large as 300".
Resolution: 4K PRO-UHD
Wireless Connectivity: Yes
Maximum Screen Size: 300"
Lumens: 2,900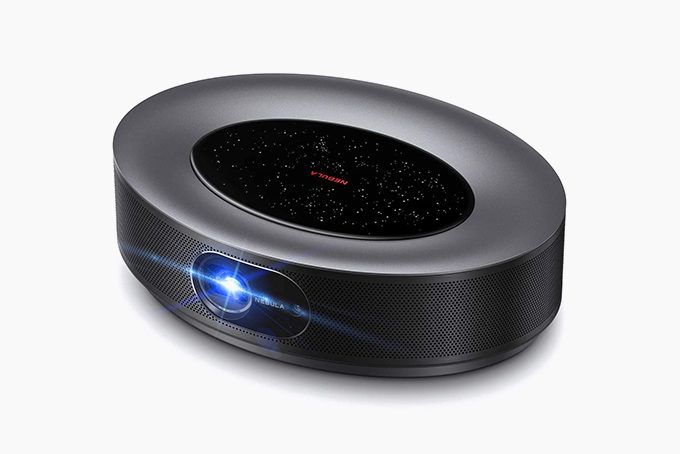 Nebula Cosmos Max 4K
Constructed around a unique and sleek oval-shaped housing, the Nebula Cosmos Max 4K is another fantastic top-of-the-line projector that offers true 4K UHD picture quality backed by 1,500 lumens, 360° Dolby Digital Plus and Sound Dimension audio, and a Hybrid Log Gamma function. Capable of projecting a picture of up to 150" with remarkable clarity, the Cosmos 4K can also stream from any of the more than 5,000 apps and services available on Android TV — all while functioning as a stylish (if diminutive) addition to your living room.
Resolution: 4K UHD
Wireless Connectivity: Yes
Maximum Screen Size: 150"
Lumens: 1,500
The Best Portable Mini Projectors You Can Buy
Want to check out an additional selection of even more travel-ready systems? Then be sure to head over to our guide to the best portable mini projectors for our favorite ultra-compact projectors currently on the market.