At the 2004 Action Sports Retailer trade show, the world was introduced to the first-ever GoPro model with the 35mm HERO. Despite being a traditional film camera, the original HERO's fully-waterproof housing and immensely rugged nature hugely resonated with photographers and action sports enthusiasts alike, prompting the Southern California company to release a steady stream of increasingly capable, durable, and compact, benchmark-setting action cameras. GoPro's tremendous success would ultimately give way to an entirely new sector of modern, purpose-built action cameras, both from GoPro and a number of other reputable players in the action sports or electronics spaces.
The segment's continued influx in popularity has also resulted in an extremely competitive market that's now comprised of increasingly high-performance cameras being offered in increasingly compact and hardwearing packages. The rapid rate at which this segment moves, however, can make it difficult to distinguish the latest and greatest offerings from last year's old news, so, with this in mind, we've generated this guide to the best action cameras. In addition to highlighting the best action cams currently on the market, we'll also be touching on what factors to consider when shopping in this space.
Fortification & Filming Capabilities
The Eight Main Areas To Consider When Buying A New Action Camera
From the outside looking it, most of the action cameras that are currently on the market can admittedly look very similar. The reality, however, is that, despite their appearance, today's action camera segment is comprised of a wide range of offerings all varying in size, durability, and tech. To help simplify things, we've put together this handy guide on eight of the most crucial elements to consider when shopping for a new action cam.
Filming Capabilities: The biggest factor that separates the latest and greatest action cameras from their predecessors of yesteryear is undoubtedly their filming capabilities. Today's newest action cameras are capable of delivering up to 5K resolution (with impressive MP/frame rates), and can also film in full hi-def, as well as take stunningly high-resolution stills. There are also a handful of thoroughly state-of-the-art 360-degree action cameras that offer an additional degree of immersion. To help get a better sense of an action camera's filming capabilities it helps to look into the primary hardware being used such as the camera's sensors, image processing engines, and lens type (and brand).
Size & Weight: Action cameras are designed to be small enough that they don't interfere or get in the way of whatever activity you're engaging in, or add a noticeable amount of additional drag or wind resistance. As one of the biggest selling points of action cameras, the overall size of these items continues to shrink, with each year seeing new, increasingly compact models. There are currently action cameras that are the size of your thumb, though these tend to lack some of the more high-performance recording capabilities of larger models. As such, shopping for a new action camera means finding the right balance between size and performance for your intended use.
Onboard Hardware: Even the most advanced processors and lenses would struggle to capture most action sports from a first-person perspective without the help of cutting-edge onboard hardware such as integrated gimbals and stabilization platforms while other features such as MotoGP-style automatic horizon leveling make for even more professional filming. Another increasingly popular trend in the modern action camera space that adds an enormous amount of convenience and utility is the addition of built-in LCD displays that allow settings to be adjusted or playback to be reviewed on the spot.
Durability & Waterproofing: One of the biggest factors that separate regular cameras from those of the action variety is the latter's immense durability, as action cameras need to be able to withstand extreme temperatures, heavy impacts, and being submerged underwater. Most action cameras — even mid-tier offerings — tend to be pretty rugged, though there are some that offer markedly higher degrees of durability. There are also shock-resistant and waterproof cases that are able to hugely fortify existing models.
Available Accessories: Alongside selling the action cameras themselves, most manufacturers also offer a wide range of accessories, add-ons, and other peripherals to upgrade your experience or better suit a particular application. From rugged cases to lighting equipment to handles and mounts, there's also an equally vast array of aftermarket add-ons and upgrades from third-party companies for some of the more popular action cameras on the market.
Battery Life: This may seem fairly obvious, but an action camera's battery pack will dictate how long you can film before needing to recharge. Because action cameras tend to be so compact and offer such high-performance filming capabilities, it's not uncommon for battery life to be measured in minutes. For this reason, a battery's life is just as important as whether or not an action camera's battery can be swapped out for a fresh unit while in the field (versus built-in batteries).
Connectivity: While pretty much every action camera on the market will come with memory card slots for recording and storing footage or photos, a growing number of models are now offering supplementary means of connectivity, with the ability to pair with a smartphone in order to Livestream in real-time, or to wirelessly upload and save content.
Additional Amenities: On top of smartphone connectivity, some of the more cutting-edge action cameras offer additional functions like built-in editing software, automatic social media uploading, and automated Cloud-based storage, just to name a few. GoPro also offers monthly subscription packages for some of its action camera models.
FPV MVPs
The 10 Best Action Cameras
Now that you're privy to what to look for when shopping, let's delve into our picks for the ten best action cameras currently on the market.
DJI Osmo Action
DJI's Osmo Action camera isn't the most high-performance model available, though it offers a wealth of modern features along with what's almost certainly the most bang for your buck in the segment. This dual display-equipped action camera sports HDR 4K (60FPS) video and UHD still image quality, DJI's Rocksteady stabilization system, voice control commands, connectivity to the DJI Mimo App, and a slew of filming modes including 8x slow motion, a timed shooting setup, custom exposure settings, and a time-lapse mode. The Oslo Action can also operate in temperatures as low as -10℃ and at depths of up to 36' (or 11m).
Insta360 GO 2
Offering some wildly impressive performance in filming capabilities in an insanely-compact form, Insta360's GO 2 action camera is roughly the size of your thumb at only 2.08" x 0.93" x 0.81". Weighing less than a single ounce, this tiny IPX8-rated action cam has been outfitted with a lens with a 110-degree FOV and 1,440P resolution. And, on top of Bluetooth 5.0 connectivity. FlashCut 2.0 AI-enabled auto-edits, and 6x speed Hyperlapse and 4x slow-motion modes, the GO 2 camera comes with a 210mAh battery that offers a half-hour of filming and can be replenished via a 1,1000mAh true wireless headphone-style charging case that adds an additional 110 minutes of recording time.
Cycliq Fly12 CE HD Bike Camera
The Cycliq Fly12 is essentially a dashcam and headlight for bicycles, mopeds, and motorcycles. Offering 1080p full HD resolution with 60FPS (in 1920 x 1080p) and a 135° FOV, the camera features eight hours of battery life and a six-axis stabilization platform while its accompanying LED light puts out an impressive 600-lumens. Weighing just under 7oz, this handlebar-mounted gadget — which fits bars from 22.2mm to 31.8mm — also boasts an integrated security alarm, plus USB-C fast-charging capabilities, Strava integration, and Bluetooth connectivity.
GoPro HERO9 Black
Marking the most substantial model update since the release of the HERO4 Black in 2014, GoPro's HERO9 Black is the industry-leading brand's latest and greatest action camera model. With a 20MP still camera and 5K video recording with 14.7MP per frame, the HERO9 Black boasts seven-times the resolution of regular HD and is made all the more stunning through the use of GoPro's best-in-class HyperSmooth 3.0 feature and a built-in horizon leveling and a 360-degree horizon lock. The HERO9 Black also gets 30% greater battery life and improved durability and waterproofing, and, as per usual, there's an enormous number of accessories and add-ons for this GoPro camera, both from aftermarket companies and the manufacturer itself.
Sena 10C EVO
Sena's 10C EVO is a do-it-all motorcycling gadget that manages to cram an ultra HD action camera and a Bluetooth comm system into a single, compact device. On the comm system side, we get Bluetooth 4.1 connectivity and a four-way intercom with HD call clarity, a full mile of range, and Sena's Advanced Noise Control feature that mitigates wind and other background noise while the 10C EVO's camera consists of a 4K unit that records at 30FPS. This moto gadget can also be controlled via voice prompts, or through an optional handlebar-mounted remote, and its battery offers up to 20 hours of talk time and 1.5 hours of video recording.
GoPro MAX
The HERO9 Black might be GoPro's newest offering, though its most advanced and cutting-edge action camera is undoubtedly Southern California company's GoPro MAX. Shooting in crisp and stunning 6K resolution, the GoPro MAX is a three-in-one offering with a traditional HERO-style action camera, a 16.6MP still camera, and a 360-degree action cam. Capable of live streaming in 1080p, this 360-degree camera also benefits from an even more advanced version of GoPro's Max HyperSmooth stabilization, automatic horizon leveling, remarkably clear audio recording thanks to the MAX's half-dozen onboard microphones, and a plethora of included "digital lenses."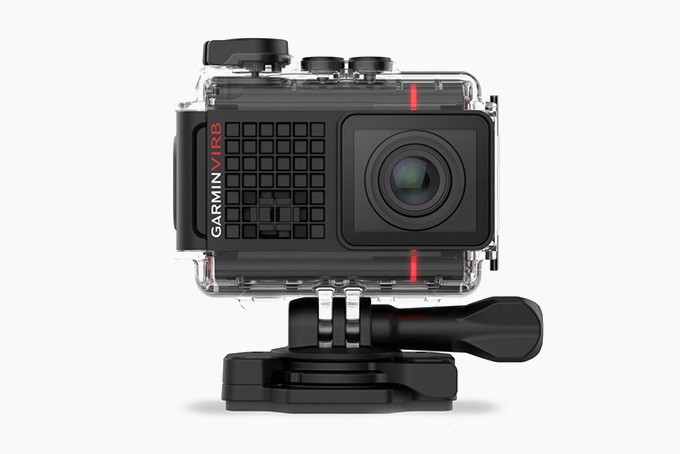 Garmin VIRB Ultra 30
From trackers and smartwatches to GPS navigation systems, practically everything Garmin produces is pretty top-notch, and the brand's VIRB Ultra 30 action cam is by no means an exception. The VIRB Ultra 30 features a 1.75" touchscreen display, Ultra HD 4K/30fps filming backed by tri-axis image stabilization, voice-control compatibility, and high-sensitivity microphones for capturing equally impressive audio. Best of all, the VIRB Ultra 30 is equipped with built-in sensors for detecting G-forces, acceleration, and GPS location that allows for real-time data to be overplayed on top of the footage, allowing you to see your speed, elevation, lean angle, cornering forces, or a variety of other metrics.
Insta360 ONE R 1-Inch Edition
Insta360's ONE R 1-Inch Edition takes the idea of ultra-high-performance, ultra-compact action cameras to new heights with a 3.09" x 2.11" x 1.85" item that tips the scales at just 5.58oz, while still offering 4K video (at 60FPS) or 5.3K video (at 30FPS). Named after its powerful 1" sensor, this action camera was co-engineered by German outfit, Leica and despite its diminutive size, still packs a 19MP HDR still camera, a reversible touchscreen, Hyperlaspe and Night Shot modes, FlowState stabilization, and the ability to operate at depths of up to 16.4'. There's also a wide range of accessories and add-ons that are available for the ONE R 1-Inch Edition.
Sony RXO II
Sony had already come out swinging when it tossed its hat into the action camera ring with the rugged RXO model four years ago, though the Japanese firm massively stepped things up in 2019 with the release of the RXO II. Operating in 4K (at 30FPS), Sony's second-generation RXO features a 1" stacked 15.3MP CMOS sensor supplemented via Sony's BIONZ X image processor and shoots through an ultra-top shelf ZEISS Tessar T 24mm F4.0 wide-angle lens. And, while it doesn't come cheap, the RXO II offers a number of fairly advanced amenities such as a 1,000FPS recording mode using an uncompressed 4K HDMI output, and like its predecessor, comes in an extremely hardwearing housing.
Garmin VIRB Ultra 360
If you're looking for the most high-tech, high-performance action camera and aren't concerned with the price, then you'll almost certainly want to opt for Garmin's seriously next-level VIRB Ultra 360. Good for filming in 5.7K (at 30FPS) or 4K (at 30FPS), this 360-degree action camera has been outfitted with a top-of-the-line array of hardware including a quad microphone arrangement for capturing 360-degree audio, a battery that can record for over an hour on a single charge without overheating, and a proprietary Spherical stabilization feature. This camera also offers connectivity to the free VIRB Mobile app and VIRB Edit desktop software, and just like with the non-360-degree-spec VIRB Ultra 30, the VIRB Ultra 360 boasts Garmin's G-Metrix feature that allows real-time metrics and data to be placed atop video footage using an augmented reality setup.
The 20 Best GoPro Camera Accessories & Mounts
Interested in taking your action camera to the next level? Then be sure to check out our guide to the best GoPro camera accessories and mounts for 20 of the best add-on's the industry currently has to offer.