Our homes are serene, relaxing spaces that harbor our comforts. In many cases, they reflect who we are, providing a brief glimpse into our souls, and painting a picture of our uniqueness for outsiders. Obviously, we want our homes to be an extension of who we are. They act as burrows that we return to after a long day of hard work — a cozy den where we can revel in the memories of our past, work toward the goals of the future, and enjoy "the now" with friends, family, and loved ones. That's why design choices are so important. They're the foundation for your visual identity; fragments of self. Within, everything from artwork, bedding, seating, and appliances, play a part in our representation.
It's true that there are a lot of intricate pieces to the puzzle, but one of the most important aspects of your home is found in the socialization area. While couches and other furniture items can take up the majority of the space in your living room, accent chairs are a vital aspect that ties everything together. If you deviate from your design terminology or cut corners to finish a room with something that won't mesh well with other items, you're doing yourself a disservice. That's why we've taken the time to browse through a handful of the industry's finest catalogs, perusing our favorite furniture proprietors for their most quintessential offerings. Below, we've included a selection of accent chairs that are sure to bring a feeling of contemporary (and heritage-inspired) completion to any indoor space.
Project 62 Norris Modern
Project 62's Norris is a modern chair with a ton of old-school character. Not only does it revel in its timeless look, but it's also finished with an irresistible textured finish and splayed wood legs, helping it to blend seamlessly with other furniture from its Target-branded lineup. It's simple, understated, and undeniably chic, making its $120 price point a sight for sore eyes.
Urban Outfitters Remy Faux Leather
Urban Outfitters' Remy Faux Leather armchair is a testament to the brand's unrelenting pursuit for stylistic excellence. It brings an exclusive rounded back, subdues silhouette, and tasteful tapered legs to the table for buyers looking to add a dash of upper-class style to their home, without breaking the bank. The best part? It's crafted from a mixture of polyurethane and steel, meaning it'll last forever if you're willing to put in the time, effort, and TLC.
Revival Aide-De-Camp
Revival is best known for its genre-defining rugs, but don't let that deter you from its seating catalog. The Aide-De-Camp, for example, boasts an elegant shape and style that's been complemented by its pale solid oak and aesthetically-astute tan leather, giving it an undeniable presence in any room of the home. It even folds down for easy storage, placement, and travel purposes.
Article Otio
Article has a prodigal mind when it comes to furniture design, and the brand's Otio chair is no different. This lounge-savvy specimen features an angled frame that's been crafted from solid wood and calls upon a set of comfortable cushions to keep it as relaxation-focused as possible. While its design isn't the most awe-inspiring, its generic silhouette makes it great for pairing with other, similarly-subdued pieces, making it one of the more versatile offerings on our list.
Ferm Herman Lounge
Ferm's Herman Lounge Chair is the next step in the evolution of the Herman series, boasting a geometrically-simplified oak veneer atop a powder-coated metal base. Instead of offering buyers a more traditional arm-chair layout, this unique accent brings an undulating backrest to the table for parties interested in the intrigue of minimalism, pairing structural simplicity with a proven shape that's sure to provide ample comfort while sitting.
Inside Weather Latte Edgar
Inside Weather is making its debut on our guide with the Latte Edgar lounge — an intentional offering that makes use of some of the industry's finest textiles. Each carefully-crafted model features a Baltic Birch plywood construction and an American Maple veneer, as wells as a UV-cured eco-solvent finish. To keep things circular, the remainder of each chair is recycled for use at a later date, complementing the outfit's "one item ordered, one tree planted" ethos.
Industry West Rana Lounge
Industry's West's three-legged rattan "Rana" is a great-looking play on the traditional wicker chair. Each example was designed by the iconic furniture maker, Nanna Ditzel, and plays to her strengths through the utilization of the strong, raw, natural, and sustainable outdoor material known as rattan. Instead of implementing a shell and foundation separately, the chair is joined by its outer material, demarcating its admittance as one of the genre's earliest attempts at the style.
CB2 Troubadour Saddle Leather
CB2's Troubadour Saddle Leather chair is a heritage-inspired variant that solicits feelings of old-school nostalgia. However, if you think that it's entirely rooted in the past, you'd be mistaken. This unique model boasts a midcentury modern design that bridges the gap between simplicity and comfort, allowing its beautifully-finished leather exterior to shine in environments where minimalism is amplified. To round things out, a plantation-grown acacia wood frame provides the perfect foundation for the chair's high-density foam cushion, providing comfortable respite from the day's doings.
Blu Dot Toro Lounge
Blu Dot's Toro Lounge is a full-grain leather offering that's been primed for an afternoon of relaxing self-care. Instead of pondering the stresses of everyday life, kick back with one of your favorite beverages in this Spanish-inspired piece, complete with a natural beech wood frame, metal zipper detailing, and an interesting, hanging-fabric design that's sure to help you fade into a zen state.
Hay Can Lounge
Hay's Can Lounge chair is a truly abnormal design that blends the worlds of industrial and interior architecture. Its meticulously-engineered structure boasts a tubular steel frame, hammock-like canvas sling, and substantial cushioning, allowing you to fall into your favorite accent chair without the fear of unrequited support. And since it's so light, you'll be able to move it from room to room on a whim, making it an adaptable model in its own right.
West Elm Axel
West Elm's Axel chair is a cleanly-contrived offering that places an emphasis on boxiness. While its silhouette isn't too far from the norm, there's an attractiveness to its angularity, capitalizing on its sharp, industrial form to create something that's pleasing to the eye. Depending on your tastes, there's a variety of different leather finishes to choose from, complementing the seat's metal legs and flanged edges. To round things out, a commercially-approved, kiln-dried Contract Grade frame has been coopted to keep the Axel kicking for years to come.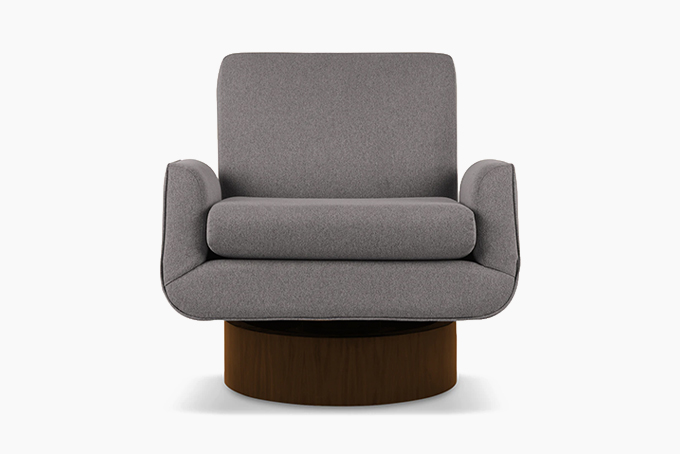 Joybird Bingham
Joybird's Bingham is a swiveling staple that brings an aura of classiness to any room in the home. Instead of relying on an overly-complex design, this simplified seating essential boasts a confident, conical wood base, angular upholstery, and an array of colors, helping its mid-century design to channel feelings of a "space-age" captain's variant.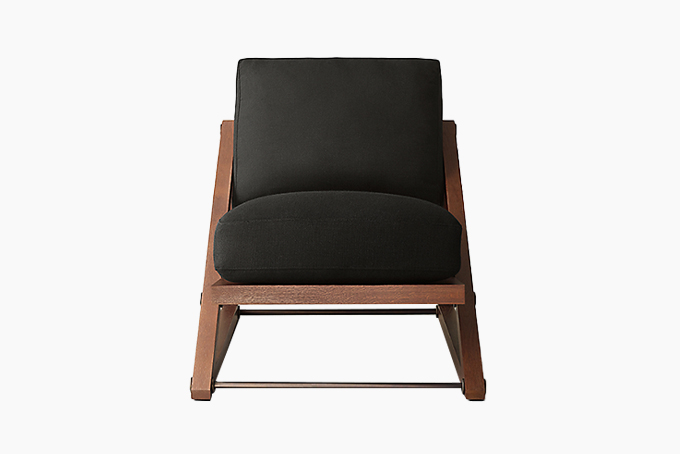 RH Bavaro
RH's Bavaro revels in its clean geometry, bringing an interesting juxtaposition of angular traits and premium materials to the forefront. With stylish comfort as its driving force, the chair boasts a raked seating arrangement, triangular fame, and steel stretchers, complemented by its high-resiliency foam cushioning. As a cherry on top, each model is hand-crafted from solid French oak, giving it a dark, bronzed finish that's sure to catch the eye of friends and family alike.
Bludot Field Lounge
Blu Dot is making its second appearance on our list with the Field Lounge — a beautifully-crafted design piece that builds a bridge between form and function. Whether you're a fan of smooth curvature, sculptural architecture, or striking, low-profile silhouettes that ooze class, this unique offering checks all the boxes for premium furniture lovers. Each fabric, velvet, or leather example also comes with a powder-coated steel base, giving it an industrial feel alongside its feather-down filled wrap and resilient foam back cushions.
TRNK Paulistano
TRNKS's Paulistano chair looks like it might fare better in a high-profile fashion shoot than a home, but that doesn't change the fact that it's been designed to gift your space that "premium" feel that you've been searching for all this time. Harkening back to its timeless 1957 silhouette, this sleek offering boasts a stainless steel mesh seat, frame, and angular profile, giving it sharp appeal within many modern spaces.
Hem Puffy Lounge
Hem's Puffy Lounge chair oozes comfort, and as one of the most abnormal choices on our list, we've learned to respect its oddity. Each example features ultra-puffy detachable upholstery that spills over the edge of its tubular steel frame, offering unsurpassed comfort. This, paired with the piece's classic modernist design and powder-coated/sand-blasted steel frame, offers buyers an appealing indoor accent that'll redefine the term "winding down."
The Shell Chair
The Shell chair is the simple, smiling classic that we all know and love. It was designed in 1963 and still fosters a healthy followership today, thanks to its arching legs, wing-styled seat, and lightweight persona. When its designer, Hans Wegner, decided to bring it to market, he wanted to create something that was elegant from every angle — which he succeeded at in effortless form.
Knoll Womb Chair
The comfort of the Womb is second to none, and DWR knows it. That's why they've revitalized this classic Knoll offering, which has been lauded for its articulate sense of structure. Designed by Eero Saarinen, each example provides its user with a unique sense of space, thanks to its indented armrests, versatile cushions, and rounded structure, paying homage to the enveloping form of the 1946 original. To finish things off, a lightweight fiberglass shell wrapped in comfortable foam ensures that a relaxing posture is kept front and center.
The 15 Best Sofas And Couches For Contemporary Living
Looking for something a little more dominant for your socialization area? Head over to our guide on the best sofas and couches for contemporary living, where we outline the genre's top offerings for plush, design-inspired relaxation.