Let's face it: buying a new TV is intimidating. Whether your current model is gradually waning or you just want to make a noticeable upgrade, it can be difficult to distinguish one option from the other. And while watching content in 1080p works just fine for YouTube videos, it's clear that the modern-day living room standard is now 4K resolution. Of course, many of these high-end televisions can be expensive, but that doesn't mean you can't find an affordable option from a viable brand.
In some instances, skimping on a new television can be risky, because you never know what you're going to get. However, there's not much room for error as long as you're buying a well-reviewed TV from a trusty manufacturer. Unless bolstering your home theater is a key concern, you won't be missing out on too many features that premium models have to offer. All things considered, making the upgrade to 4K will alter your viewing experience entirely, which is why we've compiled a guide to the 10 best 4K TVs to buy for under $1,000.
TCL Class 5-Series 4K QLED
TCL's offering is an absolute steal for this price, especially when you account for the advanced visual capabilities that go into it. The QLED tech paves the way for over a billion colors that match the standard movie theater screen. Its vivid picture is boosted thanks to Dolby Vision High Dynamic Range, which results in life-like visuals that you need to see to believe. Lastly, it's a Google TV, which means you can simply say "Hey Google" to take vocal control of your viewing experience. This TV is offered in four sizes below $1,000, ranging from 50″ up to 75″.
Amazon Fire TV 4-Series
The world's biggest online retailer just so happens to manufacture a pretty noteworthy TV. It features eye-popping visuals thanks to its HDR 10 and HLG tech, both of which balance the color, brightness, and clarity of whatever you're watching. It also serves as an all-in-one entertainment powerhouse, utilizing Amazon's own Fire TV interface and remote to let you browse through various streaming services or switch HDMI sources with ease. Lastly, Amazon's Fire TV 4 Series is available in either 43″, 50″, or 55″ configurations.
Vizio M-Series 4K QLED TV
Vizio frequently gets overlooked for not being one of the big 3 TV makers: Samsung, Sony, and LG. Nevertheless, it's a brand that you'd be remiss to gloss over, and its incredible QLED TV is one reason why. While its boundless collection of shades and hues garner most of the spotlight, we're in awe of the model's 16 local dimming zones, which manage to balance out the quantum color tech and provide a stunning contrast to the bright colors that appear on-screen. Plus, Vizio's signature StreamCast interface gives you all the smart TV capabilities you need without having to buy an Apple TV or Fire Stick. Sizes ranging from 50″ to 70″ all can be had for less than a grand.
LG NanoCell 80 Series
Life is good as soon as you plug in any of LG's NanoCell models, but it's even better when you get to save some scratch. NanoCell tech results in an unbelievable viewing experience thanks to its rich colors across the board, and that applies whether you're watching sports, movies, or YouTube videos. On top of that, it boasts a rapid-fire refresh rate of 60hz, resulting in life-like movement that feels as if your favorite show is being filmed in your home. What's more, this LG comes in sizes of 50″, 55″, 65″, and even 75″ all priced under $1,000.
Sony X80K Series 4K TV
You'd be hard pressed to find a newer Sony 4K TV for around the same price as a PS5, but we found the most affordable one yet. The Google TV-compatible choice is one of the brand's newest, as it was released in 2022 and offers all the great features you'd expect with a brand new television. These include, but are not limited to, a gorgeous high dynamic range bolstered by Dolby Vision and Motionflow XR tech for ultra-smooth movements. Lastly, the X80K itself is incredibly sleek, so it even looks good when it's off. Sizes 43″ through 65″ come in within our budget, but the big 75″ and 85″ versions will set you back considerably more.
Samsung Curved UHD 4K Smart TV
This television from Samsung is easily the most unique that will appear here for one simple reason: it's curved. It's powered by Samsung's blisteringly fast 4K processor, assuring premier visual quality. On top of that, this is the perfect choice for office spaces because you can easily mirror your computer's display and get all your work done on an immersive 55" or 65″ display. Lastly, it's great for gamers, thanks to its Auto Game Mode which avoids any extra motion blur and jolting.
HiSense ULED Premium QLED TV
Like Vizio, HiSense often gets overlooked when it comes to the big television brands, but its premium ULED model makes a compelling case for your attention. It features Alexa compatibility for seamless voice control, so you can configure your television to your liking without even pressing a button. Luckily, there is an endless array of features to toy with on the 55″ or 65″ behemoth, including Dolby Atmos multi-dimensional audio or the IMAX Enhanced viewing mode, the latter of which combines 4K HDR visuals and DTS audio tech for a theater-like feel.
Samsung 60″ Q60A Quantum HDR
High-end Samsung televisions are hard to find at a low rate, but you'll be happy to know that this premium option is an exception. It comes available in a wide range of sizes — between 32" and 85" — but the five-foot version has the perfect proportions for us and is priced right, while also remaining slim enough to add a sleek accent to your living space. What's more is the Q60A's jaw-dropping visuals, courtesy of 100% color volume with quantum dot tech and Samsung's proprietary Quantum Processor Lite 4K chip. It also features adaptive sound for an appropriate soundscape, so it's capable of adjusting itself on the fly to fit what's on TV that night.
Toshiba 55″ M550 Series 4K Fire TV
Here is another high-quality option that comes equipped with built-in Amazon Fire TV. It doesn't get more convenient than having all your apps in one place, which is why the smart TV will come in handy no matter what you subscribe to. As far as picture and sound are concerned, Toshiba's M550 boasts a 480 motion rate for smooth movement, Dolby Vision HDR for crystal-clear quality, and DTS Visual: X tech for an enveloping listening experience. It also features an automatic low latency mode for gaming, so players won't need to worry about any lag.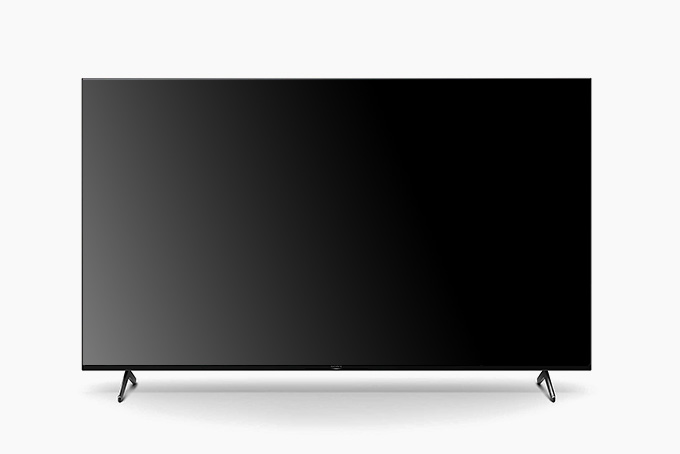 Sony 50″ Bravia X90J
Sony arguably leads the way in 4K-compatible displays, and PlayStation 5 owners will appreciate the unbelievably smooth gameplay that the X90J has to offer; that's right, all BRAVIA XR televisions have exclusive features for the high-octane console, including immersive sound tech and an endless array of crisp colors. Aside from gaming, the Bravia X90J boasts an unrivaled visual prowess (for the price) primarily thanks to Sony's XR TRILUMINOS Pro, which results in a natural picture that is beyond mesmerizing.
The 8 Best 8K TVs for Any Budget
If you want to make an even bigger upgrade, then you can't do any better than 8K. Take a look at our price-conscious guide to the best 8K TVs for any budget.