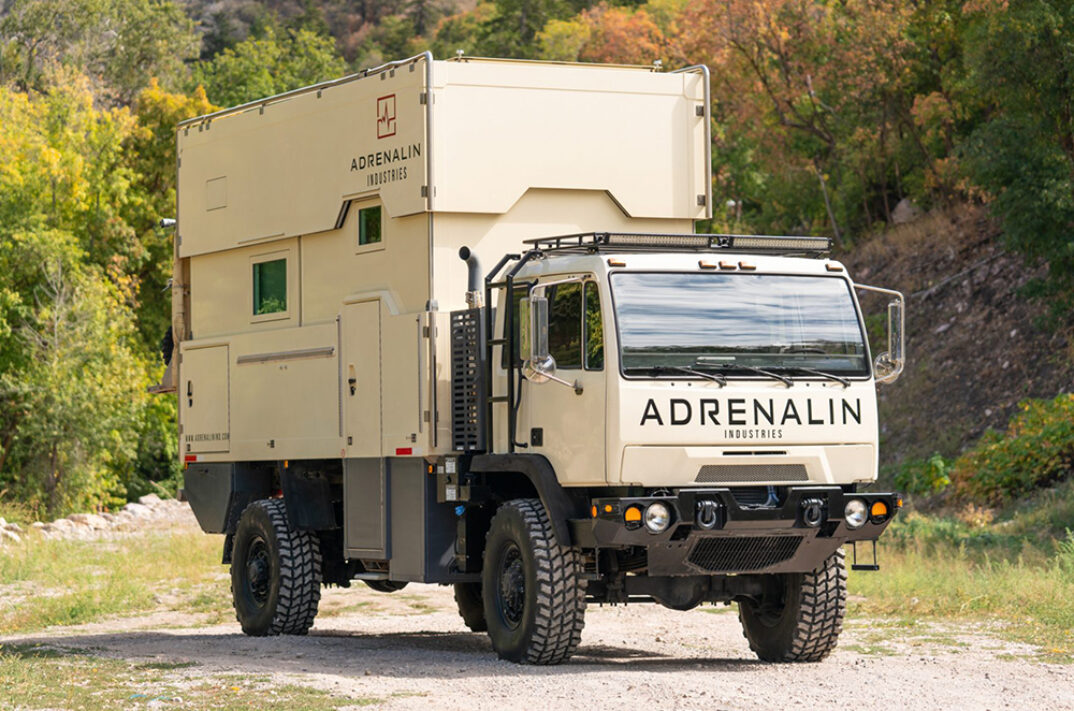 Between fires, floods, and an ongoing plague, 2021 has already been one hell of a year, so there's no telling what the remaining three months will hold. If you're anything like us, then, it'll have you rethinking your priorities and considering packing your bags for good. Instead of attempting to do so in your station wagon, though, try this sweet adventure rig on for size.
Pictured before you is a 2012 Titan XD 4400, a 6.7L turbodiesel 4×4 that BAE originally produced for the U.S. Army. Much more than a standard-issue service truck, however, this particular Titan now wears an Action Mobil camper cabin in place of its bed. Accordingly, then, it comes specced out the wazoo with doomsday-ready essentials, such as a fully-furnished kitchenette, a spacious dining area, a bathroom, and even a queen-size bed. And that's not all; around the truck, you'll find plenty of luxury creature comforts as well. The living quarters, for instance, feature a power-adjustable table and a set of hardwood floors. The shower, too, is exceptionally accommodating, both full-length and also self-draining. Rounded out by some integrated climate control, a power-extending roof, a 480-watt solar panel system, and a 105-gallon freshwater tank, the result is a living space that could support anyone for weeks on end.
As if that wasn't enough, though, the Titan even comes with an external hydraulic lift for hauling your bike. Rolling on some Goodyear MV/T tires, it's currently being offered for sale on Bring a Trailer. With eight days left in the auction listing, you can bid on it now for $82,500.