There was a time in our lives when we believed that all you need to go off-roading is a vehicle that can handle it. However, as time has gone by (and with many mistakes made and missteps taken), we've come to understand that a successful off-roading trip requires a few more things to get you and your ride through to the other side.
There are a few things your vehicle should be equipped with before you ever consider going off-road, like a winch and a roof rack (or ample storage space). But that's just the beginning of it. There are also a number of accessories you should carry with you at all times, unless you want to risk getting stranded out in the wilderness. We've put together the following guide to help you find those accessories. These are 12 must-have essentials for off-roading.
Mechanix Wear Original Gloves
While we wouldn't necessarily call these a necessity, fixing up your pickup truck or SUV while out on the trails can be tough work and can be very rough on your hands. That goes double if you have to dig up some mud, clear gravel and/or sand, or do any kind of maintenance on the undercarriage. Keep your digits protected by wearing a pair of Mechanix Wear Original Gloves. They're tough as hell, water-resistant, and machine-washable — because, trust us, they're gonna get dirty.
Black Diamond Spot Headlamp
Whether you're trying to get a good look at the undercarriage of your overlander or you manage to get stuck after dark, having a flashlight is of the utmost importance. And having a hands-free one is equally valuable. That's why we think all off-road adventures should include the Black Diamond Spot Headlamp. With an IPX8 waterproof rating, an output of up to 300 lumens, a comfortable headband, multiple lighting modes, and a simple pushbutton operation, this flashlight is indispensable for outdoor applications.
Boulder Tools Heavy Duty Tire Repair Kit
When it comes to outdoor activities, especially those that involve a vehicle, it's a great idea to hope for the best and prepare for the worst. Granted, a flat tire isn't the worst thing that could happen on the trails, but it's definitely on the list of unfortunate possibilities. Mitigate the risk by bringing along the Boulder Tools Heavy Duty Tire Repair Kit. It's not an alternative to a spare, but it will help you get back on the road and to somewhere you can get a proper repair and/or replacement for your deflated all-terrain tire.
ARB E-Z Deflator
Any seasoned off-road veteran can tell you that the necessary tire pressure for on-road driving is significantly greater than what's best for off-roading. But a lot of folks use their off-roader to get them away from civilization and onto the trails. In that case, you'll have to change your tire pressure on-the-go. You could do it manually, but it will take an awful long time. This simple tool will not only speed things up, but it will also give you the most accurate pressure reading on the spot, ensuring that everything is correct and ready for adventure. The gauges and hardware are also built from corrosion-resistant bronze, which is a nice addition considering how filthy things inevitably get.
Gerber E-Tool Folding Spade
It might seem contradictory, but sometimes getting your tires out of a hole requires you to dig that hole a little bit bigger. And doing that by hand can be a nigh-impossible task. Instead, keep handy the Gerber E-Tool folding spade and you can be ready for just such a contingency. This shovel entrenching tool — which is also perfect for survival situations and camping — is built from anodized aluminum, making it light while still retaining plenty of toughness. It also locks into the open position for added security and has a saw blade edge, in case you need to hack up some unwieldy foliage in the process of digging.
Hutan Pressure Tool
Built from sturdy grade 5 titanium, the Hutan Pressure Tool is an excellent and handy little device to keep with you when you're off-roading. Not only does it function as a quick and easy way to deflate your tires, but it also has a stepped hex wrench built right into it, as well. On top of that, it comes with a built-in bottle opener (in case you need to take a much-deserved break), a nail remover, and a simple PSI-kPa conversion table. Even if you're a road-going gearhead who never hits the trails, this is an excellent everyday carry tool to keep on-hand.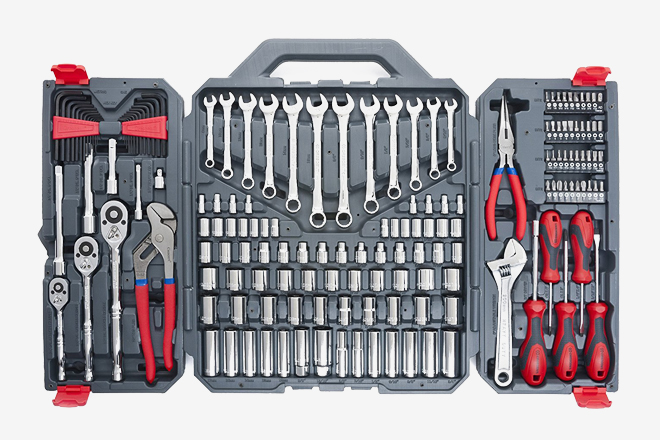 Crescent Mechanic Tool Set
We're firm believers that any man who owns a car should also have (and know how to use) a mechanic tool set. You might not ever need to do maintenance on your daily driver, but it's a great skill to have in case you ever find yourself without the ability to pay someone else to fix your car, truck, or SUV. If you plan to go off-roading, this is doubly true. Always bring a tool set with you. You might not always need it, but it will make your life a whole lot simpler if you do. This particular kit includes a wealth of excellent hand tools, including drivers, socket wrenches, Allen wrenches, and all measure of things you might need to keep your engine running.
Hi-Lift X-TREME Jack
Even vehicles with super high ground clearance can be a pain in the ass to get underneath for field maintenance. And you can forget about changing a tire out on the trails. That is, unless you have a proper jack. Hi-Lift is the industry standard — truly, nobody else even comes close. The brand's X-TREME Jack is the top of their range, boasting a 7,000-pound capacity; a simple one-position construction that works for winching, clamping, and spreading; and a durable powder-coated finish. If you had to pick one tool on this list to take with you off-roading, it might be this one.
Jump-N-Carry JNC660 Jump Starter
Unless you're constantly monitoring the charge, it can be hard to tell when your car battery is ready to kick the bucket. And, if you're plugging a lot of gizmos into your off-road vehicle — like an air compressor or camping gadgets — you'll only increase the likelihood that you kill your battery. Luckily, you can mitigate the associated risk with a simple jump starter, like the Jump-N-Carry JNC660. This bad boy has enough juice to kick start a semi-truck — boasting 1,700 peak amps and 425 cranking amps — making it perfect for a whole convoy, if necessary.
Maxtrax MKII Extraction Tools
While there are a lot of imposters out there, Maxtrax is the original creator of what might just be the most brilliant and simple extraction tool ever to be invented. Built from ultra-durable engineering-grade nylon, these handy tools act like a platform to give your vehicle traction to help you escape ditches — be that in dirt, mud, sand, or whatever else. What's even better is that, while their construction makes them remarkably tough, they're also incredibly lightweight — making them an easy addition to any and all of the other gear you're carrying in your truck bed or roof rack.
Warn Recovery Kit
Ideally, when you're off-roading, you'll have already equipped your pickup truck or SUV with a winch. But a winch by itself isn't going to cover everything you need to get your vehicle unstuck; that's what Warn's Recovery Kit is for. Featuring durable powder-coated shackles rated for use with winches of up to 18,000 pounds, trunk protector straps to keep any trees you use to assist you unharmed, and kevlar-reinforced gloves, this kit is going to be your best friend when it comes to getting yourself out of ditches. Best of all, it all comes in an easy-to-carry backpack for simple storage and convenient carry.
ARB Portable Air Compressor
If you lower the pressure of your tires when you get out to the trails, you're going to have to fill them back up when you're ready to head home. And while releasing pressure from your tires is a simple, if time-consuming prospect, putting air back into your tires is a different beast entirely. It can be just as simple, however, so long as you have a portable air compressor, like this one from ARB. Using the power from your car battery, this device can fill your tires up on the spot. It also comes in a waterproof case to keep it protected when not in use, which is especially great if you make a habit of fording rivers.
12 Best Off-Road 4x4s You Can Buy
None of this gear is going to do you any good if you don't actually have a vehicle that can handle the terrain. But we've got you covered with our list of the 12 best off-road 4x4s you can buy right now.