There are a lot of folks out there who would have you believe that everyday carry enthusiasts spend most of their time traversing the wilderness or living completely off the grid. But the truth is, most of us live pretty close to or within the limits of a city. And while we're not against tactical gear or stuff that will help us make it through a survival situation, we also know the impracticality of carrying that sort of gear around an urban environment.
Since it's safe to assume that you, like us, spend most of your time walking upon concrete streets between the buildings of a big city, we thought it might be nice to put together a list of essentials for just such an occasion. So, free of the hardcore survivalist and soldier-driven influences, we have gathered the best gear available for folks who live in metropolitan areas. The following items are 20 everyday carry essentials for an urban dweller.
Moleskine Classic Notebook
Whether you take handwritten notes at meetings, you like the feeling of writing on paper better than the clicking of a keyboard, or you just need to get your ideas down as they strike you, you can't go wrong with a classic Moleskine pocket notebook. Small enough to fit in your pack or pocket, this cardboard-bound pad is perfect for carrying around the floors of a skyscraper, between the crowds on the subway, and across the city streets.
Keysmart Compact Key Holder
Never again will you have to fumble around with a clumsy old janitor-style keyring if you pick up the Keysmart Key Holder. Not only does this keychain accessory keep your keys much better organized, but it will also keep them from clumping together at the bottom of your pocket. It has an 8-key capacity and is made of durable aerospace-grade aluminum, comes with a removable key fob loop, and has the added benefit of being made in the USA.
Fisher Space Pen Bullet
Fisher's Bullet Space Pen is already a gorgeous piece of everyday carry, but with a chrome exterior finish, it takes that style into the realm of science fiction and retro-futurism. Plus, it still comes with a pressurized ink cartridge that can write upside down, underwater, or in zero gravity and is built and hand-tested right here in the USA. This is one of the most excellent EDC pens.
StatGear Pocket Samurai Titanium Knife
Even when it isn't practical to carry around a full-sized folding pocket knife, it's nice to have a blade by your side. Well, with StatGear's Pocket Samurai, you can keep one on your keychain. With a locking handle made from grade 5 titanium and a blade crafted from 440C stainless steel, this 2.66″ (when closed) miniature samurai sword is a superb contingency plan when you need a cutting tool but can't tote your favorite EDC knife.
Nomad Rugged Lightning Battery Cable
We all carry around high-tech gear nowadays that has a bad habit of dying right when we need it. In the case that that happens, you'll be thankful to have Nomad's Rugged Lightning Battery Cable amongst your everyday carry gear. Not only will it allow you to plug in and charge anywhere there's a USB port, but it also has an onboard 2,350 mAh battery that can give you a full phone charge worth of juice even when it isn't plugged in. Best of all, this cable has a super tough exterior made from 1000D ballistic nylon that won't fray or break through over 10,000 flexions.
FourSevens Preon P1 Flashlight
If you're not already aware, we are huge proponents of carrying an EDC flashlight with us at all times. And it doesn't get much better than this offering from FourSevens. This AAA-powered portable torch offers up an output of 5-100 lumens, a maximum runtime of 20 hours, and 5 reconfigurable illumination modes. It's also perfectly pocket sized, at just 3.35 inches in length, and is built from extra durable anodized type three aerospace grade aluminum.
Cargo Works iPad EDC Kit
If you're a high-tech fanatic and you live in the city, it's nice to have something in which to store all your electronics. That being said, a pack can be a cumbersome thing and you might not end up using all the available space. Rather than lug around a beefy backpack with a bunch of unused volume, scale down to the iPad EDC Kit from Cargo Works. Thanks to its clever compartmentalized layout, there's plenty of room to keep all your gear organized and, if you need a little extra carry capacity, the 900D polyester exterior is also fitted equipped with an expandable MOLLE grid.
EDC Card
We understand how important it is to keep your gear as minimalist as possible when wandering through the city streets. It just isn't practical to lug around a bunch of extra weight if you can help it. And that's why we love the EDC Card. Not only is this pocket multitool credit-card sized and fits into just about any wallet, but it is made from military grade S35VN blade steel (so it's as tough as they come) and it boasts a whopping 30+ functions. They include a bottle opener, a host of hex wrenches, metric and imperial rulers, screwdrivers, and a hell of a lot more.
Mophie Powerstation 2X
Since we are all using our tech pretty much all day long, it's nice to have a way to give it a little juice while you're on the go. Enter Mophie's Powerstation 2x. Designed specifically for smartphones and tablet computers, this portable battery comes in your choice of storage capacity from 2,000 to 15,000 mAh – which can give you up to two full charges of any one tech item – has a tough anodized aluminum exterior, and features an ultra-slim pocket friendly design.
10-In-1 Titanium Pocket Tool
Whether you ride a bike, roll out on a skateboard, or even cruise around on a motorcycle, it's a pretty good idea to have a handy worst-case tool to tighten some bolts or cut some garbage out of your spokes or trucks. The 10-in-1 Titanium Pocket Tool is arguably the best option in such a situation. The exterior is made from grade 5 titanium; it has a 420 stainless steel insert; and features a whole host of useful functions – including a bottle opener, two flathead screwdrivers, stepped socket sizes, and more.
Madera Union Slim Wood Wallet
Believe it or not, it's entirely possible to have a wallet that is both top-notch in regards to style and still keep it slim and minimalist. Case in point: Madera's Union slim wood wallet. Crafted with a beautiful wooden hand-polished exterior, this cash and card carrier has enough room for six cards and some bills, offers RFID protection, and has a quick access slot for your most frequently used cards. It also weighs just 1.8 ounces and is small enough to comfortably sit in your front pocket.
Handgrey HG Titanium Carabiner
A keychain carabiner is an excellent way to keep your keys conveniently on-hand while still freeing up space in your pockets for other important gear. And they don't get much better than this offering from Handgrey. Made from EDM wire cut grade five squared titanium, the HG is tough as nails. It also has a separate closed key loop to ensure that you'll never accidentally drop your keyring off of it and it features an integrated bottle opener, so you can crack open a cold beer anytime the mood strikes.
Apple iPhone 7 Smart Battery Case
Even though technology has progressed at a pretty incredible rate, it seems like batteries just can't keep up with the advances – especially when it comes to our smartphones. To mitigate that, you can pop your iPhone into this handy smartphone case and it will give you up to 26 hours of straight talk time, 22 hours of internet use, or 24 hours of video streaming. Now you won't have to choose anymore between taking that call and shopping on your favorite online retailer.
The Ridge Carbon Fiber Wallet + Money Clip
The time has come to ditch that bulky bifold and put all your cash and cards into something slimmer, stronger, and – frankly – better. Try Ridge's Carbon Fiber Wallet on for size. Like all Ridge Wallets, it's small enough that it can fit in your front pocket (saving your back some unnecessary pain) and it still has enough room to fit up to 12 cards and cash without stretching out. It even offers RFID protection to save your info from skimming.
Mystery Ranch Urban Assault Backpack
Just because you don't want to lug around that big tactical bag, it doesn't mean you can't get some of the same functionality out of a more city-friendly commuter pack. For instance, the Mystery Ranch Urban Assault Pack was inspired by military rucksacks, offering compartmental storage and a quick-access 3-zipper layout, but still features some city-dwelling functionality, as well. That includes an internal laptop sleeve, a lid pouch with a key clip, and dual internal zippered accessory pockets.
Audio-Technica ATH-SR5BTBK Wireless Headphones
Whether you're hoofing it from midtown to downtown, catching the bus, or hopping on the subway, it's nice to have a good pair of wireless headphones to keep you entertained with your favorite tunes on the way. Well, these ones from Audio-Technica are the whole package – offering superb high fidelity sound via beefy 45mm drivers, wireless connectivity on up to eight different devices, and up to 38 hours of continuous use. Whether you want to rock out to your favorite band's new album or catch up on the latest episode of a true crime podcast, you can't go wrong with these babies.
The James Brand Chapter Knife
There are a lot of very capable folding knives on the market, but so many of them feature overly aggressive styling. And, sometimes, we're not looking to carry around a knife that an action hero might. Enter The Chapter Knife from The James Brand. This pocket folder is superbly constructed with a D2 steel blade and sturdy 6AL-4V titanium frame lock, but it has the sleek and toned down styling of a gentleman's folder. Frankly, it's the perfect combination of style and function and is even more capable than many more tactical blades.
Tsovet SVT-RM40 Watch
Though everyone's smartphone has a clock on it, wristwatches are still a excellent tools and style indicators. And we believe that every man should own at least one. This sleek offering from Tsovet features a simple 12-hour dial with a minute sub-dial, a discreet date window at the 6 o'clock position, a reliable Swiss Ronda movement under the hood, and is water resistant to a depth of 100 meters. Also, while it's an excellent looking everyday watch, it wouldn't seem out of place at a business meeting or fancy dinner party.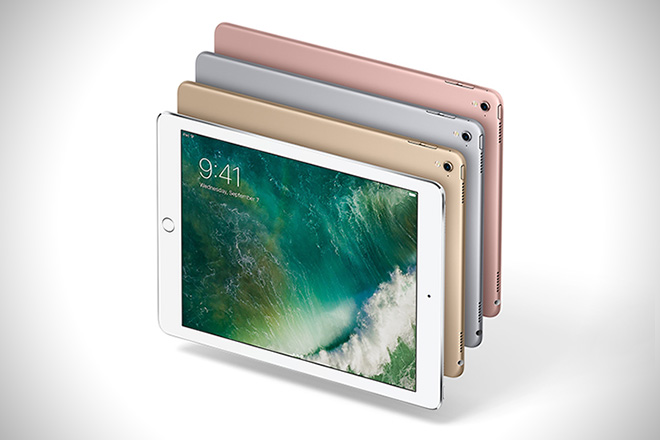 Apple iPad Pro
There was a time that people thought tablet computers were a fad or novelty that would die off. It's been made abundantly clear, however, how untrue that was. These helpful devices, small and slim, can be just as capable as their larger form keyboard-attached counterparts, but offer unmatched portability and convenience. And they just don't get better than the iPad Pro. With either a 9.7 or 12.9 inch display, 32-256 gigs of onboard storage, WiFi and cellular connectivity, and compatibility with a keyboard and/or stylus accessory, this pared-down computer is more than most people need to make it through the day.
Sony A7 Full-Frame Mirrorless Camera
Photography in the modern age is unique in that it sits somewhere between art and science. That is, to say, if you want to do it well, you have to have both unbridled creativity and a solid grasp or modern technology. Picking up a camera like Sony's A7 Full-Frame Mirrorless offering is a pretty good place to start. Or at least it will give you a leg up on the competition. This mirrorless camera comes standard with the ability to take 24.3 megapixel images, 4 frames per second continuous shots, and high definition video. It also features a 3 inch LCD screen in conjunction with a more traditional viewfinder. And has built-in Wi-Fi connectivity so you can send your photos and video directly to your computer for storage and future editing.
Outdoor EDC Essentials
Now that you've got your gear for city-dwelling, it's time to load up on rural-ready items. Check them out here on our list of 20 outdoor EDC essentials.