For many, the sight of a monochromatic photograph can strike an area of deep-seated nostalgia — transporting us to an era when everything seemed much simpler, archaic, and relevant. It's hard to explain, really — after all, the advent of light transitioning from one exposure-sensitive mirror to another, quantified by a subtractive color formation system, and eventually, onto a negative via a complex process that utilizes red, blue, and green dyes to reproduce the shades seen by the human eye — has not been around forever. In fact, it wasn't until 1932 that a commercialized three-strip Technicolor was offered to the masses, capturing an extremely limited color range using two separate color components. In 1935, Eastman Kodak unveiled the first integral tri-pack color film, Kodachrome, jump-starting an expansive, industry-wide movement toward color processing in film cameras.
But today, we're here to focus on the visual style that started it all: a photograph which would utilize a spectrum of black to white. These days, digital single lens reflex cameras (DSLRs) have become an industry standard, replacing early film in nearly every facet of the professional sphere. But rest assured — if you're a purist who harbors the utmost respect for a world portrayed in black and white, we've compiled a list of monochrome cameras for black and white photography that will still give you that nostalgic feel. And in typical fashion, we've made sure to include a small number of heritage offerings, as well. But first, let's talk about why black and white photography is so special.
Heritage
The Birth Of B&W
Even today, photographers across a number of different disciplines call upon the iconic monochromatic "look" to purvey the impactful preservation of time. As you'd expect, black and white photographs have an exceedingly rich heritage, tracing back to the very first iteration of "negative" reproduction during the 18th century. The discovery of substances that could be manipulated (and visibly altered) through exposure to light, the innovation of an image projection system known as camera obscura, and the relentless tenacity of several brilliant centurial minds brought about a visual renaissance that would only grow in breadth and popularity. Before a semi-widespread transition to color in the 1940s and '50s, photography relied on a silver-halide grain that would sensitize to certain hues and wavelengths of visible light upon entering a camera's lens, rather than the red, green, and blue overlays utilized by modern digital cameras. The process is, in and of itself, inherently magical — and for many photographic connoisseurs, the exclusion of color harkens back to a "familiar" past — made all the more real through the art form's tangible captures.
While we won't cover the innate science behind black and white photography, it's worth mentioning that a number of the most praised, valued, and revered documentarians throughout history have utilized the visual style in one way or another. Even today, photographers across a number of different disciplines call upon the iconic monochromatic "look" to purvey the impactful preservation of time. The style is synonymous with vintage and heritage endeavors — as such, the utilization of color filters, color look-up tables (or LUT's), and eclectic film photography have each found their own significant following within recent years. But why? Below, we'll outline what it is that gives monochromatic images a contrasting advantage over their full-color counterparts.
Purpose
The Advantages Of Monochromatic Photography
To spot the difference between a monochromatic and black and white photograph, look no further than an old sepia or cyanotype capture. To understand the advantages of black and white photography, we need to build a foundational knowledge of the style as a whole — underlining a deeply complex developmental process in a limited period of time. And we also need to understand that while black and white photography falls under the purview of monochromatic science, monochromatic photography is, in fact, different than black and white photography. Simply put, modern digital camera systems utilize a color pass filter that disallows for true monochromatic (or panchromatic) images to be taken. If you look closely at a photograph from a fully monochromatic system and compare it with that of a faux system, the sharpness and clarity of the image will consistently outshine the capture that the faux system has produced. In large part, this is due to the "interpolation" of data that takes place during the color conversion process. Modern cameras must undergo a series of complex calculations to translate what the photographer is capturing into a fully realized image, color included — alongside this series of algorithmic transitions, demosaicing and softening takes place, giving the image a less sharp appearance. Not only do cameras that bypass this process (as in monochromatic devices, which do not possess a color pass filter) utilize one less step while decoding an image, they also capture (and translate) light far better than their color counterparts. Instead of working overtime to convert and translate an entire range of colors, the sensor only captures a single tonal range, exposing the rest of the photograph in a series of black (for shadows) and white (for light).
To spot the difference between a monochromatic and black and white photograph, look no further than an old sepia or cyanotype capture. These popular styles from photography's past boast a unique orange and blue hue, meaning that they focus predominantly on a single shade of color. These are often considered a perfect representation of monochromatic images, but the vast majority of individuals will reference a grey (or silver) looking photograph whenever monochrome is mentioned. Black and white photography, on the other hand, only utilizes different shades of the color grey and does not focus on a specific "color" while exposing — instead, it's the lack of color that makes black and white photography so aesthetically pleasing.
Action
Understand What You're Looking For
If you're looking for a quick point-and-shoot that will give you a decently "vintage" look, you're obviously going to feel right at home with a modern DSLR/mirrorless digital camera. Now that you've got a good idea of what monochromatic photography is, what it entails, and what makes it special, let's talk about the advantages of new school vs. old school camera systems. If you're looking for a quick point-and-shoot that will give you a decently "vintage" look, you're obviously going to feel right at home with a modern DSLR/mirrorless digital camera. These variants are often far more user-friendly than their film counterparts and will allow you to power on, switch to your favorite ''Monochrome" preset, and press the shutter button. As we've explained above, the use of an in-camera monochromatic filter, along with additional tailoring inside of a photo editing suite (such as Photoshop or Lightroom) will bring your nostalgic tastes into reality. But if you want the real thing (and you understand that patience is truly a virtue), you'll be more akin to our old school list, which you'll find just below our new school guide. With great risk comes great reward — but either way, we're sure that you'll find some of the best offerings available in our quick rundown of the 8 best monochrome cameras for black and white photography.
The New School
Modern Day DSLR And Mirrorless Offerings
Sigma SD1 Merrill
Sigma has been a part of the photography world for a quite a while, boasting a 60-year heritage that has helped the brand solidify its standing as one of the greatest developers of lenses and camera systems in the current market. That being said, their SD1 Merrill DSLR platform is the first on our list of modern black and white offerings. Although the Merrill is not considered to be a "true" digital monochromatic camera, its Foveon X3 is the world's first full-color image sensor — boasting a massive 46-megapixel capture that makes it one of the best platforms for B&W conversion. If the in-camera monochromatic settings don't meet your expectations, you can take the camera to a specialist to have the color sensor removed, providing you with a shockingly detailed photography device. The Merrill's splash proof design prevents dust and water from getting inside the camera body — and coupled with the fact that the DSLR does not have a blur filter behind the lens — the True II Image processing engine ensures "monochrome-like B&W tonality," preserving fine details as well as any traditional film platform. For those who feel that a plastic body might be a dealbreaker, don't fret — the SD1's solid magnesium alloy body is designed to withstand rough use and shocks brought about by a variety of harsh conditions.
Sony A6000 Monochrome
Sony has made quite a name for themselves in the mirrorless camera market over the past decade, and their Alpha series has catapulted them into the spotlight for aspiring photographers, videographers, and anyone who is looking for an affordable camera ecosystem. The A6000 Monochrome is no departure from their tried and true lineup, sporting a 24-megapixel sensor that exposes UV-only, an ISO from 100-25600 (that's expandable to 51200), and industry-leading hybrid autofocus that utilizes the brand's monstrous 179-point focal plane phase-detection. While the A6000 Monochrome is a converted variant of Sony's crop-sensor camera, it still houses all of the well-planned attributes of the original — featuring an 11 fps continuous shooting speed, a 3-inch tilting LCD with 921,000 dots, an OLED electronic viewfinder, and a pleasant price-point that will make it a winner among aspiring photographers and professional users, alike.
Leica M Monochrom
If we said that Leica has a firm grasp on the heritage photography industry, it would be an understatement. The German camera manufacturer has been creating top-of-the-line gear for well over a century, and their M Monochrom is no different. Besides the fact that the M Monochrom is one of the only true digital monochrome cameras on the market, it's also packed full of up-to-date tech that will please any mirrorless camera user. A high-performance processor with over 2GB of buffer memory, sequential shooting at three times the speed of the previous model, and a black and white CMOS sensor ensure that users will view their photographs in exceptional "M" quality. A high-resolution 24-megapixel sensor captures 35mm full-frame images — and since the sensor only records in luminance values, photographers will notice 100% sharper pictures that feature industry-leading depth, clarity, and resolution — far beyond that of color exposures. An expandable ISO of 25,000 means that even when shooting in a minimal amount of light, luminance values caught by the black and white sensor will still be far better than those of traditional DSLRs.
Phase One XF IQ3 100MP Achromatic
We know — Phase One shouldn't even be on this list. After all, both the company (and their products) set the standard for medium and large format photography. While their XF IQ3 100MP Achromatic is in an entirely different league when it comes to B&W photography, it's worth noting that the powerhouse utilizes a 101-megapixel CMOS sensor without the Bayer color filter, allowing light to reach the sensor without having to pass through any additional processes. This means that the sensor captures significantly more light, ensuring the highest quality in every single detail and providing users with the ultimate in luminance control. The XF IQ3 is capable of capturing much more than the human eye is able to see, thanks to a complex design that allows it to capture a broader spectrum of light. Alongside the camera's ability to capture light outside the visible spectrum, the Achromatic has solidified its position as one of the most light-sensitive medium format digital systems available today.
The Old School
Paving The Way For Today's Greatest Platforms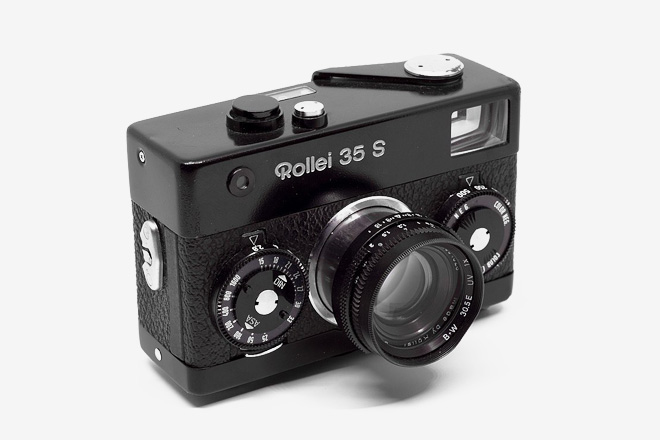 Rollei 35S
Rollei might be a name that most individuals have never heard of in the consumer space, but their 35S compact full-frame 35mm offering circa 1966 was a one-of-a-kind of film camera that combined unique aesthetics, design, and good image quality into one highly-affordable package. The 35S was marketed as one of the smallest (if not the smallest) 135 film camera of its era, and with a well-performing HFT Sonnar 40mm f/2.8 lens that can deliver some of the sharpest, most aesthetically pleasing photographs, it's a no brainer that the camera will transition well with a roll of vintage B&W film. Although Rollei didn't make as large of an impact on the photography industry as Canon, Nikon, or Olympus, the manufacturer managed to squeeze a high-performance system into a supremely small package, making the camera one of the premier offerings of its day. And if you're wondering whether or not it holds up in the current meta of cameras, take our word for it — it'll definitely give you the vintage vibe that you desire.
Nikon FM2N
Nikon didn't become one of the greatest camera manufacturers overnight — they've helped to shape the future of photography since 1917 and have created some of the most recognizable cameras to have ever graced the industry. Their FM2N was one such camera, finding a well-received introduction to the masses in 1982 and bringing consumers a quintessential 35mm film look from an exceedingly small single-lens reflex platform. It debuted with an interchangeable lens system that could accept all Nikon F lenses (thanks to support from an automatic indexing component), and featured a vertical-travel focal plane shutter that was capable of a staggering 1 to 1/4000s shutter speed. The FM2 retired in 2001 as one of the most well-regarded, best-built, and rugged mechanical 35mm cameras of all time, and even finds use today as a backup film camera for many professional photographers — all of whom swear by its exceptional design.
Rolleiflex 2.8 Type B TLR
We can't write a feature on the best black and white cameras without including a truly original platform: the Rolleiflex 2.8 F Type B TLR. One look at the Type B and you'll see that this heritage offering is a spitting image of an early era film camera, utilizing a gigantic silhouette that screams vintage aesthetic. The 2.8 F is a decidedly original medium format twin lens reflex (TLR) camera — and when it was first introduced in 1960 by the manufacturer, it incorporated a Planar lens and 120 film alongside the brand's new 12-frame counter. As the successor to a long line of the company's flagship offerings, the new Type B utilized a Rollei differential gear for coupling with a light meter, an interesting depth of field indicator, and a flat glass modification to improve film flatness (all of which were sellable features during its reign). To date, the Type B produces some of the most striking black and white photographs around, and has been used by vintage photographers throughout the decades as one of the most well designed, highly sought after cameras to ever hit the market.
Hasselblad 500C
The Hasselblad 500C is a testament to the company's long-standing commitment to excellence and has definitely become one of the most classic and durable medium format film camera systems to ever be produced. It features an 80mm Zeiss Planar CF lens that helps you to capture landscapes and other vast areas easily, while a 6x6cm image size is imprinted on a 120 roll film format for an undeniably nostalgic feel. The camera utilizes interchangeable focusing screens, prism finders, and film magazines to give photographers the utmost control while choosing what they want to capture. With a variable shutter speed that ranges anywhere from 1 to 1/500s of a second, it's a perfect choice for those who are looking to garner enhanced light exposure control to obtain exceptionally sharp, clear photographs.